29 May 2015, 11:10
Yawwwwwwwwwn. Another lacklustre issue – what is up with the design team at Burda HQ recently? I know they're capable of amazing, fashion-forward and flattering designs, because they break out of these ruts every now and then and just wow us with a consistent 6 months or so of designs.
I mean, this time last year I was praising them for a consistently amazing few months of issues, the pinnacle of which was the amazing Japanese-design feature. Maybe I should just go back to my spring 2014 issues instead until the tide rolls back into a more favourable patch…
I really want to like this blouse with its asymmetric collar, but it just feels like they've tried to add too many incongruous details into one garment. Skewed collar! Neck ties! Boxy shape! Asymmetric taped sleeve! Any one or two of these together would be fine, but all of them and it just feels unfocused and busy.
I'm officially on Team Jumpsuit and I like the look of this one on the model, but this is a Tall size pattern, with extra elongated body lengths, so I think this on top of jumpsuits being elongated anyway means that it'd be a tricky one for me to fit. And I'm not convinced I need more than one summery jumpsuit in my wardrobe right now!
This sheath dress is just fantastic – it's simple, but it's shown several times in the magazine, both partially colourblocked (as it is here), but also all in one fabric, and again with three separate coloured fabrics. The seams all flow together nicely at the sides, and there's an option for shoulder ties, too. This could be a great basic pattern for adding further design elements (cough Pattern Magic cough), too.
I feel like a broken record here, but not all open backed dresses are practical or flattering. I like the curved seaming on the skirt, but the upper back is just too open, and the top is only held together with a single hook and eye. Again, the La Maison Victor open backed dress from last Winter is far superior (and you can wear a bra with that one).

And the ugly combo award for this issue goes to… The ugly muu muu dress & equally ugly popped collar bomber jacket (bomber pattern number 754353 from Burda, ugghgh). Come and collect your awards!
CLOWN PANTS!!

Honestly, why?? Who would ever-?? Good god, who signed off on these?
err, clown blouse? This might have been ok in a soft fabric (might), but in a poplin?? It just makes those horrible 1970s bell sleeves look like the big tent.
There was nothing notable in the Plus section, but I did enjoy the extended feature on natural dyes. It seems to compliment the natural dyeing article Seamwork had in their latest issue… I like the idea of dyeing (especially for lingerie), but I've been wary to buy all sorts of chemicals for it!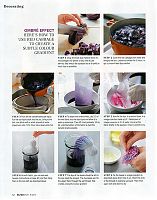 What did you think of this issue? Am I off base? Care to nominate your favourite issue from the last few years for me to revisit for inspiration instead??
tags:
bwof
,
magazine
Comment [11]
27 May 2015, 13:13
As you may recall, I spent quite a lot of time last year working behind the scenes on the Great British Sewing Bee, first for the third series, then for the Children in Need specials, and finally, for the book which accompanies the series. I personally worked on about 60% of the patterns in the Great British Sewing Bee: Fashion with Fabric book, either by sewing up early samples, measuring yardages or trims, or assisting the illustrators with the construction. So it's probably quite funny that the first pattern I make from the finished book (not counting the green pencil skirt, which I made from the book before release!) isn't one I really worked on at all – just one I admired across the studio while others made adjustments.
It's a pattern for a jumpsuit with an elasticated waist and spaghetti straps with a flounced neckline edge. There's no fussy closures – you just pull it on and off by stepping into it, and I'd definitely say it's beginner-friendly, especially since the instructions are fully illustrated. The bonus is that you can also make a pair of casual trousers or a camisole top using the same base jumpsuit pattern (also explained in the book).
In my experience, the trickiest part of this entire jumpsuit was finding the right fabric! It needed to be something hefty enough for the trousers, but also lightweight enough to drape nicely at the neckline frill, and I eventually found this blue & white crepey viscose from Ditto Fabrics that's the perfect weight and resists wrinkling so it should be perfect for travelling. It did fray like crazy though, so I constructed this mostly on the overlocker (serger).
Doesn't this just scream summer?? In terms of size, I made Size 14 according to my measurements, and it fits really well – no alterations needed (I should point out that the top/camisole has bust darts so should be easy to do an FBA if you need one).
I wore this out to a pub lunch with friends on Sunday, followed by a little walk in St James's Park (where these photos were taken) and then more pubbing! It was a little chilly, so I layered a grey cropped jacket over top.
The jumpsuit overall has a casual fit, which is perfect for warmer weather – the legs are nice and loose but with a tapered hem (I find that wide legged trousers make me look incredibly short so I avoid them!), and the camisole has a nice amount of ease, too – not too close but not too billowy, either.
While the included instructions are just fine, I personally made a few changes to the neckline construction, most notably to omit the facings altogether. I instead attached the right side of the frill to the wrong side of the body along the neckline edge, then understitched the body to the seam allowance to prevent it rolling outward and showing. The seam allowances were now hidden underneath the frill, where they're unlikely to be seen barring a large gust of wind. Oh, and I also stabilised the body's neckline edge with vilene fusible bias tape before I started since I didn't have the interfaced facings to stabilise the neckline edge.
I didn't have any white bias tape for the elasticated waist channel inside (and any other colour would've shown through), so instead I cut a cross-grain piece of self fabric using the casual trouser "hack" pattern's waistband (not used for the jumpsuit) as a guide – folded in half along the marked fold line, and this is almost exactly the length and width you need for the elastic channelling (fold back the seam allowances on the short ends at the centre back so you can still get the elastic in). It makes for a super clean finish inside!
The biggest pitfall with jumpsuits in general is not having enough length, especially in the crotch rise so everything pulls when you sit down or move – this thankfully doesn't do that, but I think the added rise means the crotch ends up a little on the lower side. It definitely feels a little low while I wear it (the tops of my thighs rubbed a bit), but otherwise there's plenty of length everywhere, and the fit is in keeping with a casual trouser.
In fact, it's an extremely comfortable garment, but I'm not quite sure I feel "me" in it yet, as it's a total style departure for me, both in terms of the print and the jumpsuit itself. In other words, I'm on Team Jumpsuit, but I'm not sure if Team Jumpsuit is right for me? What do you think?
If you're in the UK, I also noticed that this pattern is the free covermount pattern this month in Simply Sewing magazine, so if you don't already own the GBSB: Fashion In Fabric book, you've got another option for getting this pattern.
tags:
book
,
gbsb
,
jumpsuit
Comment [9]
21 May 2015, 13:03
It's that time again! I can barely keep up with all your amazing, inspiring, and beautiful versions of my patterns these days, and before I know it, I've got an overflowing heap to share with you! I know how helpful many of you find these – it's all well and good that I make nice versions of my patterns, but so much more helpful when you see how good they look on other bodies, too!
Be sure to click through to read the details and see more photos on each of these entries, too. With a long weekend coming up both here in the UK and in the US, there's no excuse not to whip up something sporty!
Winnie's Steeplechase Leggings with exterior rolled seams & zebra Surf to Summit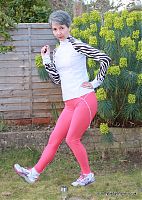 Read more…
Karen's 5(!) Steeplechase Capris for herself and her daughters
Read more…
Maria's three pairs of Steeplechase Capris, with great reflective accents
Read more…
Sally's wintry Surf to Summit for the ski slopes!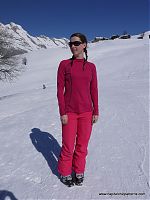 Read more…
Maria's "Hunger Games" inspired Duathlon leggings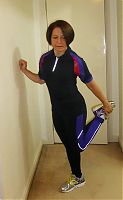 Read more…
mixtilli's red Lacey Thong lingerie set
Read more…
Allison's two new
VNA

& Duathlon workout sets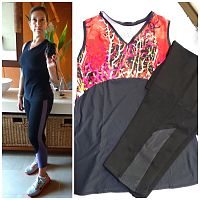 Read more…
Katherine's Steeplechase leggings with yoga waistband
Read more…
Sandesh's
XYT

Workout Top in a Laurie King print
Read more…
Winnie's badger-print Surf to Summit Top!
Read more…
Sophie-Lee's cheetah-print Steeplechase capris & coordinating
XYT

Workout Top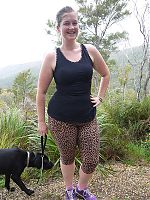 Read more… (plus bonus New Zealand fabric suppliers!)
Winnie's London marathon badger armband pocket
Read more…
Louise's London marathon Duathlon Shorts, with plenty of pocket room for both inhaler and gels!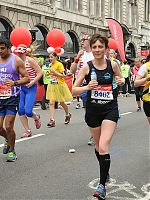 Read more…
Karen went and made
THREE

more

VNA

Tops, for herself and her daughters!
Read more…
Claire ran a race in Central Park in her gorgeous, swirled Steeplechase capris
Read more…
Wingamajig made her Duathlon Capris both subtle
AND

psychadelic!
Read more…
Karen's running armband pocket
Read more… (with step-by-step photos)
And, as always, you can buy any of my digital sewing patterns from shop.fehrtrade.com (except my Lacey Thong pattern which pre-dates the Shop), where you'll get both fully road-tested multisize patterns in both "print at home" and "print at a copy shop" pdfs, fully illustrated instructions, plus the knowledge that the highest percentage of your money is going directly to the designer! (And yes, I take Paypal, too)
duathlon-shorts
,
exercise
,
fehr-trade-patterns
,
lingerie
,
steeplechase-leggings
,
surf-to-summit-top
,
vna-top
,
xyt-workout-top
Comment [3]
18 May 2015, 12:54
I've been a subscriber of Seamwork magazine since issue one back in December, and can I just say that they are killing it with the digital format, pattern bundling, and freemium vs add-on price point? Seriously, this is the future of not just sewing magazines, but magazines. I'm proud to be both a subscriber and a contributor (look out for more of my writing in the June issue!), to be honest! When I saw the cropped "Astoria" sweater in the April 2015 issue, I just knew I was going to sew it! The nice thing about Seamwork (which is made by the Colette Patterns team) is that subscribers get both patterns on the 1st of the month, but if you're dawdling and don't notice a great pattern until someone like me sews it up a month or two later, you can still go back and buy the pdf pattern on its own (and they include Copy Shop versions, too).
All the Seamwork patterns are designed to be sewn in an hour, and, just like the Oslo cardigan I made back in January, this one came together in a single evening. Also, I appear to only make Seamwork patterns in wool jerseys, ha!
I couldn't believe my luck when this pattern appeared, as I'd just bought some gorgeously soft green merino wool jersey at Mood in NYC mere days before! I'd only bought 2 yards (which I'd regretted once I got home!) for $18/yd, but happily there was enough there to cut the long-sleeved version of this plus still have enough leftover for a winter running buff.
I made size Large since my waist and hips corresponded best to that size, though my bust is a Medium on their chart. At first I made size Large with no alterations, but I wasn't 100% sold on the fit. It took a whole day of me wearing it to decide that it'd be better with the sides taken in by 2cm (an inch) on each side. In hindsight, I could've gone with the Medium, I think.
So I cut off the hem band, took in the sides from the armpits down (taking off the same 2cm from each of the hem band seams, too!), and overlocked the hem band back on, this time with only the minimum seam allowance to avoid shortening the hem any more than necessary. And the fit is waaaaaaaay more to my liking now!
I really love the boat neck & long sleeves, but I must admit that the cropped silhouette is new one for me. I'm still finding my way in terms of what looks best paired with this (full skirts? pencil skirts? Leggings? Jeans?), and also when I should wear a camisole tucked in underneath to avoid midriff showing during movement…
Some of you may be wondering why I made a long-sleeved wool sweater in May (especially when there's a 3/4 length sleeve view), and I'm just going to say two words: English summer. And this is a particularly good colour for Spring and Summer!
It's just a bonus that it pairs so nicely with all the spring flowers on our moorings right now!
tags:
colette-patterns
,
knit
,
wool
Comment [5]
15 May 2015, 12:55
The latest issue of the Brazilian pattern magazine Manequim arrived already, and it's not only the start of their Fall fashions, but also a tribute to Mother's Day (which is celebrated in May in a large portion of the world).
First up, in the celebrity style section (which is normally filled with Brazilian soap stars I've never heard of), I see a familiar face – Kate Middleton! The dress is quite a classic shape with a wide, boat neckline, and comes in a variety of sizes, too. It's designed for scuba fabrics, which are becoming more widely available in the past few years, too.
The cover feature this month pairs a soap actress with her daughter (who I'd assumed was about 16, but reading the article, is apparently 12?!), with dresses and separates for both mother and daughter to wear. I particularly like the two wrap dresses the mother is wearing, though they're very similar styles besides the hem length.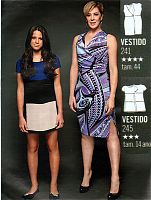 Some of the daughter's patterns are actually for sizes "16 years" or "12 years", which I've never seen in Manequim before, like this collared sweatshirt pattern. They've not included a size chart in the back of the magazine at all for these tween sizes, so how they compare to the smallest adult size, 36, is anyone's guess!
They've used the usual "designer style" section this month to instead showcase the Plus patterns. Except that the long sleeved tee on the left isn't really in Plus sizes (I wear a 42 or 44!), which is kinda cheating. The jersey wrap dress on the right is at least offered in larger sizes, and is a classic look, especially in three quarter length sleeves.
I love this dress with its contrast side panels and surplice skirt. Totally love it – it's modern, flattering, and gives an opportunity to colourblock!
I've never been a fan of maxi skirts to begin with, but I'm thoroughly sick of seeing them now (file under "anything peplum"). Except Manequim have managed to find a fresh maxi silhouette! This elongated pencil skirt with its angled waist seaming just looks so fashionable – and you could always make it knee-length instead!
There are so many boring trouser patterns out there that anything unusual immediately catches my eye. But with these, I'm not sure the innovation was a good idea, as they look to be pooching out a bit around the model's midsection, which is not a good look for anyone…
The final section of the issue this month features lots of different winter fabrics along with a handful of patterns to use with them, including this lovely tweed coat. The princess seams would make this easy to fit, the long zipper leaves no gaps for the cold to get in, and the gun flap adds a bit of visual interest, too.
And finally, I rather liked the jacquard pencil skirt with the two long zippers, but the leather playsuit just seems like a bad idea – hot, inflexible, and awkward to get on and off, especially since you'd need to layer it over tights and a long sleeved top at the very least…
I know that all of these are meant to be Fall and Winter sewing, but I often find the most to like out of these and the Spring issues, where it tends to cross over a bit and be compatible with English seasons!
tags:
magazine
,
manequim
Comment [1]
13 May 2015, 12:20
I've been on the Aussie pattern company StyleArc's mailing list for a while now, and I always like to keep an eye on their new patterns, but their fabric options have never really appealed to me, to be honest (I've got to really like a fabric to pay for it to be shipped halfway around the world!).
Until March, that is, when they sent round details of their new range of "cut & sew" leggings, printed directly onto activewear knits:

They've since removed these from their site due to demand, so I'm reposting the original ad here so you can see the other colourways.
I'll be honest – I was as intrigued by the concept as I was the prints, and for $60AU (£30) shipped, plus the freebie March pattern (knit top Melinda), I was sold. Quality leggings in great prints go for the £80-90 range in London, so for me, £30 was worth a gamble in the name of research. StyleArc had teamed up with a company called Fifth Element for these leggings, which you can also buy ready-made for about £45.
I ordered the "Lalitha" colourway the very next day, and then waited over 6 weeks for delivery (maybe they printed on demand?), but the kit finally arrived in mid-April. I was kinda hoping that the fabric would be printed all over, or in zones, like my collaboration with Laurie King, but you really only get the outline of the legging, with the rest in plain white.
Before I get into my complaints, let me just say that the fabric quality is fabulous – it's soft, and stretchy, with great recovery and super vibrant colours, and from handling enough activewear fabrics in my day, I believe the that this is proper wicking fabric. I pre-washed it before cutting out, and everything remained vibrant, too.
Now for my gripes:



There is pretty much zero room for alterations on these – you can shorten the legs, or shorten the rise, but that's about it. If you need bigger girth anywhere, or longer crotch curve, more rounded bum curve, anything like that – you're

SOL

. And god help you if you span more than one size.


The seam lines are white. This is totally unnecessary (the instructions already say it's a quarter inch seam allowance) and meant that even when I used the correct seam allowance, my seams had a line of white showing! This was particularly obvious on the crotch seams, so much so that I went back with my overlocker (serger) and stitched it a bit smaller, just to get rid of the white lines!


The notches face towards the body, not the seam allowance, so they're visible in the finished garment (see photo below). Why would someone do this?!?


Oh, and I think someone was drunk when they did the layout for these, because they overlapped a hem onto the inner leg seam, so I had to chop off a little corner of the hem. Sigh.

I wasn't expecting to have elastic included with the fabric, but quite generously, there was a length of 5cm knitted elastic in the kit, too. When I tried on my leggings mid-construction (and noted the white seamlines), I measured the elastic, too, and took off about two inches from their estimate for Size 12. The elastic as-is would've been fine for casualwear, but I like my running leggings a bit more secure. I was concerned that these might be more low-rise with the wider elastic, but they actually sit exactly where I prefer my leggings after the elastic was applied, so kudos for that!
StyleArc printed their logo and sizing info in the back, so it'd be folded down inside when the elastic is attached. This was a nice touch, but I felt I still had to add my FehrTrade label back there for habit's sake – otherwise it's quite nice as you can tell the back from the front without any chafing risk.
I may have listed a bunch of negatives here, but in actual fact, I totally dig the finished leggings – they've got a great, wild print in colours I adore, and they'll get me a ton of compliments on my runs, I'm fairly confident! Since I'm a really standard shape, the lack of alteration options wasn't an issue for me, and they only took something like 20 minutes to sew up, too.
I took these leggings for a spin out at Run dem Crew last night and they felt great on the tempo run along the river, too! It's always a bit of a gamble the first time, especially with an elastic width I'm not used to, but these get two thumbs up. I also paired them with a new teeshirt draft I've been playing around with for myself – I'll go into it more later, but it's just a basic tee made from all-over reflective DriFit from The Rain Shed (US) (first three entries are what you want and it's DriFit, NOT super stretchy, and definitely not suitable for leggings!).

No flash selfie vs flash selfie!
Oh and if you need any more summer activewear inspiration, go have a look at my Run Hackney half marathon race report where you can see a pair of colourblocked Duathlon Shorts (with one extra curved seam!) I made last summer and didn't really blog about. And they matched the race medal!
tags:
drafting
,
exercise
,
knit
,
style-arc
Comment [12]
8 May 2015, 13:42
I'm not sure sure what happened, but I caught the lingerie-sewing urge hard a few weeks ago and finally cut into some gorgeous pale green lace I've been hording for years. It's been so long that I'm not even entirely sure which online-lingerie-fabric-shop-which-has-since-closed-down I bought it from – eLingeria? Danglez? In any case, it was worth holding on to, and worth buying a pale pink bra findings kit off etsy a year or two ago, and then finally purchasing some pale pink "silk touch" lycra from Tia Knight about 6 months ago to finish off my supplies!
Frankly, I've been meaning to sew more Orange Lingerie Marlborough bras ever since I've made my other two. The original pale yellow one I wear several times a week, every week, and I love it. The wings on the pale blue one have stretched out a bit, and I really need to unpick the back hooks and shift them smaller to make the band more stable so I'll wear that one more, too. But that I have two highly wearable bras that I love has meant that I doubt I'll ever sew another underwired bra pattern again (unless Norma releases another, I suppose!).
The construction on this bra is the same as the other two – my only changes were stylistic, namely to not overlay the lace onto the frame, and to not line that piece, either. I fused lightweight interfacing onto the lower cup, centre front, and frame pieces, then basted the lace overlay on top, and used another pale pink piece as lining as I constructed. I also stabilised the scallop edge of the upper cup with clear elastic, because I didn't have any beige narrow elastic, which I vastly prefer to the horrible clear stuff!
After I finished the bra, I kept the momentum going and made two pairs of panties to match – one using my (still free!) Lacey Thong pattern, which I could make in my sleep these days, but that I love and just plain works for me.
For the other pair I used the "Mischief and Memories Panelled Thong" pattern from the Secrets Of Sewing Lingerie book (which I'll review fully in time), albeit more of a starting point than anything else. The original pattern is drafted for non-stretch lace and tulle, so I took out several inches from the side seams of mine to account for the stretch of my pink lycra.
It was also meant to have cross-cross seams at the front, over which you sew narrow lace, but since I didn't have any, I instead had the idea to use the scalloped edge of the lace as the diagonals, which meant introducing a centre front seam on each piece. Then I zigzagged around the edges of the lace and trimmed away the pink lycra underneath, and I love the finished effect!
I couldn't find any cream organic cotton (which I know is somewhere in my sewing room!) for the crotch lining, so I used some darker beige wicking, cotton-touch supplex instead. It looks a bit weird in these photos, but looks perfectly fine while on, due to the, err, placement of the lining.
Happily, I had just enough lace to make all three pieces (which only about an inch of scalloped edge leftover), and just the right amount of all the elastics, too, though I did supplement the pink ones with some cream picot-edged elastic from my stash. How cool is that pink elastic with the ric-rac edges though? It was too lightweight to use in the bra, but absolutely perfect for the panty leg openings.
This week I saw that Orange Lingerie released two new panty patterns, so I dug my lace scraps out from the bin to see if I could realistically have enough to maker her thong pattern but there is just not enough left! Boo.
Without going into too many details – I've since worn all of these pieces and I love love love them! Honestly, they feel as wonderful on as they look, and I'm so pleased that after god-knows-how-many years of sewing lingerie that looks pretty but doesn't fit quite right that I've finally cracked the formula enough to cut into my most treasured laces!
Can I just also give a shout out to Madalynne, who's been just killing it with the lingerie sewing posts recently? If you have any interest in sewing lingerie, hers is definitely a blog you want to be reading.
tags:
fehr-trade-patterns
,
lace
,
lingerie
,
orange-lingerie
Comment [6]
5 May 2015, 14:21
Wooo!!! It's the best Manequim of the year – the one with all the Oscars gowns! Let's breeze through the rest of the issue and get straight to those Hollywood designer evening gown patterns, shall we?
First off, the Plus selection this month is just the usual three patterns, but they're keeping to the glamourous end of the scale, using singer Adele as the muse.
I LOVE this classic leather biker jacket – it might be slightly too small for me, though (I'm in between 42 and 44, I've discovered), but it'd be easy enough to adjust using another pattern as a guide…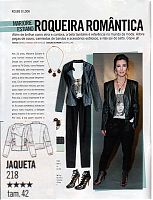 I think I've discovered the secret to me and blazers – I hardly ever wear them myself, but I'm occasionally drawn to the odd one or two in magazines, like this orange one (Can I just say that I love everything about this image? Wonderful model & composition and art direction!!). I think the main thing is that I dislike the traditional, folded over, notched lapel – so designs like this which are a bit different in that area really appeal to me!
Again, I'm not really even into this kimono pattern, I'm just digging the art direction (helicopter landing pad?! Must be Sao Paolo!).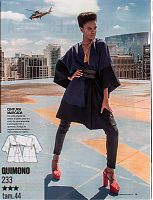 This is the only actual jeans pattern in this jeans feature (and I'm so not feeling the bell-bottoms!) but I was really intrigued by the simple tee paired with it. It was almost entirely covered up in the photo, though (thanks, Manequim!), but it was shown later in the roundup images so I could see it's just a really simple two-piece teeshirt.
And now, for our main event… it's the Hollywood gown special!!! (not just the Oscars this year, no, no!)
First up, we've got a pattern for this gorgeous strapless lace Givenchy gown that Rosamund Pike wore to the Oscars. Pure fantasy!
Next, we've got patterns for Emma Stone's Lanvin jumpsuit from the Oscars and Anna Kendrick wearing a Gorgeous Peekaboo gown (living up to its "peekaboo" name??) at the Oscars.
Then, it's a pattern for Reese Witherspoon's off-the-shoulder, monochrome Armani Privé Oscars gown and Helen Mirren looking fabulous as always in Docle & Gabbana at the Golden Globes.
And finally, the fabric on Lupita Nyong'o's Ellie Saab gown is a large part of the "wow" factor on her Screen Actors Guild Awards gown, but I'm looking at that pattern and definitely seeing scope to shorten it for a more cocktail look (and far less fabric to buy!).
I know we can often fall into the trap of only making glamorous dresses and then only wearing them once or twice (I can't resist making a new dress for pretty much every wedding I attend!), but I've actually got an event I need to sew for coming up! I'll need a posh gown for the gala dinner at the end of the World Transplant Games in Argentina in August, and when I saw this amaaaazing 1930s McCalls gown I knew it was just what I needed!
What about you – is anyone else planning a glamorous make any time soon?
tags:
magazine
,
manequim
Comment [7]
30 April 2015, 14:09
Thanks so much for your congratulations on my London marathon race this weekend! My legs are amazingly feeling pretty much back to normal already, though I still need quite a bit of recovery time "under the hood". In all the excitement (and a fair bit of "post-marathon brain"), I completely forgot to congratulate some other fierce and fantastic women who ran it, too!

With a fair amount of resting time ahead of me in the next two weeks (before I run a half marathon, then cycle our first sportive, then run a 10km on successive weekends. No joke!), I'm hoping to get some quality sewing time in. But I'm not seeing much to inspire me in the latest Burda edition…
I'm really getting tired of Burda's recent ruffle fixation, but I actually don't hate this ruffled coat, which is surprising. Maybe it's that it reminds me of the Lolita Patterns Spearmint coat, or maybe it just seems a bit more well thought out than just randomly slapping ruffles onto an unsuspecting garment…
On first glance, this seems like a dress pattern we've seen a thousand times before, but the overall body shape is closer to a cocoon-shape than I've seen in a dress before. And the pleated neckline creates a bit of interest (and could conceal a big meal, hahah).
I can't really see myself wearing this shirt, but I love that they've placed a very vintage detail like the jabot and created a look that is unambiguously fresh and modern. I have a feeling this might be a pattern that grows on me and I eventually come back to sew 6 months from now.
Look past the horrible, sheer fabric and this is probably the pattern I'm most likely to make from this issue. It's essentially a woven tee with colourblocking opportunities on that yoke, and you can adjust the front keyhole (or switch to the back) instead, too.
Oh. My. God. You know how we sewists complain when companies sew up their samples in prints so busy that you can't see any of the pattern details? Well Burda have well and truly outdone themselves on this one – they chose a print so busy they couldn't even tell when they pasted a smaller top on top of the bigger one (and it was ugly to begin with anyway!)
There's a designer pattern in this issue, from the Odeeh brand (nope, never heard of them) – a boxy tunic and pleated trousers that look nice enough, though not particularly anything to set off fireworks.
The Plus patterns are surprisingly pretty nice this time around – the shirtdress on the left could be made even better with the addition of a belt, and the tee on the right is offered in a few different lengths (and has the trendier sleeve cut closer to the CF).
More great dresses for Plus sizes! The dress on the left with gathered shoulders is such a nice, classic design, and the knit dress on the right (in several hem lengths) would be flattering and comfortable for so many different shapes.
And finally, I hardly ever care about the kids patterns, but I'm of the age where friends are having babies and I occasionally like to whip up a present and get rid of some jersey scraps at the same time. So these knit baby clothes for both sexes may very well come in handy…
tags:
bwof
,
magazine
Comment [5]
28 April 2015, 13:33
Thank you all so much for your enthusiasm and good luck wishes for my special marathon FunkiFabrics Steeplechase shorts! I'm extremely pleased to report that the shorts performed spectacularly well during Sunday's race, and I honestly didn't give them a second thought – except when I got compliments from other runners or people in the crowd!! The lack of inseams on my Steeplechase Leggings pattern totally did the trick!
If you recall, even though this was my fifth marathon (and fifth wearing me-made leggings or shorts), it was the first marathon wearing a me-made sports bra. I'd worn it on loads of long runs and a 20 miler with no issues, but I could feel it starting to chafe a little at the neckline as I approached home at Mile 12, so I took the opportunity to grab some BodyGlide off my husband, smear it on the offending area, and it totally stopped the rubbing! So after that, no issues and no thoughts about the bra whatsoever, which was great.
I've written a full race report over on my running site, RiverRunner, but I'll copy the take-home, "short version" here:
I'm really proud of myself for sticking to my pace plan and taking it easy for the first half – I found it much more enjoyable than last year, and even though it was still a tough race, I was able to let my cheering crews lift me up. My finish time was only 2 minutes slower than last year, but it was a world of difference in terms of experience, pacing, and control.
Considering this wasn't my "A Race" for the year (competing for Team GB in the World Transplant Games in Argentina has that honour!) I'm really pleased. Plus it's another GFA/BQ combo in the bag! ("GFA" = "Good for Age", which means I get a guaranteed place at next year's London marathon. "BQ" = "Boston Qualifier", which means I'm eligible to run Boston Marathon should I wish to)
London marathon, 26 April 2015, 3:32:40
Planning your own big race? Make your own Steeplechase Leggings!

tags:
exercise
,
fehr-trade-patterns
,
steeplechase-leggings
Comment [5]