4 December 2013, 11:10
Last week I had the unusual pleasure of meeting not one but two fellow sewists who were visiting London, separately, and on consecutive days!
First the amazing Dilly came to the boat, bring not only cake but this incredibly luscious silk twill!
Silk twill is something that is really difficult to find in London (unless you want it white and/or £50+/m!), and the monochrome nature print is so me, too. This definitely falls into the "too good for linings" category, so I think I'll need to narrow down some of the amazing blouse patterns Manequim's been printing and sew this up.
After hours of chatting and showing her around the moorings, I think I left her with a desire to live on a boat, and she left me with a renewed fire to go visit CERN! I'm also very impressed that she's been keeping up with her own Burda Challenge this year, too!
Then, on Thanksgiving Day I met up with lingerie sewing guru Norma for a visit through the new Isabella Blow exhibit at Somerset House. I always find it's best to see this sort of thing with someone who can share in your total geekery for seam lines and fine details, and there was plenty to geek out over, too! Really, this was an early Alexander McQueen and Philip Treacy exhibit, as those were the majority of the designs. They even opened up the back room upstairs for this, so it was much bigger than the recent Valentino exhibit there.
Afterwards we gorged on Mexican food and exchanged gifts (and, err, had a quick "tell me how I can improve this bra I'm wearing" reveal in the women's loo)! Norma brought me a treasure trove of lingerie sewing goodies:
There's some gorgeous, black dotted tulle for layering over pretty much any fabric, quality metal rings and sliders, white rigid cup liners, and enough butter yellow and baby pink stretch lace to make a full set!
This week has been no less busy, mind – I had a fabric-filled lunch with Claire yesterday, and then for James's birthday today I gave him the gift of a To-Be-Sewn version of the famous Sherlock coat! So as if I wasn't busy enough with a massive project (to be revealed next week), I've added a fully lined wool frock coat to my holiday sewing plate. Only for my wonderful man…
tags:
shopping
Comment [2]
27 November 2013, 12:12
I had high hopes for this issue after the stellar November issue and the sneak peek at the back of that, but when I saw the line drawings it became apparent this could've just been entitled "The Dolman Issue" for the number of dolman sleeved garments in it! I'm not sure if someone at Burda HQ gave down the commandment that set-in or raglan sleeves weren't beginner friendly or what, but there sure are an awful lot of fabric-guzzling designs in here, but it's not all bad…
First up, no surprises for guessing – it's a dolman sleeve tee! Actually this design isn't so bad, it's a nice twist on a casual, long sleeved tee, and the narrow sleeve cuffs help control some of the volume in the underarm/side seam area.
Since this is the holiday issue, the crafts are spread throughout the magazine and are way better than Burda's usual "stick some glitter on twigs and call it interior design" school of crafts. For instance, these box bags are actually really nice little gifts, and a great way to use up scraps of nice, hefty home dec or other fabrics. There's also a pattern for little moccasin slippers that uses wool and thick fleece that might be worth making as gifts too.
Now you'd think that, because this is a cowl dress, I'd be all over it, but I'm actually lukewarm. There's something about that long pleat running into the cowl that just looks messy and haphazard, and from the cutting diagram I can see that the front is cut entirely as one (including the kimono sleeves, which have a gusset thrown in so you can actually lower your arms!), and then the pleat is just folded over. I know fabric is cheap these days, but the layout just makes me wince at the amount wasted to make a dress that way!
There are a few good trench coat patterns in this issue, but I particularly like this one because it shows that you can make a nice boucle coat without it being the same, ugly, tired, Chanel-alike design.
Again with the cowl neck and (nearly) dolman sleeves! This one looks like it's just asking for a wardrobe mishap, along with showing off every little lump and bump in that fabric, but the top version of this doesn't seem much better.
I don't know why Burda chose to bury this classic little sheath cocktail dress under acres of ugly shiny organza for the front cover (ill fitting shoulders and all!) when it's so nice on its own. I like it so much that I don't even mind the rectangle of faux fur they wrapped around her and called a stole.
Avert your eyes from the migraine-including background and try to concentrate on the tie neck blouse (again with the dolman sleeves
) and the adorable little skirt with the pleated zipper detail.
I guess this fulfills Burda's commitment to menswear patterns or something, but they've included a pattern for a necktie, along with illustrated instructions. This might prove useful to anyone going somewhere formal in the next few months (wedding, prom, etc) where they might want his tie made in the same fabric as her dress.
The designer pattern this month is from a duo I've never heard of, and while it may not look to be the most flattering of lines, this pleated column dress is very on trend. The skirt reminds me a lot of By Hand London's Elisalex dress, and it's interesting that the skirt hangs from an interior bodice, and the outer bodice isn't connected at the waist. Those kind of details actually make me intrigued to see it made up!
And finally, the highlight for me from this entire issue is in the Plus section – I utterly love this red suit with its 3/4 length sleeves, asymmetric front closure, and little bow detail. Burda have produced so many boring blazer-type jackets over the years that it's really nice to see an alternative design. I'll even forgive the exact same kimono-with-gusset sleeves I just mocked on the cowl dress, okay? Make this pattern for smaller sizes soon, please, Burda?
I'd love to tell you my review of Manequim magazine is coming up soon, but neither November issue has arrived yet, though they usually come at the same time as Burda… I hope there's not been a postal whoopsie.
tags:
bwof
,
magazine
Comment [10]
22 November 2013, 12:29
I kept it kinda quiet since I wasn't able to meetup at all, but I was in Virginia last week for some quality family time. I got a good amount of running and working in alongside all the familying, and I also took a trip to the local Hancocks while I was there, too.
The sign outside did not instill much confidence.
I knew I had both limited suitcase space and funds, so I really tried to stick to my list and only buy fabrics I knew I'd use. Thanks to Stacy, I also had the new Vogue Donna Karan leggings pattern waiting for me on my arrival, so I was keen to get some ponte for those, but alas, the pontes in stock were very poor quality!
In terms of fabrics, I picked up two really nice viscose lycra jerseys which had a nice, soft hand and great recovery – one in turquoise blue, and the other with a black, mustard, and orange splatter print. Both ended up being on sale (the blue for about $5/yd and the print for about $7/yd) at the counter, too!
Despite the fleece signs out front, did they have a single sweatshirting (aka "sweatshirt fleece") in stock? Umm, no. No they did not. When we asked, the clerks sounded equally annoyed and exasperated that whomever does the ordering didn't think to buy any in amoungst the tacky petroleum-based mountains of regular fleece…
Otherwise, I just stuck to the haberdashery on my Sewing Shopping List (always on hand in my phone!). I go through a ridiculous amount of 3/4" (2cm) waistband elastic in all my leggings as I prefer it to 1" (2.5cm), but the latter is usually all I can find. Hancocks had 3yd lengths of the 3/4" for $2.50 though, so I rifled through the elastic bin and bought all they had! I also needed some machine needles, orange overlocking thread, and zippers (dear god, zippers are so freaking cheap in America!!), so those rounded out my purchases.
The fabrics were great padding for glass bottles and jars in my checked luggage, and the other stuff was small and lightweight, so I think I did alright!
tags:
fleece
,
shopping
Comment [3]
18 November 2013, 13:45
You saw some photos of this top on Susan a week or so ago, but I've finally had the opportunity to do a proper photoshoot and not freeze!
If you recall, I out this MyImage cowl top pattern before we went to Mexico, thinking I might have enough time to quickly sew it up before we left. I would have, too, if I hadn't decided I needed to make that quick travel bag. It was still waiting for me when I got back to cold, grey London, mocking me with its sleeveless-ness. I finally just sewed it up so I could have the space back in my sewing room, though I'm afraid I won't really get to wear this until next year.
I made it out of some absolutely glitter-tastic jersey I bought at Tissue Reine in Paris a few years back, and it wasn't cheap €12.99/m. So it was even more disappointing that it left a trail of silver all over my sewing room… Boo.
It might be hard to see, but there's princess seams in the front and back even though this is a knit top – there are also facings for all the pieces apart from the centre front, where there's a fold-on facing.
Even though this is a sleeveless top, the strap construction is pretty unique. The straps are nicely caught into the seams of the front shoulders, and the top of the centre back is folded down and topstitched to create a little casing for the strap to run through.
The only thing I really don't like about this top is that the cowl is so low I had to wear one of my sports bras underneath! I don't mind low-cut tops, but this goes a good 2 inches below the centre front of a normal bra!
I'm not sure why they didn't just use the same cowl neck here that they had on the long-sleeved cowl top – that one was a perfect depth and in the issue before this one!
Big thanks here to my Dad, who stepped in and took these photos while I was visiting them in Virginia last week. I'm also wearing my pleated leggings here, which are also My Image!
tags:
knit
,
myimage
,
top
Comment [7]
13 November 2013, 12:00
Last week I mentioned a few projects I'd been working on, including a little satin jacket to wear with both my my purple Matthew Willamson birthday dress and my swirl sheath dress. Well, the Welsh wedding was over the weekend and we managed to squeeze in some photos in the hotel room before the big bash so you all can see how it coordinates with the Matthew Williamson sheath!
As I mentioned before, the pattern is the same Cynthia Rowley Simplicity pattern I used for my fuschia party dress – a simple, loose, open jacket with dropped shoulders and wide sleeves.
I didn't have enough of either satin to make the entire jacket in one colour so I decided to colourblock it. Since there weren't many seams in the jacket itself, I just drew some extra seamlines onto the pattern pieces for my colourblocking.
The sleeves are drop-shoulder but also with a really low armscye at about the waist, and cropped to mid-forearm. I cannot believe there was freaking EASE in the sleeve cap of a dropped shoulder! There really isn't any need to have sleeve cap ease full stop but in a drop shoulder it's particularly stupid!
It's also unlined, so I sewed it all with french seams and neat finish facings (where you sew the facing to the interfacing, then flip it around to fuse). It's debatable whether just drafting a lining would've taken up more time!
Surprisingly, it was just enough to keep my arms warm between the run to the coach and from the coach to the wedding pub (built in 1573 – the oldest pub in Wales!), and the cropped sleeves looked great with my short leather gloves, too.
I'm thinking about wearing my swirl sheath dress to a 100th birthday party in a few weeks so I'll try and get some photos of the jacket paired with that dress, too!
tags:
designer
,
jacket
,
satin
,
simplicity
Comment [7]
5 November 2013, 15:54
I appear to have found myself again in the position where I've been doing an extreme amount of sewing and sewing-related activity, but I can talk about only a small portion of it, and I don't have any proper photoshoots for the things I can talk about… Bad, Melissa, very bad!
So consider this a little roundup post to let you know what I've been up to, until I can get my act together properly…
Silver cowl top
I cut out this MyImage cowl top pattern before we went to Mexico, thinking I might have enough time to quickly sew it up before we left. I would've, too, if I hadn't decided I needed to make a quick travel bag. So it was waiting for me when I got back to cold, grey London, mocking me with its sleeveless-ness. I finally just sewed it up so I could have the space back in my sewing room, though I'm afraid I won't really get to wear this until next year.
I made it out of some absolutely glitter-tastic jersey I bought at Tissue Reine in Paris a few years back, and I recall it was on the pricey side. It also left a trail of silver all over my sewing room… Boo.
Anyway, I like the top (though the cowl is waaaaaaay too deep to wear on its own), but I've been putting off doing the photoshoot for it because it's freezing outside!
Cynthia Rowley satin jacket
We have a wedding coming up this weekend, which I'm planning on wearing my purple Matthew Willamson birthday dress to, but seeing as how it's November, I wanted to make a little jacket/coverup to wear with the dress. The problem is that there wasn't very much of the purple satin leftover, but I liked how it looked paired with the salmon satin of my swirl sheath dress, so I decided I'd make a jacket using both fabrics and then I could wear it with either one. Clever, see?
The pattern is the same Cynthia Rowley Simplicity pattern I used for my fuschia party dress – a simple, loose, open jacket with dropped shoulders and wide sleeves. I just drew some extra seamlines onto the pattern pieces for my colourblocking. It's also unlined, so I sewed it all with french seams and neat finish facings (where you sew the facing to the interfacing, then flip it around to fuse). It's debatable whether just drafting a lining would've taken up more time!
Anyway, I'm not entirely sure whether I like it or not, or whether it's "me" – I vacillate between thinking it's a chic kimono vs a "lady of a certain age" style. I guess I'll ultimately decide at the wedding, where I'll try to get some photos of me wearing it with the dress.
More lingerie
After my success with
my turquoise lingerie set
, I immediately started on a lemon yellow & pale blue set, but I ran into some supply issues that forced me to stall a bit. I'm still waiting on the straps to arrive, but the panties have been done for ages. Here's the set in progress: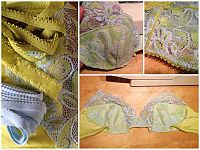 And if you did like my turquoise lingerie set, then please vote on Pattern Review if you're a member! I've entered it in the lingerie contest, but voting is only open for a few scant days so do it now!
KnipMode update
Lauriana alerted me last week
that KnipMode's future is looking uncertain
as its parent publisher is looking to sell off the bulk of their titles, KnipMode included. I really hope they can find a buyer who can keep the sewing focus and make it even better. I've stopped buying it over the past few years as it's gotten very expensive and
IMHO
the styles went downhill after the latest editor took over, but there have also been big improvements made, too (most noteably
the pd download store
) and it'd be a shame for such a Dutch sewing institution to fail now… tags:
knipmode
,
lingerie
,
mexico13
,
myimage
,
satin
,
simplicity
,
ss13
29 October 2013, 11:34
Woo! I knew if I waded through enough mediocre issues we'd get to a good one again! This November issue is the Fall fashion spectacular I've been waiting for, and it's so good I'm even lusting over half the Plus pattern…
First to catch my eye was these foldover trousers, sized for Tall ladies. They really remind me of my KnipMode foldover trousers, which I still wear every winter and still get compliments on!
I love this biker jacket with its off-centre zipper and dramatic collar! It simultaneously reminds me of both my purple MyImage coat and that designer Manequim leather jacket (which I still want to make!), though this is designed for ponte knits in the body, and stretch leather in the sleeves. On closer inspection of the instructions, I noticed it's unlined (apart from the sleeves) so that big collar is only just one layer of jersey. Also, I think the collar looks way more wearable in the catwalk comparison photo than on the model!
Here's an example where it pays to really have line drawings and photos of a pattern – I initially loved the tech drawing, but when I saw it on a live model, I realised those pleats right over the hips would probably not be the most flattering…
From the Little Black Dress feature, I really like this sheath dress for stretch wovens – the slim, zippered sleeves are a particularly nice detail, and a great way to show off some short, posh zippers (hello Riri!). The vertical skirt seams might be a touch overkill though, but they don't appear to be for shaping anyway so could be eliminated I imagine.
Tall ladies are in luck, because they also get this lovely shirt dress, with a centre front placket and double darts. The sleeves are another real designer-a-like feature, with the dropped shoulder seam, inset corner, and subtle shaping. It's almost enough to make me want to de-Tall-ify it!
The designer pattern this month is from Jo No Fui, and surprisingly, I'm really into the blouse in particular, even though it's not my usual style. I think the sleeves are dramatic without being overly "poet" (that extra tuck does wonders for keeping it modern) and I think it looks spectacular paired with a slim skirt like they've shown here. I was hoping those hip seams on the skirt would imply an interesting back, but alas, the back view is pretty standard. I've noticed this outfit is from her current PreFall13-14 collection, too!
This pattern shares the same bodice as the black sheath dress above (and so also has the slim, zippered sleeves), but this instead uses a rectangular, dirndl skirt and calls for lightweight, non-stretch wovens. This in particular would be great for layering over merino tights and a jacket or cardigan on top for winter, I think!
Burda have been providing a good number of slim trouser options recently, but this one stands out as it's for non-stretch wovens!
I love this pencil skirt, and that it's cut on the bias, with the side seams pushed to the back, and with that gorgeous little kick at the back just makes it all the better. I even have the perfect flannel in my stash for this, so this is really looking like the Most Likely To Be Sewn from this issue! This is a good issue for bias in general, because the wrap jacket on the left here (and its longer-length sister pattern) are also cut on the bias!
On to the Plus patterns, and I swear this is the best Plus collection for ages! I often hear complaints that Burda's Plus offerings are too often shapeless, unfashionable sacks, but this egg coat silhouette is so fashionable right now, and the sleeve gusset, seaming, and pockets on this are so nicely designed, too.
I totally agree with Burda's description that this teeshirt needs to fit snugly at the sleeves and hips to really work – part of the reason I think the dress version of this is the only failure of this collection because it's just too big all over. Here, however, I can totally see this along the same lines as my Drape Drape mustard tee, which I wear all the time. Also, you may have overlooked it, but the trouser pattern here is for ponte knits. Ponte knits!! In other words, the most comfortable and flattering trousers ever!!
There's a nice jersey wrap dress in this Plus collection, too, but I saw this knit sheath dress and I didn't have eyes for anything else! I totally love the X darts at the center, and I'd totally make this if it was offered in the regular size range! (Maybe Burda will pull an inverse of recent reprints and this will appear for regular sizes in an upcoming issue?)
And finally, your "Burda WTF" moment for this issue comes courtesy of the crafts section. I know the crafts are terrible and usually not even worth mocking, but this has got to be the most remedial craft yet (yes, even moreso than hanging a twig from your ceiling!). This craft is a bow. Yes, just a bow. The instructions give you a length of ribbon, and then just say to tie a bow and place it on a tree. Because we needed instructions for that…
What did you think of this issue, dear readers? Anyone start any of these patterns yet? December's issue looks like it might be promising, judging from the previews in the English & German versions I have…
tags:
bwof
,
designer
,
magazine
Comment [7]
28 October 2013, 12:50
I'm in the German edition of Burda Style magazine this month! I'm so excited!!

See? There I am right in the middle, along with the quote "I was immediately entranced by the draping"!
Someone at Burda HQ dropped me an email months ago asking if they could have some hi-res versions of my pale pink twist dress photos to use in the magazine, but it was so long ago that I'd assumed they dropped the feature or something. But no, a German edition of the fabulous November issue appeared in my postbox on Friday!
I had already scanned my subscription English edition for my review (going live tomorrow – it's worth waiting for, I promise!), so I flipped through the German version to see what differences there were. The first thing I noticed is that it's a heftier magazine, and there are ads in it, along with more editorial pieces (like a feature on a Philadelphian artist), more fashion spreads (like this season's ankle boots), and that all the pattern instructions and pattern sheets were pushed to the back, and in their own separate magazine!
How cool is this?! It's perforated so you can separate out the pattern instructions entirely from the rest of the magazine, and the garment photos are printed on the back and inside covers. The pattern sheets are still held in with staples, but it makes it so much easier and neater if you wanted to store your patterns separately from the fashion magazine.
What do we have to do to get this feature in the English version, eh?
(Bonus points for those of you who remembered that this is not the first time I've been featured in the German edition of BurdaStyle – again in one of my favourite issues!)
tags:
bwof
,
press
Comment [14]
25 October 2013, 13:55
Can you handle two Brazilian pattern magazines in one week? After my earlier Moda Moldes review, you might be already crying uncle and pining for caipirinhas on Copcabana, but hold on, because there's much more in store from Manequim below…
Strangely, the first patterns in the magazine this month aren't for humans, but for Barbie dolls! I've never seen doll patterns in any of my pattern magazines before, let alone designer-inspired dresses and coat (really, I'd prefer if they'd just given us the full-size versions!). Really, though, I shouldn't complain, as these patterns are free to download, so you might be able to make a little girl very happy in time for Christmas…
There are only three Plus patterns this month (even though Barbie got four!!), but they're all really nice – a yoked tunic top that would be a perfect silk tee, a dress with fantastic contrast raglan seaming, and a sleeveless top with a blazer-like shawl collar that I'm considering knocking off for myself…
I just think this maxidress is so elegant! I tend to like pale, solid colours anyway, but the surplice neckline with the folded-over lapels is just a lovely touch, and one I've not seen in any other pattern. I must file this one away in the memory bank for future franken-patterning. (But seriously, how lovely would this be for a bridesmaid's gown??)
You know how I feel about shorts, but I can't help admire this vintage-inspired set with the lovely tie-collar blouse, even though I probably wouldn't wear it myself.
Again, this top has a neckline that's completely new to me, so bravo for the ingenuity in Manequim's design team! However, I still can't decide whether I actually like it or not – all I could see were two smaller tank-tops dancing towards each other, and now I've seen it, I can't un-see it…
This is why I will never be a fan of prints – why take two patterns with amazing & novel seamlines and sew them up in wild prints that obscure everything unique about the pattern?! Seriously, let's take the dress first – asymmetric, yes! Edgy zipper placements, yes! Sheath dress, yes! Of course I love it. And that blazer, which looks so pedestrian in the photo, is just awesome in the tech drawing, I mean, look at the sleeve seams, or that back box-pleat/peplum, how good is that??
And finally, the designer inspiration this month is Cacharel, and we get a (admittedly kinda weird) dress, a (rather boring) button-down shirt, and a great little dolman tee – very easy to sew. Again, this would make a great little silk tee like I'm so fond of!
tags:
magazine
,
manequim
Comment [5]
23 October 2013, 11:02
I arrived home from Mexico and wasn't particularly filled with sewing mojo, to be honest, but happily this was short-lived, because I saw that Pattern Review had announced a short, two week Lingerie Sewing Contest for the second half of October! This was just what I needed to kick me into action and remind me that I'd been meaning to alter the seaming on my bra cup pattern after I'd made the eyelash bra.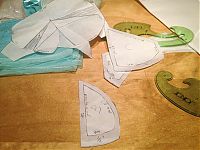 The cups on that one were fine, but I have some gorgeous turquoise lace in my stash from Danglez' closing down sale (sniff!), and it was too narrow for my one-dart cup pattern. So before I could even start sewing, I had to do some pattern drafting manipulation first – introducing some seam lines to account for the narrow lace, split and rotate the dart around a bit, and voila! Now I've got a three part cup!
I was so happy with the fit of this bra that I made myself a matching pair of Lacey Thongs (my free downloadable pattern, if you'd forgotten!) to go with it.
Seriously though – I think this must be about the 8th or 9th bra I've sewn, but only about the second I'd wear out of the house. Sewing a bra is easy – getting the bra to fit properly, feel comfortable, and look flattering is beyond challenging. I think I understand other people's frustrations with trouser fitting now, because this bra fitting journey has been character-building!
My real breakthrough came when I stopped using commercial patterns and just traced existing RTW bras instead. For me, they were a much, much closer starting point than the bizarre cup shapes provided in the KwikSew and Elan patterns I'd previously tried.
In fact, my advice to anyone wanting to start sewing their own bras is to take a bra you already own, trace off the parts (a few times, and compare for accuracy), remove the underwire for tracing, and sew up some muslins. Again, Orange Lingerie's ebook is absolutely indispensable for bra sewing. Skip buying a bra pattern and buy her ebook instead.
In fact, I'm so pleased with the fit and comfort of this bra that I've actually taken some photos of me modelling it (tastefully!). However, you may see more of me than you'd like, so I feel this should be opt-in rather than accidentally skimming your eyeballs over it in a post. So if you'd like to see how the bra and panties fit me, you can see some photos here (opens in a new window).
What can I say about my Lacey Thongs that isn't just going to sound like marketing? Seriously, I love these panties, and I can't have too many in my lingerie drawer! The turquoise lace here was only slightly stretchy, so I erred on the larger size with my pattern, and I'm glad I did because they fit great.
When I pulled the lace out of my lingerie sewing stash, I saw I also had bought pale turquoise (nearly white!) elastic, straps, underwire casings, and bra hooks at the same time. However, the elastic was wider than I was anticipating – this is fine for the bra and the waistband on the panties, but would be really uncomfortable around the crotch, especially in a thong!
So I required an emergency run to MacCulloch & Wallis last week, where I was very pleased to buy some narrow picot-edge elastic in the exact shade of turquoise I needed! It looks so professional next to the turquoise cotton crotch lining I'd also thought ahead to buy at Danglez!
I'll be entering this set into the Lingerie Contest at PR, so I'll put up a link when voting begins in early November. This was just what I needed to kickstart my post-holiday sewing mojo, and I'm so pleased about having a well-fitting bra pattern that I'm actually making another set in different lace (seen on the left above)!
tags:
drafting
,
lace
,
lingerie
,
ss13
Comment [12]