18 September 2014, 15:38
Wow, thank you all so much for your compliments and love over my new Threshold Shorts sewing pattern! I always start my patterns with something I'd love to sew and wear myself, so it's always great to find that others have been wanting the same thing, too!
As I mentioned earlier this week, I sewed a lot of versions of these shorts during the development process, but also in the road-testing phase so I could cover all the different pocket and runderwear options. But also then because I loved running in them and wanted more pairs! So you'll get to see a bunch more versions on me, but I thought first I'd share a pair I made for Sanchia, my athlete model and amazingly inspiring runner friend.
Beyond having the most enviable hair (why is it that we always want the hair we can't have?!), Sanchia sews, she runs, and she never fails to crack me up every time I talk to her! She's also pretty much the only person I know who got a PB at the sweltering Hackney half marathon earlier this year, of which I'm just in awe (I got a Personal Worst that day!).
I usually see Sanchia on Tuesdays at Run Dem Crew, but it was really great to have a quiet chat when we met up at lunchtime to take these photos. There's been lots of debate over the past few years about the lack of black and mixed-race ladies on the fashion runways (and rightly so), but I hadn't really thought about it being the same way in the exercise fashion industry. As Sanchia put it, "When I started running, there wasn't anyone running who looked like me". But she's learned a lot over the years, especially about advice for black and mixed race girls on beauty and hair care while sweating, and she's hoping to start up a site soon sharing what she's learned (rather than just keeping it secret among the Gyal Dem, ha!).
Now, a word on the shorts I made for her here. I'd actually recommend her going up a size – they look great for photos, but having them fit this close means there's not enough room for forward leg movement in running. It's my own fault – I didn't have my tape measure with me and had to guesstimate based on her RTW size, and I got it slightly wrong. She's wearing size XS here but I'd recommend she goes up to a size S for running. If your first pair has a similar fit, I'd advise the same!
I made this pair for her using some bright yellow Nike DriFit mesh (aerated polyester) with purple FOE on the hems. You can see here that I left off the front pockets but gave her an inner back pocket, perfect for phone, keys, or gels.
You may be mistaken for thinking we upped the styling for this shoot, but no – Sanchia really does run in big earrings and has long been a member of the red lipstick running brigade, too!
Remember, you can still save 15% on all my patterns through to marathon day by using code "BERLINMARATHON" at checkout, and remember you can save 10% on fabric, too!
fehr-trade-patterns
,
threshold-shorts
Comment [3]
15 September 2014, 11:19
Please welcome the newest Fehr Trade sewing pattern… the Threshold Shorts!
A running short designed for lightweight wovens or mesh fabrics with three optional pockets, curved seamlines, bound hem, and elastic waist. An optional runderwear brief or thong can be attached at the waistband or worn separately.
So why am I releasing a shorts pattern in September?? Well, this particular pattern has been in development since May, and it's been my most technically challenging pattern to date. Anyone can design shorts that look good standing still, but it's another matter entirely to design shorts that look good while you're running at threshold pace. And well, this is how long it took me until I was happy with the result.
I'm not just saying that, either – I will be running Berlin marathon in two weeks in a pair of these shorts. Quite honestly, I wouldn't be doing this if I had any doubts about their performance or comfort, because a marathon is a very long time indeed to be annoyed with a garment!
If you don't believe me though, here are some comments from my pattern testers:

"I always though running shorts would not be flattering (being pear shaped), but these were cooler than leggings and I rather like them, so I think I am a convert to running shorts now."


"I was desperately needing new running shorts and just wasn't thrilled with what I've seen available in patterns. I wanted something that actually took into consideration that I will actually run in them, not just lounge in them."


"I'd especially recommend these to the older sewers who are going through their post-menopausal 'I'm too old and fat' thinking. Because these shorts fit me. These shorts also seem to cover my thighs and don't feel like these will flip up in the wind or when I'm running."


"I enjoyed sewing these, the curving construction and piecing was fun and looks good."


"I can see these being really comfortable PJ bottoms too. I hate long legged PJ bottoms (it's hot here) and boxer style shorts has been on my list for a really long time. I'm so happy to have these lovely comfy shorts "
And as with my VNA Top Pattern, I've included diagrams for common fit alterations alongside the fully illustrated instructions, so if you need a longer rise, longer legs, or more thigh girth, then I've got you covered.
To celebrate the release of the Threshold Shorts pattern, you can get 15% off all my patterns by using code "BERLINMARATHON" up through marathon day (28 September).
But that's not all – UKFabrics has also offered FehrTrade readers 10% off their airtex mesh and 2oz technical nylon fabrics, which are some of the recommended fabrics for this pattern! Just use code "UK-FEHR-01".
I'll be updating my Global Exercise fabric supplier list since these shorts use different fabrics than my previous patterns, but I can also say that the "aerated polyesters" from Sewing Chest are also great, and that this eBay Shop has some fantastic FOE for the hem bindings!
$10.99USD (£7.00)

tags:
fehr-trade-patterns
,
threshold-shorts
Comment [5]
12 September 2014, 13:01
You may be forgiven for thinking I have my hands full with designing activewear sewing patterns, running marathons, and working extensively on a certain sewing tv show, but no – I also teach classes! Since I utterly adore working with knits and playing with overlockers, I tend to gravitate towards teaching beginners to sew stretchy stuff, like leggings, tee-shirts, and panties.
So when I bought this fantastic purple & green striped viscose jersey from Tia Knight (formerly Tissu) recently, it practically shouted at me that it wanted to become a Slouchy Breton Tee, which is the pattern that the ThriftyStitcher developed for the class I teach.
Having taught numerous ladies how to make this, I knew it'd be a quick and easy make, and that it also has the magic ability of looking good on all body shapes and being loose enough in the bust to not require any FBA (not that I need one, but still…). What I hadn't realised though, is that the 2m of the viscose jersey is actually enough to make two Slouchy Breton Tees, so my mom's getting one, too! Seriously – two great teeshirts that feel like vintage tees for a fiver each? I'm in love!
The fit through the bust, waist, and hips is really forgiving here, and there are two sleeve lengths (well, three, if you just wanted to keep the drop shoulder as a little cap sleeve!) – I made the full length sleeve but in future I'd extend it by another 2-3 inches as it's not quite long enough for me. There's also a 3/4 length sleeve option, too, if you prefer.
I'm not usually a stickler for stripe matching, but when the stripes are wide and obvious like this, I like to try and match, both when cutting out the fabric (usually by just making sure the waist notch on the front and back are at the same part of the stripe!), and also when sewing. But I also ended up matching the sleeve with the body stripes when my arms are down, which was a complete coincidence!

Bow before my stripe matching prowess!
When I'm making striped teeshirts, for some reason I always like to cut my neckbands along the length of the fabric so I get more stripes – in fabrics with four way stretch you can really cut it either direction but for me, the little stripes look better than one long stripe going around the neck.
Right now this pattern is only available as part of the class, but I'll be announcing more Fall class dates soon. And if you bug the ThriftyStitcher enough, maybe she'll think about releasing it as a stand alone pattern to buy, who knows?
PS: My Threshold Shorts pattern is due for release on Monday!
tags:
knit
,
thriftystitcher
,
top
Comment [3]
8 September 2014, 13:00
Despite my nonstop Work Sewing during the week, I still often get an itch at the weekend to sew something quick and Not Work for myself, often using up some fabric or pattern which I've been meaning to make for ages.
A few weekends ago this took the form of a shell top with a pleated neckline from the Manequim August 2011 issue (though I totally failed to spot its potential when I reviewed it!) and one metre of printed polyester satin which I'd picked up at a London sewists swap last summer.
I really liked the colours in the fabric and the abstract quality of the print, and the fabric is nice enough that I had to do a quick burn test to determine that it wasn't actually a silk! As for the pattern, it was one that I traced some years ago, but then never quite got around to making, so it got folded up in a drawer before I finally pulled it out a few weekends ago.

Worn here with my orange Sinbad & Sailor O'Keefe skirt from earlier this summer!
It's a very basic shell top with four pleats at the neckline, and in hindsight I probably should've just drafted it up myself! The pattern includes a half lining – the back just uses the same pattern piece as the exterior, ending at the waist, but the front lining is a separate pattern piece with bust darts from the armholes so the exterior neckline pleats are held in place.
I didn't bother to translate the instructions, and did this my own way instead. In case you're ever faced with a similar lined shell top with a centre back seam (or zipper, like this one), though, my preferred order of construction is this:

Sew the Front & Back together at the shoulder seams. Repeat for the Front & Back Lining.


With right sides facing, attach the exterior to the lining around the neckline and armholes.


Understitch to the facings as far as possible.


Pull the Backs through the shoulders to turn right-side out. Press well.


Sew the side seams of the facings and exteriors in one go


Insert the invisible zipper into the centre back seam


Sew the bottom of the CB seam below the zipper


Open the zipper, fold the Back lining over to be right sides facing with the back, and sew to the zipper tape. Clip the top corner and flip to the inside


Finish the bottom edge of the lining. Finish the bottom hem.


So I've ended up with a neatly finished garment with french seams on the side seams (the only portions not fully covered by the lining and thus, prone to fray), but when I tried it on, I realised the fit is actually not that great! I must admit, it looks much better in these photos than it feels when worn.
For the first time perhaps ever, the bust is too tight (are Manequim seriously drafting for an A cup, or is this an anomaly?!), and the back length is too long so the zipper pools a bit at my lower back. Neither of these are problems I usually have, which makes me think that it's an issue with the pattern. I feel a bit stuck though, since size 44 is a bit too big for me, and size 42 is a bit too small (my galaxy print birthday dress was also a 42 and definitely on the snug side). As most Manequim patterns are one size only it's not easy to just trace in between. And don't even think about suggesting I grade one up or down – for that amount of effort I may as well just draft it myself!
But I still really like the fabric, and a beginning sewing friend really wanted my traced pattern, so I'll see how the blouse beds in over time. I have a feeling it could be really nice paired with my grey midi skirt for winter if it doesn't end up feeling too constrictive after a few hours. Still, at least it was enjoyable to sew and I'm glad I didn't make this in my Liberty silk twill instead!
tags:
manequim
,
top
Comment [9]
4 September 2014, 13:24
When you run your own business, sometimes you've got to work weekends. This past weekend I worked all day on Sunday, so I tried to make a "weekend day" sometime during the week. It all came together yesterday, with the weather forecast set to be 24C and sunny, James at a conference down in Brighton, and me not completely swamped with work for once. So I declared this Wednesday to be a weekend day and grabbed the train down to Brighton for the afternoon!
My first taste of life in the UK was in Brighton, when I spent my study abroad year at Sussex University, and the city still feels like home whenever I visit, which these days is once a year or so. Instead of doing the usual tourist things (I realised after I got home that I didn't even see the sea, ha!), I headed directly to the North Laines area. I love that there's a whole area in Brighton where pedestrians rule and all the little shops and cafes are independent, quirky, and great for browsing! There's really no need to spend any money in a chain store in Brighton.
Of course my first stop was at Ditto Fabrics, which is quite possibly my favourite fabric shop anywhere in the UK, where I had a great chat with the owner Gil and learned all sorts of stories about her buying trips to Italy to get the good designer stuff for us. I went with the aim to buy some coating and lining for the StyleArc Audrey coat, and indeed I did!
I bought some wool/viscose coating in Navy, though they had a bunch of really tempting other colours, like pale purple, pumpkin, camel, off-white, and black, off the top of my head. Ditto only have a fraction of their in-store fabrics listed on their website, but these wool/viscose coats are pretty well represented online, and the colours look pretty true to real life.
And then I discovered the vintage Italian silks upstairs. oh. em. gee.
A few are listed on their website, and I urge you to snap these up, because they are the real deal. They feel a little papery on the roll, but Gil had a sample that she'd handwashed in a bit of washing up liquid, and that sample was so freaking soft I wanted to rub my face against it all day. So then I just had to try and narrow down which I wanted as a lining for my coat, and I settled on this psychedelic red, blue and yellow silk twill (seen above), which actually came printed in 90cm panels with a subtle diagonal line at one part to help the original makers place the first cuts to make neckties!

Hand washing the silk before I lose my nerve!
I consider myself very restrained, but I did have one impulse buy – you know I'm a sucker for lycra, and trompe l'oiel prints, so when I saw this poly/lycra with huge, digitally-printed knitting and lace, I just had to have it. Yes, it's kinda crazy, and because it's printed in panels, I'll be doing some fun placement jenga. But at £15 for a 1.6m length, it was super reasonably priced considering it's ex-designer, too (Gil couldn't remember which but I'd love to know if someone has seen anything like this on style.com?).
After meeting up with James for lunch, we actually went back to Ditto so he could pick out some linen for a shirt he wanted me to copy (which I traced and muslined a few months ago). He picked out an apple-green linen/cotton, which I'm all in favour of as the blends tend to wrinkle less when worn.
He also found an amazingly soft 50/50 poly/cotton flannel fabric upstairs, which still had an original tag attached…
Holy crap! Yes, they mean it when they say ex-designer… So then he had to have this one, too, for the copied shirt pattern.

Also at Ditto! Love this idea…
I also checked out the Brighton Sewing Centre on North Road while I was in town, but all the fabric there was either quilty or the "token overpriced cotton jersey" made by quilting designers, so I didn't buy anything. Instead I got some deals on my favourite paraben-free bath stuff at Infinity Foods (a big organic grocery store which has been there since my student days) and lugged my fabric bags home with a smile.
PS: oh, if you're not following me on Twitter, then you probably missed my sneak peek of my next sewing pattern, the Threshold Shorts! These are engineered for running, with wraparound seams, three optional pockets, and a choice of standalone or integrated runderwear.
It'll be released in about two weeks, but definitely before the 18th! It's been in development since May and it's taken me this long to be satisfied enough to run long distances in. (You're welcome!)
Nope, Ditto haven't paid me to write this post – I just really love their fabrics!
tags:
city-guides
,
fehr-trade-patterns
,
shopping
Comment [8]
2 September 2014, 16:18
You may be thinking "August? What about July's issue?" and to this I say Wow, you're way more observant than I am, because I only noticed that July never arrived until I went to scan this issue in. Sad face.
But not for long, because this issue is all about party dresses, because it's their 55th anniversary issue! Judging by the number of articles talking about the history of Manequim magazine and photos of old issues, I thought for sure we'd get some great vintage reprints, a'la Burda magazine, but alas, no – not a single vintage pattern here.
First up is a sweatshirt pattern, offered in a wide range of sizes, that is a pretty standard design except for the inclusion of two zippers at the hem. They don't appear to have pockets behind them, but are instead just purely decorative.
I didn't really like any of the styles in the cover star's feature, but the "designer style" this month is Tom Ford, and this faux-wrap dress looks to be a classic design (and not just because it reminds me of that New Look pattern everyone was sewing in 2006!).
There's also a long sleeved teeshirt pattern offered in a bunch of sizes. Ignoring the weird, distressed fabric, this would be a great basic pattern to use as a starting point for any number of styles…
"Is it a dreeeeeeeeeeeeesssss, or a muppet? Is it a muppet of a dress (or a very dressy muppet)?" Apologies to anyone who hasn't seen the Muppet Movie yet and has no idea what I'm singing.
In amongst all the OTT sequins and lamé and cutout ballgowns, this top and maxi skirt stood out in their simplicity and chic – the top is just a surplice, sleeveless shell with the front gathered at the side seams and some sheer panels at the shoulders. Very nice, and easy to recreate from any number of similar cross-over neckline patterns.
The 1980s called – they want their awful, cheap, scratchy lace and peplum monstrosity back.
There's a full section on shirts in this issue, to which I thought I might find a good pattern candidate for the Liberty lawn I bought earlier this summer, but most of the patterns are for lightweight silks or voiles, and of the ones that are for shirtings, they're really just the basic shape you'd find anywhere. So here's one for a silk instead, since I liked the colourblocking and casual styling.
And finally, there's a featuring listing "55 Icons of Fashion" which provide a handful of patterns for things like a trench coat, white shirt, etc, but I particularly liked this little black dress with alternating panels of faux leather and sweatshirting.
And from the same feature, we get patterns for an A Line dress with some nice understated layering at the lower skirt (which kinda reminds me of the Truffle dress is the Colette Patterns book), and a versatile little mini skirt in a bunch of sizes.
So for me, this wasn't the most useful of issues, and I still mourn the one that got away (I'll never know what glories it contained, as they never have old stock leftover!). But on the upside, I made a Manequim pattern the other weekend, which I'll show to you as soon as we get a photoshoot done!
tags:
magazine
,
manequim
Comment [4]
28 August 2014, 11:58
In the tech industry, there's a term "Minimum Viable Product", which means the absolute minimum you can do to get code out the door. It's not your best work, but it works.
Like half of London, we had tickets to see Secret Cinema's performance and screening of the first Back to the Future film, where they recreated the entire 1955 town of Hill Valley, California, complete with about 20 business, the clock tower, full fun fair, a cast of hundreds of actors, you name it. We were also all asked to assume an identity (I was "Tiffany Hyslop, developer!") and dress in 1955 styles. Now, I've only got one 1950s dress pattern (which I made into that Porsche dress a few years back) but it's too big in the bodice now and would require too much work.
So instead, I picked a modern dress with a 1950s feel – the Simplicity Cynthia Rowley pattern (1873) which I had already made in fuchsia and really liked the fit of.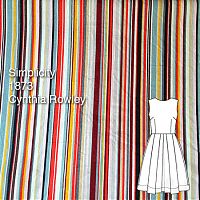 The pink version was the wrong colour for the 1950s and definitely too short, so I bought some striped cotton poplin from Minerva that had the right vibe, and figured it'd be close enough.
The cotton turned out to be quite narrow, so the incredibly full, pleated back skirt piece didn't fit on, so I had to take some width out and then just make up the pleats to match the bodice when I was sewing it. The stripes have the ability of disguising pretty much everything though, so even I couldn't tell if my pleats were even or not.
I managed to cut out the pieces one evening after dinner, but my schedule's been so jam-packed that I didn't have a chance to sew it until the day of the performance. Plus I had a two hour trail run to get in first. So in the end, I started sewing at 2pm, and I had to leave at 4:15 to meet James and our friend. So no pressure then!?!
I did a few smart shortcuts in sewing this, and even though I didn't get to finish the hem before I had to leave, it was definitely good enough for a casual setting, and absolutely better than nothing (or buying something!). So I thought it'd be worthwhile to pass along some of my tips for speed sewing, for when you really, really just have to get it done.
Melissa's Speed Sewing Tips
Wherever possible, sew pieces together in a chain, rather than stop to cut your threads after every single piece. Cutting once at the end saves time (and thread).
If there's a lining, convert darts to pleats, which are much quicker to sew.
Pick fabric that doesn't require print matching.
Staystitch instead of fuse interfacing wherever possible
Eliminate pockets or other decorative details (like the half belt on this pattern)
Sew until you can't sew any further, then batch press all your sewn seams. It saves time in walking back and forth to the pressing station.
Sew everything by machine – hand stitching takes too much time! (Knowing how to do an all-machined lining is golden…)
Consider a machine-stitched hem, or (gasp) keeping it raw

The prick-stitching I added the following day since I skipped understitching to get it done…
For me, my major tradeoffs were that I didn't have time to understitch the lining to the seam allowances at the neckline and armholes, and that I had a raw hem. To be honest, no one really noticed either at the event, and I was able to go back the next day and sew the hem, then hand prick-stitch the lining while I watched tv.
So even though it was a two hour sew, I've ended up with a perfectly nice casual summer dress!
tags:
cotton
,
designer
,
dress
,
simplicity
,
vintage
Comment [9]
27 August 2014, 13:35
It all started back in March when I received for my birthday both the royal blue ponte knit fabric and a Marfy pattern I'd requested (#2935). I was enthusiastic about both, so much so that I spent the day after my party making up the dress.
The first issue came about when I realised that the pattern was missing a piece for the horizontal waist sash. It was pretty obvious it was just a rectangle, but the dimensions of it would be useful to get the gathering right, so I emailed Marfy, and got the following unhelpful reply when I asked for the dimensions of the missing piece:
"you are right, sorry. The important thing is to cut the piece on the bias so that it will follow the body. You can decide the width you prefer, and you can close it on the back."
Ummm…
But that was just the start, because the horizontal sash was really the least wrong this about the dress. It's a basic, long sleeved knit sheath dress with front and back darts and waist seam, but then there's a weird set of gathers above the bust at the centre front that just reminds me of a vagina no matter how much I look at it, and this created a weird lump of fabric just above the bust that had to be pinched out.
But it goes on, because the diagonal sash was angled incorrectly and way too long, but if it was pulled tight enough, it started to bring the neckline down, too. The length was really dowdy, and overall, it was just a really unflattering dress. Somehow it looked straight out of the 1940s despite being modern, and it's pretty much impossible to have a fabric that is both thick enough to wear on the body but thin enough to stand up to all that draping. Big, big thumbs down for Marfy 2935. This is actually my second Marfy pattern, and the second that hasn't worked for me, so I'm kinda washing my hands of the whole company now…
But I still really liked the fabric, and wanted to do something with it to reclaim it, so this monstrosity of a muslin stayed on Susan (my dressform) literally for months. My friend FJ would come by and be like "Is that thing still there? You have got to do something with it or get rid of it – it's bringing you down!" and he was totally right.
But despite being a big dress, the uninterrupted pieces weren't very big so I had to choose my pattern carefully – and I pulled out the Seamster Patterns Yellowtail Camisole pattern that I'd bought and printed out last summer but hadn't quite gotten around to making before the weather cooled off.
I was able to fit the pieces into the Marfy dress (plus it felt quite cathartic to cut the sucker up!) and it was really quick to sew!

Seen here with my Donna Karan leggings from earlier this week…
The instructions were nicely written and it came together really quickly – I used some black FOE (foldover elastic) from my extensive lingerie sewing stash to finish it off, though I think I may have been a tad overzealous when I measured it out because I think the straps could be a pinch shorter (the cups feel like they're a little too high!).
I should also point out that the Yellowtail pattern has a "pay what you want" price tag, with half the money going to charity, which is a pretty cool concept! So if you've not tried Seamster yet (formerly known as Disparate Disciplines), then this might be a good one to start with.
Even though I'm annoyed that the Marfy pattern didn't live up to its illustration, I'm proud of myself for (eventually) reclaiming the fabric into something wearable, and trying another indie pattern company at the same time!
tags:
dress
,
knit
,
marfy
,
seamster
,
top
Comment [11]
25 August 2014, 16:34
Yikes! I actually made these leggings back in early July, but then it was so hot and sunny for weeks that I couldn't bear to do the photoshoot, even though I was wearing them in the evenings a lot. The impetus for these was that my beloved pleated "denim-look" leggings had come to the end of their life through heavy use. I've been trying to find the time to sew a new pair of denim-look leggings over the entire summer, even buying in the fabric ahead of time so it was all ready to go, but alas, other work had gotten in the way.
But then I finally had some spare time so I pulled out my denim-look jersey and Vogue 1378 – the Donna Karan separates pattern.
I'd made these leggings a few months ago in grey ponte, and I really like them – except for the floppy ankle opening things. Those really annoy me, limit my shoe choices to heels, and generally just don't work for me. So I'd already altered the pattern by overlapping the two ankle pieces and drawing a new seam line where they intersect, and I used the modified pieces here.

Seen here with my new Yellowtail Camisole – more on that later this week!
I also took a good 2 inches out of the Centre Back seam last time, so I modified my pattern pieces for that, as well as adding a bit to the back crotch curve so it matched my Duathlon Shorts pattern's curve. The crotch in particular fit so much better now – it really is amazing how much difference 5mm makes!
I'd only bought 1 metre of jersey, however, and I was determined to fit all the pieces in! For the most part I was successful, but no matter how much Fabric Tetris I played, there was always one piece that wouldn't quite fit. So I opted to place the side hip piece at an angle to make the fabric's lines a feature after double checking that there was still ample stretch in that direction.
The ankle is still a bit experimental, but I think it really works! I'd take it in another inch or so on my next pair, though, so that the ankle fit is closer still. It hangs more like a trouser here than a legging, I think.
As I mentioned in my last review, I don't really like the seam finish described in the instructions, so I just used regular overlocked (serged) seams again, really only referring to the instructions to get the order of construction correct. I was amazed how quickly these came together, despite the number of pieces!
Again, I used my own waistband elastic method that I used on all my leggings (and which you'll be familiar with if you've sewn my PB Jam Leggings or Duathlon Shorts), rather than Vogue's bizarre "double lines of straight stitching" thing. Have they not heard of double needles or something??
In any case, these new denim-look leggings get two thumbs up from me! Long may they last, and be as comfortable and versatile as their predecessors.
tags:
designer
,
knit
,
trousers
,
vogue
Comment [4]
22 August 2014, 11:44
By rights, I should totally be feeling the Fall styles right now seeing as how we're currently in the most October-feeling August I can recall (which is fine since we had a glorious July!). But despite my finding a lot to talk about in this issue, there's actually not much I can see myself making, at least not with my limited "Me Sewing" time these days…
Burda have produced so many ladies bomber jackets in the past few months, it's only natural they'd produce one for men now, too. But seriously, Burda, there is nothing British about this look! This has retro Americana written all over it!!
Ah this V-neck teeshirt looks very wearable… but I'm having deja vu… oh yes, it's because we had an almost identical tee in July's issue! At least recycle a bit further back, c'mon!
And now into the Alpine feature… yawn. If you've subscribed to Burda as long as I have, you're likely to be thoroughly sick of dirndls by now, too. I have enough dirndl patterns to create an entire dirndl wardrobe. I'm even traveling to Austria and Germany during Oktoberfest this year and I still don't want to sew a dirndl.
So, err, look at this Alpine jacket instead. It's not offensive.
This combo, on the other hand, is truly hideous.
In an attempt to show the rest of the world that dirndls really are a versatile garment, we have a "Pimp Up" spread (snigger) showing a few variations on the basic patterns. As much as I hate to admit it, I really like the "Cool" variation, with the lace illusion neckline. It'd be a great use for Minerva's skull lace, for starters!
I've been looking for a similar boxy sweatshirt style to showcase the last remaining bits of my galaxy print ponte knit, but the neckline looks way too wide here (easy to fix), and the general proportions look out of wack (not so easy to fix). Interesting that the front panel is cut on the bias, though, so you can showcase a woven instead.
Neither of these are my usual style, and I'm seeing beyond the awful floral here, too, but I still really like both the blouse and the skirt on their own and paired together like this. The blouse is even more interesting to me once I saw the layout – it's one pattern piece, with no shoulder seams and a raw-edged neckline! This skirt is apparently a knockoff of a Prada runway train skirt – not necessarily the most practical for London (dragging that train through damp streets, ewwww), though.
Love the style lines on this dress – near to being a basic princess-line dress, but the angular seaming and neck slit really gives it a modern edge. They missed a treat with the pockets though – instead of putting them in the side seams, I'd totally make use of that horizontal waist seam and stick them there instead.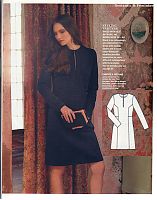 I really like the tech drawing for this asymmetric pencil skirt with its half belt (much more than the pleated trousers in a similar vein elsewhere in this issue), but sadly I'm not that into it on the model. I really wish they'd shown more than one photo of it so I could better decide. Perhaps I'll wait til the Russian ladies make it first and then decide (they're so freakin' quick!).
Love the scooped neckline seaming (and that it continues on the back!) but hate the skirt godet. Again, that's easy enough to fix by just filling in the skirt and leaving it as an A-line.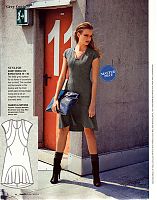 And finally, from the Plus section, have a look at the tech drawing for this coat! How many pieces is that?!? Clearly it's enough to warrant Burda including three extra drawings in the instructions to show how the pieces are split up and named… Respect to anyone who tackles this!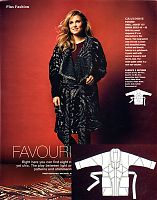 So what did you think of this issue? I know the Alpine look much be a big seller for Burda in Germany, but is anyone outside of the Alpine region that bothered? Do people actually wear dirndls outside of Germany in a regular fashion sense (ie: not as a costume to your town's Oktoberfest party)?
tags:
bwof
,
magazine
Comment [9]