17 April 2014, 14:29
Thank you all so, so much for your well wishes, support, and donations for Sunday's London Marathon!
If you're interested in my full race report, please head over to my RiverRunner site, but the short version is that it was super tough in the hot sun, but I managed to finish in 3:30:37, which is a new PB for me, an automatic Good For Age place in next year's race, and a Boston Qualifier as well!
My rainbow Duathlon Shorts were the perfect choice, too – super comfortable with no tugging or chafing whatsoever, and the pockets were big enough for me to cram in four gels and a pack of Shot Bloks and not have them bouncing around everywhere.
I've got a crazy backlogue of posts, but I've been super busy working full days on an outside project for the past few weeks, plus the marathon, plus now I've got the typical post-marathon cold, so I'm going to try to rest and recover over the long Easter weekend and hopefully get caught up!
tags:
duathlon-shorts
,
exercise
,
reflections
Comment [9]
12 April 2014, 14:13
Tomorrow I run the London Marathon.
(Actually, I'm way more excited than that sounds. Add in a "Weeeeeeeeeeee!!!!!")
I will be running in my newest Duathlon shorts, so I'll be sure to share some photos of myself in them for the Spring Race Challenge! Remember that if you're entering the prize draw, you need to link to your photo in the comments of that post – I've seen some great photos already but they need to be added there so I don't lose any.
If you'd like to track me during the race tomorrow (it starts at 10am BST), I've detailed three different ways you can do so over on my Riverrunner site. I'll especially need comments after 2.5 hours in, so that's about 12:30ish local time (or 7:30 EDT).
Remember that tomorrow is also the last day to take advantage of the "VMLM14" code to get 10% off my exercise sewing patterns, so if you're dawdling, go grab them now!
I also owe you a massive roundup of all the amazing Duathlon Shorts I've seen over the past few weeks, but I've got to focus on tomorrow first! My past 6 months have been focused on tomorrow…
tags:
duathlon-shorts
,
exercise
Comment [16]
10 April 2014, 17:31
This might be the quickest turnaround for a pattern I've made in ages, but last weekend I put together the weird, conceptual "tube" tee from the April 2014 Burda magazine (I'm so current!!) and some splatter-print viscose lycra jersey I bought at Hancocks when I was visiting my folks in Virginia in November. Or it's up on the US Burdastyle already should you wish to buy the pdf.
The pattern itself is rather avant-garde – it's really just one big rectangle! On the right-hand side (as worn) there's a side seam and a pretty normal, set-in sleeve. But on the left it's just a fold instead of a side seam and a horizontal slit is cut in, where a sleeve with the sleeve cap chopped off (no, really!) is set into that. The neckline is just the top of the rectangle and is only an inch or two narrower than the hem!
I wasn't so sure that the weird left sleeve would actually be comfortable, but it really is! I don't even notice it when I'm wearing it, and it doesn't really look strange when worn, either.
The body feels super voluminous and quite long to me – I'm tempted to narrow it and the cowl neck as well. I made a Burda size 40 which should be true to my new measurements, but everything is super wide – I'd definitely consider going down a size in the rectangle, but keeping the sleeves at your true size.
The cowl also stays in place fairly well – it doesn't fall off my left shoulder at all like the magazine photo might suggest, and you can actually drape it up over your head like a hood or fashionable head scarf!
The instructions for this were just stupid, though – they have you set in the normal, right sleeve instead of sewing it in flat, and then have you sew French seams on the shoulder and cowl neck seam, which is just totally pointless! I just overlocked it, and you can't see it for all the fabric folds anyway.
All in all, it's a great top (tunic?) to wear with leggings that feels super comfortable but is a bit more edgy than your average teeshirt. Considering that it's only two pattern pieces and three seams, it's also super quick to sew, too!
(Why "Bunka"? Bunka is the Japanese fashion school that all the conceptual, avant garde designers studied at – think Yohji Yamamoto, Issey Miyake, and all the Pattern Magic and Drape Drape books. This really reminds me of their approach to pattern making!)
tags:
bwof
,
knit
,
top
Comment [14]
8 April 2014, 13:30
Sewing a coat is always a big accomplishment, but this coat in particular has been a long time in the making. I first told James I'd finally make him a coat like Benedict Cumberbatch wears in BBC's "Sherlock" for his birthday back in early December. I drafted up a pattern using the details provided in this livejournal post, then made a muslin for him later that month. With only a few tweaks needed for fit and style (I made the lapels too big, for starters!), I then moved on to purchasing the wool coating, cotton flannel underlining, and black acetate lining.
But this is also where the first delay came in, as he wanted a black wool coating with faint blue and brown checks from Crescent Trading, who turned out to be closed over the full Christmas period, when I was hoping to get a lot of the work done. All of the above are detailed more
in this "progress report" post from January.
I then had more hurdles involving the hem bubbling (which meant I had to baste it in place, flip it back wrong-side out, handstitch, re-press, etc), waiting for some woman on Etsy to make more replica buttons (which we finally gave up on and just made our own with gold enamel paint), and getting the right upholstery thread to do all the buttonholes.
But it's finished, it looks fantastic on James, and the proportions are really flattering on him, too! So the lengthy making process shall soon fade away in the light of the finished coat. He definitely prefers it open (as dos Sherlock himself), but it can be buttoned up in the coldest of days, too:
It's a very warm coat, having underlined the body and sleeves in flannel, a trick I picked up in previous coats to stop the wind.
I can't take the credit for these, as James was having fun with photoshoot ideas!
Sherlock, or Dr Who? Oh no, we've confused British geek heroes! ;)
The coat is one long piece in the front, but the back has a waist seam and a voluminous, pleated skirt which really swishes and moves with him. The belt is attached at the side seams and is really just for looks.
Now, you know James loves a loud lining, but for this coat he thought it'd just be wrong, so instead he chose a simple black lining. The only feature inside is a piece of ribbon to control his headphone cables, which is a feature he requests on all his jackets and coats.
Here are some detail shots: Red keyhole buttonholes (made on my antique Singer with the buttonholer attachment), chest single welt pockets, lined patch pockets, and curved sleeve cuff
I've heard the original jacket used in the series had boning added to the collar to make it stand up, but I wanted to give James the option to wear it down if he wanted. So I instead used some really stiff horsehair interfacing which bends easily horizontally, but really wants to stand up vertically. I then stitched it in rows along the undercollar to keep it in place. I'm super happy with this choice, as the collar really stays up on its own without any fuss!
Here are some detail shots: Painted buttons, Upper back pleat, headphone holder in front facing, back belt and pleats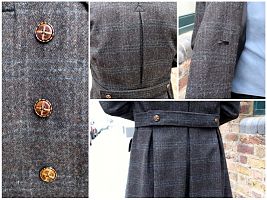 The buttons were regular brown, which we detailed "stitching" onto with gold enamel model airplane paint, so they look like the originals.
And we couldn't resist some shots with our iconic neighbour!
You should see the jealous looks he's getting from his friends and from strangers on the street!!
tags:
coat
,
knockoff
,
menswear
,
wool
Comment [31]
4 April 2014, 13:06
The Upper Side piece of my Duathlon Shorts pattern is pretty long – 64cm (25in) long for size XL, to be exact. If you're using scraps as accents on the sides, you may find a great piece of fabric that's too short for the piece.
Here's a tip – because of the way the piece folds to create the pocket, if you position a joining seam anywhere between the top "Top of Pocket" lines, the seam will be hidden inside the pocket construction!
(Just don't forget to add on seam allowances when you join – or join your fabric first and then cut out the pattern piece!)
Remember there's still 10% off my sewing patterns if you use code "VMLM14" up through marathon day!
duathlon-shorts
,
fehr-trade-patterns
3 April 2014, 12:57
I recently placed a small order at Spoonflower for the first time in three years since they now do "performance knit" as a base fabric option! I mostly wanted to see how it compares against other wicking lycras and also FunkiFabrics' digitally printed (non-wicking) lycra, as it could potentially be a great source of wild running prints for me.
I had stopped ordering from Spoonflower because their international shipping was taking an excessively long amount of time (over a month!!) and getting lost fairly frequently. I also stopped because, at the time, the only knit fabric they had was the organic cotton interlock, which both faded in the first wash and had zero recovery, and was pretty much useless for my purposes. But in the past three years, they've added a bunch more knits to their range and sorted out their international shipping, so I tentatively made a small order to try them out again.
I ended up getting three samples and a fat quarter, all in the performance knit (plus a swatch book), and I'm really impressed. Spoonflower's performance knit is a smooth lycra base with about 40% widthwise stretch and no lengthwise stretch. They print onto white base lycra, and although the weight is thinner than FunkiFabrics' base lycra (which has four-way stretch), I'd still feel fine using it for actvewear, though you'd want a busy print to distract from any lumps and bumps.
I'm also relieved to report that they've sorted out their international shipping – I ordered on 13 March, they shipped it on 17 March, and it arrived on 31 March. Much improved!
Now, the price. I always expect that I'm going to get shafted on shipping fabric from the States (and I'm usually right!), but the shipping on my above order was only $7, which I found wholly reasonable. In fact, I started getting curious so I actually worked out a price comparison for having digitally printed lycra shipped to me in the UK:
Spoonflower: 1 yard "performance knit" ($24) + UK shipping ($7) = $31 (~£18.62)
FunkiFabrics: 1 metre "printed lycra" (£18) + VAT (£4.59) + UK shipping (£4.95) = £27.54 (~$45.77)
So, as depressing as it is, it actually makes economic sense to have my fabric printed halfway around the world and air shipped to me than it does to get it printed locally (well, at least in the same country). This isn't to say I'll stop using FunkiFabrics entirely – I think their lycra is of fantastic, hefty quality, great stretch, and a great range of prints, and they tend to print and ship a bit quicker (plus they print onto different coloured base fabrics). But for sheer price comparison, Spoonflower comes out almost a third cheaper, even if you have to gamble with customs fees.
Oh, and I since I had these samples on hand, I realised that you can fit both Lower Side pieces of the Duathlon Shorts (biker short length) nicely into a Spoonflower sample! Bargain!

(I've just folded away the top & bottom seam allowances to show it does fit into the printed area!)
At $5 a sample for the performance knit, this could be a really great way of injecting some fancy prints into your shorts that coordinate with your base fabrics!
tags:
duathlon-shorts
,
exercise
,
shopping
Comment [10]
2 April 2014, 13:05
Argh I've done that thing again where I get really busy in my sewing cave (and elsewhere!), ignore my laptop altogether, and end up accumulating a full week's worth of posts that I can't face writing. This usually bogs me down mentally for a few days until I realise I have to face the laptop at some point, and I work a "computer day" (I much prefer "sewing days"!) to clear the slate.
But a-ha! I gotcha, "internet day", because I'm going to cram together all the updates I really should write about in one big go. Didn't see that coming, didja?!? (frollicks off to the sewing cave…)
Birthday gifts
Thank you again so much for all your compliments on
my galaxy print birthday dress
last week! I'm not sure what I did right, but I ended up getting an awful lot of lovely sewing gifts this year…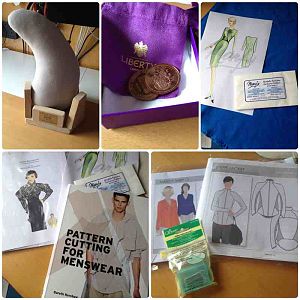 Clockwise from upper left:

An amazing, handmade pressing ham and stand from Claire (protip: she's selling these right now in custom fabrics so get in touch with her!). The ham is a funny shape because she's cleverly designed it to mimic a crotch curve so you can really get in there and press it well, and the stand essentially acts and a hands-free for it! She also got me some royal blue ponte knit that was just so me that I cut it out the same day (seen in the upper right and below…)


From my friend Jennie, Liberty gift coins! They're like gift cards, but because Liberty are so damned classy, you get a gorgeous purple suede bag with special coins instead. Mmmm, shopping!


From James, a Marfy dress pattern I've been lusting after for ages (Marfy 2935)


From my inlaws, the Style Arc Steffi Jacket (and March freebie pattern, Nancy) and Clover fork pins (which hold silks in place better than anything else, apparently!). I'm particularly pleased with the Steffi jacket as I love the design and it saves me the trouble of drafting it myself!


From James and my parents, an Eva Dress reproduction of a 1933 Katherine Hepburn jacket that I've literally had on my WishList for 3+ years (hurrah!), and a brand new Men's drafting book that came recommended from Fashion Incubator and has better, modern designs included than anything I've seen actual patterns for. So I've got high hopes for that, even though it doesn't contain a tight-fitting stretch block.

(I also got a bunch of books and running stuff, too, but I do attempt to keep this blog on topic!)

Marfy dress


On my birthday itself, I decided I wanted to do some "fun sewing" and not "work sewing" (you make this distinction when you start doing this for a living, I've found), so I actually ended up cutting out Marfy 2935 in the blue ponte knit – surely a new record for both pattern and fabric to be used in less than 24hrs!

The first snag was that there was no pattern piece included for the horizontal waist drape on the green version – I emailed Marfy saying it was missing, but that I presumed it was just a gathered rectangle and could I please have the dimensions. Several days later, I got a vague and partial reply saying that I was correct and it was important that it's cut on the bias. That's it – no "yes, you should've received that piece" or "here's the dimensions", oddly.

But I had already carried on with my dress using guestimated dimensions for that piece, and got to a try-on stage with basted side seams:

The main changes are to shorten the hem by about 10cm, take in a weird bubble at the centre front seam (way above the bust, so I'm not sure what that's doing there), and shorten the diagonal sash by a huge chunk. Those were all easily done, but even after doing this, I'm not sure whether I like the dress enough to finish it off (just the neckline & hems, really). It looks very 1940s and a bit fussy, and I was hoping the jersey would "modern it up" a bit. All the gathering and overlays also adds bulk, but if I take them off, the dress underneath is a mix of very plain and very weird (neckline gathering meant to be hidden under the sash).

So it's resting on Susan for a few days while I think about it.

Breton tee class


I had a busy weekend working on the first Thriftystitcher Breton tee class (more to be announced soon!). We weren't happy with any of the patterns on the market, so Claire-Louise ended up drafting her own, slouchy dolman tee pattern specifically for the class, which I then digitised and graded in time to teach it on Sunday!

Let me tell you – the pattern is all kinds of magic because it fit each of the four lovely ladies above with zero alterations! See – magic! The class itself was loads of fun, too – working with the overlockers and twin needles, matching stripes, learning how to set sleeves in flat and finish with a neckband… plus loads of chatting about the Great British Sewing Bee and sewing trends, too! And they get an exclusive pattern to take home at the end.

But the best part for me is when my students go away wearing what they've just made, and I've decided this is my new "measure of success" for a class! For this one two out of four left wearing their newly-sewn tops!

Oh, and I'm teaching the Lovely Leggings class tomorrow night and I believe there's still space if you can buy some fabric locally in time (get thee to Walthamstow or Goldhawk Road!). Come learn to sew your own!

Sherlock Coat


Remember the Sherlock coat I started drafting for James in December that kept getting stalled for various reasons? Well it's finally finished!!

The latest delay was in sourcing the replica buttons, which we eventually became convinced that the Etsy seller would probably never make again (ie: we gave up waiting). So we just bought some buttons that were close enough, and added our own gold detailing with model airplane enamel!

So James now has his own wool coat (underlined in cotton flannel to stop the wind) in the style of Benedict Cumberbatch's, and err…. just in time for warm weather! We'll get photos of him wearing it soon and I'll share a full post on it.

Rainbow Duathlon shorts


Thank you all for the praise, sales, and finished versions of my newest Duathlon Shorts pattern! I made a bunch of samples before the pattern release (one of which I wore on a recent 20 mile race), but I really wanted to make a pair similar to my rainbow PB Jam Leggings that I could wear to run London Marathon if the forecast is warm.

So I knocked up these in an afternoon using rainbow supplex, neon yellow lycra, and neon orange wicking lycra, in the "biker shorts" length. These really are so much quicker and easier to sew up than the PB Jams, I keep forgetting how instant gratification they are!

If all goes well, you'll have a photoshoot in the form of official race photos in (eep!) 11 days' time! Since I'm running for Anthony Nolan (the UK's bone marrow database charity, and the people who found me my bone marrow donor 5 years ago!), I'll be wearing their vest on top, but I also want to represent my running crew and my training team who helped get me this far. So I've customised my vest by freezer paper stencilling both crew and team logos onto the shoulders in gold fabric paint…

If you're in London on 13 April and planning on cheering, look out for me in my black and green Anthony Nolan vest and rainbow bottoms (whether they're leggings or shorts)! And if you'd like to donate to my fundraising, please head this way.

Remember there's still 10% off my sewing patterns if you use code "VMLM14" up through marathon day!

Tiger leggings


I don't normally show off the projects I'm commissioned to sew for clients for privacy reasons, but as these are for a friend, I don't think she'd mind. She's running Brighton Marathon this weekend (her first marathon!) in support of the Zoological Society of London. Her husband is a big cat zookeeper at London zoo (no, really!) so she specifically wanted to raise awareness for the plight of the few remaining wild tigers.

What better way than to run in neon orange tiger print leggings (matching headband not shown) I finished sewing them and I was upset I had to hand them over to her, as I really want to keep them for myself!! She bought the fabric from FunkiFabrics(sorry, I can't find the specific one on their new website), and the tiger print is printed onto the neon orange base lycra, so the colour should remain really vibrant. I used KwikSew 3636 again and made a few alterations to fit her better, and having seen her wear them, they look amazing and fit her SO much better than when she just tried on my acid trip pair. I'm so glad I took the extra time to cut each leg in single layer to get the dark area running down the outside of each leg, too!

Fabric restocking


I saw that Minerva got more of that print lycra back in stock recently so I couldn't help but buy a few more metres to future proof against making more pairs for clients and friends (plus I grabbed some cheap jerseys for muslins).

I also placed an order at Spoonflower for the first time in 3 years so I could test out their new Performance Knit base fabric (seen above), but that's for another day as I've got a lot to say!

tags: class, coat, duathlon-shorts, exercise, fehr-trade-patterns, shopping

Comment [13]

28 March 2014, 15:23

First of all thank you so much for all your birthday wishes, compliments on my galaxy print birthday dress, and also for all your enthusiasm on my new Duathlon Shorts pattern, too! What a week!

I'm running a bit behind on posts here, but I wanted to share a few words from the Lovely Leggings class I taught on Sunday. I've of course made loads of leggings before, but it was my first time teaching this class, and I'm pleased to say that it went smoothly and all four ladies went away very happy!

It was the first time any of them had used an overlocker (serger) before, but they all took to it so quickly, and now (of course!) all want one at home, too!

On this class each student was asked to bring their own fabric, since there's a big personal preference there and some people wanted wicking fabric to exercise in, and the fun part was seeing what people bought!

You know that point when you finish a sewing project and you finally put it on and you do a little dance and punch the air? It was awesome seeing these ladies try on their leggings at the end! I heard things like "omg, this is the first pair I've ever worn that actually fit!", "I'm not fighting with these like I do my others!", "Finally, my waistband's where I want without folding it down a bunch of times!", etc.

Awesome. One lady even wore hers home! So I count this as a total success, and a great reason why we share our skills with others – as of Sunday evening, there are four more women in the world who won't put up with ill-fitting, shop-bought leggings!

Oh, and in case you'd like to be one yourself, there is still room for the next leggings class on Thursday 3 April. It's also not too late to nab the last spot for my Breton top class this Sunday (30 March) if you'd like to learn about stretch fabrics and overlockers but don't fancy making leggings…

Coming up next week: a roundup of birthday pressies, updates on a new Marfy dress, the grand finale of the Sherlock coat (I know! It's finally done!!), and quite probably a rundown of the Breton top class, too…

tags: class

Comment [5]

26 March 2014, 11:26

It's been several months in the making, but I'm pleased to report that my third sewing pattern is on sale now! Please welcome the Duathlon shorts!

This is a pattern for close-fitting capris or shorts in three lengths with contrast side panels. There's an integrated pocket at each hip, perfect for gels, keys, or your phone plus an optional padding piece for cyclists wanting some extra comfort on their ride. An elasticated, high-rise waistband means they won't shift around as you move, either!


Read more details in the Shop section…

If you're not familiar with the term, a Duathlon is a competition where you run, bike, and then run again, and I designed this pattern to be both runner and cyclist friendly (and dance, and yoga, and hiking, and skating!). The draft is very similar to my PB Jam Leggings but with a slightly higher back rise to accommodate the seated, cycling position, and with the pockets placed lower on the hips so your leg crease doesn't get in the way when you're sitting down. Lots of people asked for a leggings pattern that could be easier to make fit alterations on, and this is it!

Like my other patterns, these are designed to use up fun scraps leftover from other projects, and I've even got a thrifty tip coming up if you haven't got enough length for the long Upper Side piece, too!

The Booty Short length is great in particular for ladies who cycle commute but like to wear skirts – you can pop these on underneath, stash your phone securely in the side pocket (so you can feel it vibrate if you need to), and have a bit of cushioning while you ride. I highly recommend seeking out laminated foam padding (usually used in bramaking) for great crotch padding, which fared best in testing.

If you're not a cyclist, you can leave off the crotch padding and still have a great, stylish, and functional pair of workout shorts. You might also wish to use these in our Spring Race Challenge – just a thought!

To celebrate the launch (and the weather-based possibility I will be running London Marathon in a pair of these!), you can use code "VMLM14" to get 10% off! The offer is good through marathon day – it expires at the end of 13 April.

$10.99USD (£6.84)


tags: duathlon-shorts, fehr-trade-patterns

Comment [7]

25 March 2014, 10:50

Happy birthday to meeeeee! I hinted about it last week, but I decided to celebrate the occasion this year by sewing up something special to wear, using a fabric that I've lusted over for months even before I broke down and ordered it. My feeling is that if you adore the fabric or pattern (or both!) then the resulting garment is pretty much guaranteed to be a hit.

For this dress I used the Derek Lam-inspired knit sheath from the January 2014 Manequim magazine combined with the most amazing galaxy print ponte jersey which is even nicer in real life, I swear! It's a digital print on a smooth, white ponte jersey base, and it's both stable and stretchy, making it the bestest fabric ever (and I have just over a metre leftover! woo!).

It's been a while since I sewed a Manequim pattern and I've dropped in size over the past few months of marathon training to a 42 (Burda 40), so I decided to sew up a muslin of this first to test the fit. The resulting turquoise ponte muslin was very close fitting, and I wasn't entirely certain at first whether it was too tight, or utterly perfect. So I lounged around in it for a day, decided it was comfortable enough, then cracked on with the final version without any pattern changes.

The final version is definitely tighter than the muslin, though, and I'm fairly certain it's down to adding the lining layer, even though it's stretchy! You can definitely see some horizontal pulls in the dress showing it's a tad too tight, and it's a struggle to get that waist seam on and off over my boobs, but one it's on, it's not uncomfortable, thankfully!

The pattern is really simple – a front bodice with both vertical and horizontal bust darts, back bodice with long vertical darts, raglan cap sleeves, and a skirt pattern with vertical waist darts (the same skirt pattern is used for both front and back). The pattern calls for a long invisible zipper, but as I could easily get the muslin dress on and off without it, I was going to leave it off the finished version, too…

…until I discovered the most perfect purple, metal teeth zipper in my stash! So then I decided I had to use it and make it an exposed zipper feature instead. It was a bit shorter than I'd have liked, but it reached exactly to the waist seam, which worked out nicely visually (though for ease of getting in and out of it, a longer zipper would've been much better!).

I used this tutorial – I think the finish looks a bit nicer than the ones where you just topstitch the raw zipper tape on top of the seam.

One thing I really liked about this pattern was the attention to detail in an otherwise quite simple style, so I knew it was going to be important to ensure that all the darts matched up nicely over the waist seam, and I'm pleased to show I accomplished this well!

The only place I think I could've really improved, skill-wise here would be to have cut all the pieces single-layer to improve the print placement a bit. I was conscious of it when cutting the fronts, and the back pieces I could see, but I hadn't realised the bottom layer on the backs were shifted just a tad so you get a weird mirror-effect. I noticed it after I cut the pieces, but my thriftiness totally won out and I decided I'd rather have the leftover yardage for a top or something than use it up cutting out my back pieces again!

I'm nearly always convinced that print repeats are something only other sewists recognise anyway!

Because this dress pattern came with no facings or lining pieces (other than a dotted line on the skirt hem suggesting the lining be a few inches shorter), I had a bunch of choices, but decided a full lining would both finish the bodice edges nicely and give the skirt a bit of slipperiness that would be important for movement in such a close-fitting style.

I went through my lining stash and found a bunch of odd pieces of mauve nylon tricot leftover from when I lined my bridesmaids' silk jersey maxi dresses that I totally forgot I had. Not only could I fit all my pieces in nicely (I had to seam the CF of the skirt, but that's it), but the purple looks like it was made for the galaxy print!

Having fallen into the Unflippable Trap with my Brasilia dress recently, I paid very careful attention to my order of construction this time, which was:

Order of Construction
Sew all darts in the shell and lining
Attach the Sleeves to the Front & Back
Repeat for the lining
Attach the shell & lining at neckline and armhole/sleeve edges
Flip the Back through the shoulders so it's right-side-out
Edgestitch around the neckline and armhole/sleeve edges
Sew bodice side seams of shell & lining in one go
Baste bodice layers at waist
Sew skirt side seams as one with the lining (I machine basted the layers together first, too)
Baste skirt layers together at waist
Attach bodice and skirt at waist
Insert CB zipper & sew remaining CB seam
Hem the shell (I left the lining hem raw to reduce show-through
If you noticed carefully, you'll see I treated the tricot as a lining in the bodice, and as an underlining in the skirt, then opted for an exposed, overlocked waist seam to join them together. I did this because I really wanted everything anchored at the waist, and I didn't want the skirt lining riding up as I walked, and embedding them in the side and CB skirt seams keeps everything together.
When devising the order of construction, I assumed that understitching would keep the layers neat at the neckline and underarms, but in reality the mismatched fabric weights meant the lining was really sliding through anyway. In the end I edgestitched all the opening edges, both to keep the lining inside and to give the edges a bit of crispness that really works with the style.
So happy 35th birthday to me! I wore this out to birthday drinks last night to loads of compliments, too!

I'm not quite sure how I'll pose next year since I've run out of fingers!
If you recall, I always make myself something nice and special for my birthday each year…
Past Birthdays
34th –
A satin Matthew Williamson designer dress
, made with his pattern from BurdaStyle magazine and a rich, plum duchesse satin.
33rd – A leather iPad case, protecting a new gift against the rigours of a transatlantic work trip the following day.

32nd – Manequim silk blouse:

31st – LMB draped birthday dress in teal silk jersey:

30th – Green silk birthday dress using a Burda magazine pattern a emerald green silk satin:

29th – A bolero and jeans, on which I put the outline of the Thames on the back pockets, and lined the bolero with some vintage apron fabric from my Granny:

28th – I was homeless and living out of a suitcase in my boyfriend's parents' house, watching the Shipping Forecast every single day, hoping for good weather to sail our boat across the North Sea. My sewing machine was in storage, so I couldn't make a new outfit, and frankly, ALL I wanted was for our boat to arrive. And it did, on the evening of my birthday.
27th – New Look 6429 in a fun sparkly knit from Walthamstow Market (and then about three days later decided to lose all that excess weight for good!).

26th – (probably the first year I was really into sewing) my favourite vest pattern with a red vinyl square neckband:

Does anyone else share the same birthday sewing tradition?
tags:
dress
,
knit
,
manequim
Comment [33]