30 October 2014, 14:57
I received this issue a good week ago, but I hadn't been overly enthusiastic about this one, even though there are a lot of interesting designs going on. There are noticeably fewer patterns included this time, too, which seems to be related to there being some huge gown patterns which take up more space than usual on the pattern sheets.
So if you've got a formal occasion coming up over the holidays, you're about to become very excited, but there's plenty of casualwear included too…
There are some great separates in this issue, but I personally don't rate either of these! The top is made for lightweight wovens, but that hem is just far too wide, in my opinion, and really gives the sort of "is she pregnant?" look even when teamed with slim trousers (not to mention that deep neck pleat which will look terrible on large busts!). In this case, they've teamed it appropriately with leggings, but delving a little deeper into the pattern, these leggings have: a) interfaced waist facings, and b) an invisible side zipper. On a knit. Errr. The pattern itself looks fine, just not the finishing!!
So are these cigarette trousers any better then? Well, I personally think the inset leather pieces would be more flattering slightly curved rather than straight, but that's just drafting preference. The zipper on the side though – if you read the instructions, you do 80% of the work of creating a zippered welt pocket, only to seal it up with a facing to make it utterly useless! Otherwise, it looks like a decent pattern for stretch wovens, with a back yoke and nice front pockets.
I have a feeling we'll be seeing a lot of this knit top across the sewing world in the next few months! It's what Burda does best – a great knit top with interesting details and great fit that can be made up in a thousand different fabrics.
This lightweight coat is super flattering with the wide, dramatic lapel collar, nipped in waist, and hip-length hem. Burda have styled it quite vintage, but I think this could be flattering on a wide variety of body types- much moreso than the longer version (which has illustrated instructions).
You wait ages for a transitional "car coat" pattern and then two come at once! I'm not entirely sold on the gathered, wide portion on the bottom nor the weird patch pockets, but with a bit of tweaking I think it could really work. Since the bottom is just a gathered rectangle, I'd attach it 1:1 with the front to make it flatter, and shift all the gathering to the back instead!
And now for something completely different (and feeling more like something Manequim magazine would do!) – Burda have printed patterns for five iconic gowns! My favourite is probably this gown similar to the one Eva Green wore in "Casino Royale". I just adore the back view, and the sleek silhouette.
I love that this asymmetric gown with an overskirt actually could become something really quite modern just by leaving off the overskirt, and shortening the hem to cocktail length (and saving you about 5 meters of satin, too!). Even though the design is over 50 years old, it's something I'd totally wear.
And as a teenager of the 90s, I totally love that they've knocked off Julia Roberts' red gown from "Pretty Woman"! The neckline looks quite dated IMHO, but I never realised before how similar the draped skirt is to that green "Atonement" gown (this could totally save you some time if you're recreating the latter).
The children's patterns this month are for babies, with onesies, teeshirts, little trousers, and even a pacifier holder. All very useful if you have a bunch of friends having babies that need gifts!
And finally, the Plus section this month features cozy jersey patterns, the highlight of which are these sweatpants! I love the yoked seaming, integrated pockets, and front fly so much I'm actually considering drafting my own in my size! Edit: As pointed out by Lauriana in the comments, what's with the fly? I totally just assumed this was a mock fly, but I've looked in the instructions, and ermagod, they actually want you to do a fully functioning fly and button. Even though it's a knit and has an elastic waist…!
Flip past all the scarf-collar tops and dresses and you may have missed that there's also a super-flattering, super-useful jersey sheath dress here, too. It looks like the perfect winter dress, as far as I'm concerned!
So not really anything this month I'm on fire to sew ASAP, but plenty of interesting designs to pique my interest. What was your favourite?
tags:
bwof
,
magazine
Comment [9]
28 October 2014, 14:03
James has a black linen shirt from Muji that he utterly loves. He's worn it very nearly to death over almost ten years, though, with it rather faded and with a hole worn in in one place. So he asked me if I could copy it, as it's a design that he's never been able to find it shops again.

I'm so proud that my Illustrator skills are such that I can whip up a tech drawing like this in a few minutes now!
It's an over-the-head design with a front button placket, stand collar, back yoke, and short sleeves with little button tabs on the sleeve hems. The only change I made from the original was to introduce a small pleat at the back yoke, as I just think men's yoked shirts look weird when they don't have them, plus it gives a bit of wearing ease back there.
I traced out his existing shirt with craft paper and my serrated tracing wheel, and made a quick muslin, which miraculously needed no fitting changes! Then it was onto the first real version, made up in a lime-green linen-blend mix from Ditto which he chose when we were in their Brighton shop earlier this year.
Plackets always tend to intimidate me as they seem like a bit of witchcraft – how can this weird shape turn into that in just a few steps?? So I put off sewing it, until I remembered that I'd scanned and digitised the placket template from David Page Coffin's excellent "Shirtmaking" book. This is one of my clever-er ideas, as it means I just just adjust the width and length of the placket in Illustrator and print myself off a fresh template. Because obviously the dimensions for sleeve plackets for men's shirts are of a different scale than the neck placket here!
The construction was otherwise straightforward, but time consuming. Because the linen frays like crazy, all the seams had to be contained. On the yoke, this meant using the "burrito method" to get both the back and front seams neat, but on the side and sleeve seams, I had to sew french seams, then topstitch these down, because my flat-fell foot just sucks and always ends up being more trouble than it's worth (and I'd rather take a little more time and be guaranteed a good result!).
But at least the linen takes a press super easily, though it means of course that it wrinkles readily during normal wear, too. That's just how linen is!
Oh and there's a nice little buttoned tab on the sleeve edge, too!

James also bought a two-faced charcoal/black Jean Paul Gaultier (yes, really!) flannel when we were at Ditto, so there's at least one more version of these in his future.
(Mini-rant time – why are there 16 billion menswear patterns of the same freaking button-down shirt, but absolutely none of a slightly different style like this? Menswear patterns really are the poor cousin of the pattern world, eh?)
tags:
knockoff
,
linen
,
menswear
Comment [6]
27 October 2014, 13:55
Remember last April when I told you all about my day on set of the Great British Sewing Bee? Well, that was at the very end of Season Two, and I must've made a good impression on the production company because by the time that post went live, I had already begun work behind the scenes on Season Three!
Over a span of about four months, I spent a lot of time working on the Bee with a team of fantastic people, including the Thriftystitcher herself, who heads up the entire behind-the-scenes sewing team. Most of it was involved with the pattern challenges (the first portion of each episode, where the contestants are given a mystery pattern to make). I can't discuss details of how we produce the patterns, but just trust me that a lot of work goes into each one before the contestants ever see them! A lot of this work was done in the production company's offices – which are a pretty normal looking workplace, except at my desk there was a sewing machine and ironing board instead of a computer, which was quite funny!
My work involved a lot of sewing, fitting, digitising, but also illustration, too. I did the latter together with Rosie from DIY Couture (whom I'm not afraid to admit is way better at these than I am!). This proved to be great practice for my own pattern line, as the more I did these for the Bee, the better I got – it was especially helpful for someone to say "ugh, that one looks weird, do it again!" Seriously, this helped up my Illustrator skills immensely!

The Haberdashery, empty and quiet
I was super chuffed to see some of my drawings made it into the final tv shows, too! Here I thought they'd only have an audience of ten, at most!
I wasn't actually on the set at all for the third series (which will air sometime in 2015, I believe), which I was ok with as I'd heard enough about the super long filming days, and because I'd been on set before.
Once the third series finished filming, however, we had to start work almost immediately on the BBC Children in Need specials which were commissioned using celebrities who had never sewn before! This was a big challenge in both making the patterns easy enough for absolute beginners, but also spelling out e-v-e-r-y-t-h-i-n-g in the instructions. Even though the CIN specials were only three episodes, they probably took nearly as much work as the full season, since we had to make a huge number of revisions to make sure the challenges ran to time and were easy enough for beginners.
To make everything go smoothly on the day, each celebrity was given an afternoon's very basic sewing lesson, too, so that everyone was on a level playing field. I personally got to teach five how to sew, and they were all honestly absolutely lovely and enthusiastic about making the simplest of items. I don't work with absolute beginners much so I'd almost forgotten how magic those first few steps can be.
I was also thrilled when I was asked to make the "perfect" version of the Men's teeshirt pattern challenge – this is the one which is paraded on tv as the one the contestants should aim towards. Sewing a "perfect" version of something to be scrutinised on tv in front of millions of viewers – no pressure then!!

I love the Pudsey ironing board covers, which you can buy for a tenner!!
Because one of the pattern challenges involved using the overlockers (sergers), I was asked to be on set during the filming of that challenge, both to help out should anything need re-threading, but also to assist the celebrities and the crew. I soon found out that filming is another world – I was soon crawling on the floor like a combat soldier to get to the other side of the set without getting in shot of a camera filming behind, then contorting to take out a sewing machine to thread up in the right thread colour and drop back in without interrupting. I even got an overlocker working that 5 separate people couldn't get to stitch properly. So proud!
It was that day on set that I was given the moniker "the overlocker ninja". I may have to put that on my CV (resumé).
Really, I had a brilliant morning on set, but it was utterly exhausting – I had to be on my feet and thinking and reacting the whole time, so much that I went home and had a nap afterwards!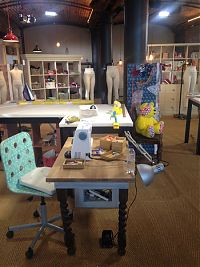 When I started work on the Great British Sewing Bee, I was warned that it'd ruin the show for me as I'd know everything that was going to happen before it went on tv, but actually, it hasn't at all. In fact, I love the show even more now for knowing all the work, care, and love that goes into each episode, and that the people behind the cameras are as skilled as the people you see on tv. And by only being on set for one third of one episode, I figure it'll still be a surprise to see exactly what the contestants do with the challenges we've devised for them, even if I already know what those challenges will be.
And holy crap, my name is actually in the end credits!!
Bring on Season Four!
UK residents can watch all three Children in Need episodes on iPlayer right now, plus donate to the Children in Need charity and bid for items made on the show via the official eBay shop. Please give generously!
tags:
reflections
Comment [17]
24 October 2014, 12:38
I have a long and rather conflicted history with bra sewing. I sewed my first bra five years ago, but despite being an accomplished seamstress and having a really standard body shape, I still haven't managed to sew a single bra that I'm happy enough to wear on a regular basis in the time since.
Until now.
I knew Orange Lingerie had a bra pattern in the works for the better part of a year, and I knew her bra construction book was awesome, and, when I met Norma on her trip to London last year, she gave me bra fitting advice in a restaurant toilet – and still when she finally released the Marlborough bra pattern I was skeptical. That's just how burned I've been by bra patterns in the past.
But I eventually did break down and buy it, with the thought to throw out all my other tweaks, calculations, traced RTW pieces, and just start fresh with this pattern and see where to go from there.
Choosing a size was actually the most difficult part for me – despite being a 34B in pretty much every RTW bra brand ever, the different formulas used to calculate bra sizes online are insane. Various calculation methods have said I'm anywhere from a 40A (Orange Lingerie's method) to a 34DD (Bra size calculator's method), both of which are just laughable (and yes, before you tell me to go get sized in person, I've done that in the past, and they said I actually am a 34B). So I threw both out and just made my RTW size, a 34B, with no changes.
Before cutting into anything good, I first made a black test version – it's unlined with unfinished edges, with various bits cut off of old RTW bras, and "plunge" underwires that were a bit too short. But it freaking fit.
I wasn't about to get too excited (I've been down that road before, declaring I'd perfected bra fit, finally, only to have problems emerge over time and wear). So I wore it for a week or two. And it still fit well. So I cut into the good stuff.
Everything in this pale yellow version is from my (rather extensive) lingerie sewing stash, and I hadn't remembered until afterwards, but this gorgeous lace was actually a gift from Norma herself, when she came to visit London! You may notice that my straps have an M&S lingerie brand on them, even. Yes, I definitely recycle when the RTW parts are nearly-new and save me some time!
I know I've already gone on about the fit, but just indulge me a little bit more. It fits! A bra pattern actually fits me! Yes, I've made about 10 beautiful bras, and gotten closer to the perfect fit with each one, but none have stood the test of time enough to be worn in regular rotation. I've even held off writing this review until I'd worn it for a few weeks, because I thought surely I'd find something in the fit to dull my enthusiasm (like every time before). But… no. I've worn this bra nearly every day since I made it, and I love it – it fits like my favourite RTW & Other Stories bras!
In all my bra sewing escapades, I've learned that it's fairly easy to sew an attractive, well-sewn, pretty bra. It's extremely freaking difficult to sew a bra that fits properly.
You'll see below my only change to the pattern. Yes, all my bra hooks are too short for the back piece so I just scooped out the strap curve a bit more. That's my only change, people. WHAT.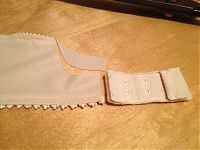 If you've never sewn a bra before, I heartily recommend buying the Orange Lingerie book as a companion to this bra pattern. There are illustrated instructions included in the pattern itself, but the instructions are brief, and don't go into fitting issues at all, or how to line the cup or frame pieces, or lace placement, or anything more than the basics.
My only real gripe with the pattern is that the cup pieces could really use some more alignment marks – placing the Upper Cup to the Lower Cup is especially easy to accidentally reverse. Each time I've sewn this I have to squint hard at the Step 2 illustration to make sure I've got the right ends aligned – I've added my own notches to my pattern, but you really need to pay attention to this step or risk getting a weird fit!
I've already cut out another version, to match a pair of Lacey Thongs I made last winter that have been waiting for a mate this long.
And because I love matching sets, I do have enough of this yellow lace to make matching panties for this bra, too… Just give me a rainy day and they're as good as made!
And if for some reason you think my review's been swayed by my meeting the author, well, then have a look at Kathy's reviews of the four versions she's made already!
PS: If you don't read my RiverRunner site, you've missed my big news – I've been selected for Team GB next year!!
tags:
lace
,
lingerie
,
orange-lingerie
Comment [10]
23 October 2014, 13:52
I mentioned at the end of a post earlier this month that I cut into the kitten-face lycra Fleur brought me from the Garment District and made some leggings, but they weren't finished at the time, and I owed you more photos.
I wanted to minimise the disruption to the print as much as possible (I could hear the kitties screaming every time I chopped through a face!), so I used KwikSew 3636, which is a one-piece legging pattern with no seams running down th outside legs. Coincidentally, this is also the pattern I also in my Lovely Leggings classes (and there's still time to join this Sunday's class if you sign up now!), so it's super quick and great for beginners, too. Perfect for showcasing a wild print!
We were out in Wiltshire at the weekend visiting a friend, so I wore these for a little walk around her village. They actually work surprisingly well as casualwear, especially paired with my trench jacket I made in 2010 and still wear regularly!
These literally took me 15 minutes to make, and they're so much fun to wear! The time:enjoyment ratio is really off the charts with these…
I originally thought they'd be for running, but I appear to have lost some girth since I made the Acid Trip Leggings version of this pattern as the Medium is now a bit too big in the waist and hips, and these shifted around too much as I ran. So I'm going to modify my traced copy of this pattern to go down to a Small in the waist, hips, and upper thigh, keeping the calves as Medium (hello there, forefoot running beefy calves!), and take the ankles in by another cm or so as I've got tiny, bird-like delicate ankles and I should've done this alteration before.
Oh and in other news, how much am I enjoying watching the Children in Need Great British Sewing Bee episodes?!? I've got a full post to put up after Friday's episode airs, but did any of you catch me in the closing credits on Tuesday?
UK readers can catch up on iPlayer and purchase special Pudsey ironing board covers, as well as bid to own the garments made on the show, too. It's all in aid of Children in Need, of course!
tags:
knit
,
kwik-sew
,
trousers
Comment [5]
17 October 2014, 17:23
I promised you earlier in the week that I had a free pattern on the way, and it's here!
Please welcome the FREE Running Armband Pocket pattern, a super quick pouch to wear on your arm that takes way under an hour to sew (10-15min for most!) and uses scraps you've probably got lying around anyway.
This armband has a pocket on one side with a simple fold-over flap for keeping things like a phone, keys, travelcard, etc tight against your arm while you run. There are no closures – the band just slips over your arm and the stretchiness of the fabric holds it in place.
Now the astute amoungst you are probably thinking "Wait – didn't she do a tutorial for this already?" and you'd be right. You'd also be correct if you tried to follow said tutorial and found it a little bit confusing! I know I sure did when I went back to it a few months later and struggled to follow what Previous Me was talking about…
So I've taken the same concept, regraded it into five different arm sizes, created illustrated step-by-step instructions, and released it as a free pattern. If you've never bought one of my exercise patterns, then this is a really great way to see what they're all about! It's got the same pattern frame size as all my patterns, and with the same instruction layout as my latest Threshold Shorts pattern. There are also instructions included if you'd like to change the height of the pocket (say, if you've got a really big phone!). And it's only four pattern pages to print out!
I've also taken this opportunity to create my own shop – I'll still continue to sell my patterns on Etsy for the foreseeable future, but shopping directly with me means that:

I can actually notify you if a pattern is updated


You can sign up for a pattern-specific newsletter so you know when new patterns come out, or I run a sale


The highest proportion of your money actually goes to me, not a middleman


I can offer free patterns, which Etsy doesn't support


My shop accepts Visa, Mastercard, American Express, and Paypal, and downloads are automatically sent you you upon payment (or in the case of this free pattern, when you complete the checkout process!), so you're still able to get your hands on the patterns any time of day without waiting around for me to wake up in my time zone or anything.
If you've got any questions, or notice any problems with the new pattern or the new shop, please drop me an email or leave a comment below.
Thanks again for all your wonderful comments and support over the last year. I'm hard at work on (full) Pattern Number Six right now!
tags:
exercise
,
fehr-trade-patterns
Comment [8]
15 October 2014, 14:33
There's been some discussion around the internet lately about pdf patterns and their ability to stand the test of time, and it's one that I've felt very strongly about. I've worked in technology for over 12 years, and have created and run my own websites for 20 years now (seriously!). I've seen the world move from owning cds and taking photos to be developed, to ripping cds into mp3s and printing our own digital photos, right through to streaming music subscriptions and purely-digital photos in the cloud. The idea that digital patterns might somehow die out seems absurd when you think of it in this context.
Think of photos – which is more accessible when you want to look at them, the photos in your album on the shelf at home, or the ones backed up in your cloud account you can view from anywhere, share, and search by date and keyword? Frankly, I'm terrified that my 10 year old collection of Burda magazine patterns might be ruined in a fire or flood, because they'd be gone forever. But my digital patterns are backed up in several places, ready for me to re-print at any time.
But all this is from a user perspective. As a business owner, why would I not want to offer my patterns in every format possible? Why only pdf patterns?
In short, time and money. It's grossly inefficient (not to mention extremely eco-unfriendly) for me to print a pattern and ship it halfway around the globe to customers when printing places exist closer to you. Adding on the cost to print the patterns, to package them, and then my time in posting them, I'd quickly end up with a price point that not very many people would be willing to spend.
Making the choice to only sell pdf patterns means I can keep costs low for my customers, and spend my time developing new patterns instead of fulfilling orders and walking to the post office. You get the pattern instantly, without having to wait for the post, too. There's nothing worse than getting excited about a project then waiting two weeks before you can even get started!
"But assembling pdf patterns takes forever!"
I'm going to go out on a limb here and say that you're probably doing it wrong. Earlier this year I watched some people put together some pdf patterns who'd never encountered them before. They sat down with their scissors and diligently cut off all four sides of every pattern page, then laid everything out and taped every single join along its entire length. My eyes boggled.
If you're doing this, definitely have a read through Sewaholic's post on quickly assembling Print At Home pdf patterns – it's very close to the way I assemble pdf patterns, and it takes me roughly 1min per page (so a 15 page pattern takes me about 15min to trim, assemble, and cut). And I assemble a lot of pdf patterns during the development process!
A few more tips for assembling:

Try using gluestick instead of tape, as it's easier to adjust and nudge pieces if they're slightly off-kilter


A cheap guillotine cutter can really speed up trimming edges and is easier on your hands than scissors


Invest in a laser printer. Our last black laser toner cartridge lasted us 4 years.


Buy the cheapest printer paper available. It'll likely also be the thinnest, which makes storing patterns afterwards easier and is less effort to cut through.


Or if you've tried the above and still really don't like assembling patterns (which is fine!), most pattern companies offer a large format version of the pattern which you can take to a copy shop and get printed onto a large sheet of paper. I've always offered these "Copy Shop" versions, but I've recently changed to include copy shop versions in all my purchases by default rather than by request to cut down on the time delay for you all.
If you're having trouble finding somewhere near you to print these out economically (they really shouldn't cost more than about £5/$8 for the average pattern), then you may want to read this Pattern Review discussion on finding cheap places to print large format pdfs. It's US-based, but a lot of the tips (like asking for engineering or architectural prints when getting quotes) are applicable anywhere.
So, after all this – it doesn't necessarily mean I will never offer printed patterns for sale – just that the current infrastructure and price isn't there to support it yet. I would consider selling printed patterns should there be a company which handles the printing and order fulfillment for local customers, for example. Or if I were to have a stall at an expo and sell patterns in person. Or should drone technology advance so that I can have an automated way of delivering direct to those in my local area (am I the only one who sees the potential good in drones, like the Harry Potter owl postal system?).
But I do definitely see that digital patterns are the way the industry is headed, and for all the reasons outlined above, I vastly prefer them both as a customer, and as a patternmaker.
Oh, and I've got a freebie pattern coming out very soon…
tags:
fehr-trade-patterns
,
reflections
Comment [19]
13 October 2014, 13:13
It may be turning blustery and cool here in London, but in Brazil it's just starting to heat up – what better reason to look into the latest issue of Manequim magazine while I mentally warm myself in the Rio sunshine…
The first to catch my eye in this issue was in the "designer style" feature, which this month looks at Paco Rabanne. It's mostly separates (with the exception of the pleated party dress on the right), but I love the asymmetric shell top seen here on the left! It's got pleating on one shoulder, and on the other, a leather panel which wraps over to the back with no shoulder seam. I can't think of a better way to utilise a small piece of silk and a scrap of leather (let's face it, neither are getting thrown in the washing machine anyway!).
I'm having a bit of deja vu on this sleeveless, crossover top, and I realised it's because there was an almost identical pattern in the May Burda magazine (seen here on the right for comparison's sake). I'm guess they're both inspired by the same runway look…
There's nothing groundbreaking about this shirtdress, but it really looks like something I'd just live in should I find myself in a hotter climate. Great cut, great print, and easy to wear.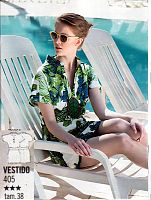 Manequim often have interesting trouser seaming details, but the ones I like will inevitably be in a different size. So I like to keep my eyes open for basic trousers in my size so that, with a little bit of slicing, the basic pattern can be transformed into the fancy one. These linen trousers are a great basic shape, and offered in the full set of Manequim regular sizes, score!
This teeshirt design is quite striking for its colour blocking, but it's quite a simple pattern concept. It's a flat front and back piece, with a black cap sleeve, and a triangular black panel in the side seam to give some shaping. Simple, yet effective.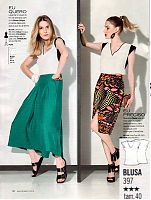 Manequim usually only contains two or three Plus-sized patterns per issue, but twice a year they have a full Plus feature, like here. Not only do we get six Plus-sized patterns, but we also get the Brazilian comedienne Fluvia modelling again. I love it when she models for Manequim, because she just makes everything she wears look fantastic and you can tell she's having so much fun!
In other news, it's Spoonflower free shipping day right now (by the time you read this, anyway)! So go stock up on FehrTrade x Laurie King exercise fabrics and save yourself a few bucks!

More on the fabrics and how to use them over here!
tags:
magazine
,
manequim
Comment [2]
10 October 2014, 13:09
There are some big things happening in my sewing world over the next month or two you should know about (no, not another pattern release just yet though I am working on the next one already!). So get out your calendar and take note of these…
Monday 13 October
Spoonflower have announced another free shipping day
(international shipping, too)!. This is a perfect opportunity to try out
our Fehr Trade x Laurie King exercise fabrics
if you haven't already. The fabrics coordinate perfectly with my sewing patterns so you only need to buy one yard of wicking fabric to get coordinating colours and prints.

Seen above, the VNA Top and Duathlon Shorts (booty length) in the coordinating "Maps" citrine & black colourway.
For UK buyers, this means you save $9 on shipping, and if you buy one yard of the Performance Piqué it should fall under the HMRC exemption and you won't get hit with nasty surprise customs charges.
Thursday 16 October
Next Thursday evening I will be teaching
the Slouchy Breton Tee class at the Thriftystitcher studio
in Stoke Newington (London), and there's still space for you to join!

Me in my Purple & green Slouchy Breton Tee
This class uses a pattern drafted exclusively for the class, and has the magic ability of fitting everyone I've taught so far without needing an FBA! Magic. Stripey fabric is provided just you just need to turn up and enjoy learning the stretch fabric basics, and go home with your own tee and exclusive pattern.
Tuesday 21 October
OMG
, it's the return of the Great British Sewing Bee, but with a twist! The
first of three charity specials for

BBC

Children in Need airs at 8pm
, featuring celebrities who have never sewn before, going through a set of three challenges. Dum dum
DAH
!
I'm super excited for these to air because, well, I may have spent half my summer working behind-the-scenes on these (there's a blog post ready for when I'm able to post it!), so I can't wait to see the finished episodes!
Also, I can confirm that these Pudsey ironing board covers are super cute! Serious bargain at £10 (for charity!), if you ask me.
Sunday 26 October
Stretchtacular Day! Come to the
Thriftystitcher Studio
and learn to sew your own leggings in the morning and a slouchy Breton tee in the afternoon! You could indeed wear both home, should you be so inclined (I've had many students do just that…). Or you could choose to do either class individually, too.
There are nice cafes and pubs just round the corner for a break at lunchtime, or if it's a nice day you can pack a lunch and eat it in nearby Clissold Park, too.
Wednesday 29 October Sunday 2 November
Edit: the workshop has been moved to 2 Nov to better accommodate 9-5 workers!
Cult running magazine
Like the Wind are holding a week-long popup
in Shoreditch (London) with a series of workshops, talks, films, and… a sew-your-own-leggings class, taught by yours truly!

My Acid-trip leggings producing "an effect"!
This class will have a running focus, so I'll talk about things like wicking fabrics, chafing, seam finishes, and other design considerations specific to activewear, and you get to choose your own fabrics, too.
Thursday 6 November
Leggings! Everybody loves leggings! Come and learn how to deal with stretch fabrics and sew your own
in an evening with me at the Thriftystitcher Studio
. You get to choose your own fabric and use the overlockers (not-so-scary "overlords", no!), and come home with your very own pair plus a pattern to make as many as you want at home.
Sunday 16 November
If teeshirts and leggings seem too daunting, perhaps dainties hold more appeal? In
this class at the Thriftystitcher Studio
, you'll learn the basics of lingerie sewing, including a clean-finish crotch lining, applying lingerie elastic, and using different types of lace.

A detail of a turquoise Lacey Thong I made last year
We'll be using my Lacey Thong pattern or a new Lacey Brief pattern I'm developing from the Runderwear base pattern, so you have your choice of style!
Phew! And… I think that's everything. Happy weekend everyone!
tags:
exercise
,
knit
,
lingerie
Comment [1]
8 October 2014, 13:38
Remember a few weeks ago when I took a quick trip down to Brighton and came back with some gorgeous wool coating and vintage Italian silk lining from Ditto? Of course you do!
Well, as shown in the photo above, I bought it intending to make the StyleArc Audrey pattern to be a transitional Fall "car coat" (heavier than a jacket, but not a full-on winter coat). So having arrived home to decidedly Fall weather, I thought I should get a move on with this coat or else it'll be too cold before I can make it!
So I pulled out my Audrey pattern, cut out all the million pattern pieces (the attention to detail is really terrific – the lining and facing pieces are exquisitely drafted rather than just carbon-copies of the exterior), and made a muslin.
I know muslins can be super useful, especially for fit problems, but there's something about them that makes me lose all enthusiasm for a pattern once I see it made in beige, crumbled fabric held together with pins and covered in Sharpie marks. I think I've probably dumped more coat patterns at the muslin stage than any other garment (let's all try to erase the Armani coat muslin horror from our minds… oops)! I put this one on, looked in the mirror and thought…. meh.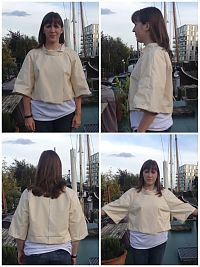 So I recruited James and a friend for second opinions. They both gave it the thumbs down, then started going through the list of things that could be done to improve it, lengthen here, take out fullness here, etc etc. Err, no – for something that's supposed to be "fun sewing" I'd rather just dump this and use another pattern I haven't yet lost all enthusiasm for!
As I said, this was all beautifully drafted, and the instructions were actually pretty well done (if you can read through StyleArc's sometimes strange wording), I just don't think the proportions of this swing coat style really work for me – the hem ends at my widest part, and with the sleeves being the exact same length, it just adds a huge amount of visual width onto my hips. Yay! That, and the collar should be twice as high as you see here, which looked spectacularly bad. It's a rectangle, drafted on grain with no shaping. A bias or curved piece would be so much better here, but as a quick fix I just folded it down again to see if it behaved any better.
Oh, and the coat has princess seams, which was a surprise after looking at the tech drawing. Not a bad surprise, mind, but I really can't see this swing coat shape being flattering to anyone with a bust, either, despite how much I want to like it! (Though I'm reminded that Beth made a fantastic version of this in 2012, so perhaps it's fine for some shapes afterall!)
So I sifted through Burda magazines coat patterns for suitable replacements, and this one from my favourite September 2010 issue is at the top, though if I had more fabric I'd be sorely tempted by the seaming on this one! I couldn't find any reviews of the former, but I could've sworn someone made it (or the longer version, #120) a few years ago, if anyone with a better memory can pass me a link in the comments?
Anyway, after that I needed a pick-me-up, so I cut into the kitten-face lycra Fleur brought me from the Garment District.
MEOW! More on these later, I love them (and they took like 15min to make)!
tags:
coat
,
kwik-sew
,
muslin
,
style-arc
Comment [12]