28 August 2014, 11:58
In the tech industry, there's a term "Minimum Viable Product", which means the absolute minimum you can do to get code out the door. It's not your best work, but it works.
Like half of London, we had tickets to see Secret Cinema's performance and screening of the first Back to the Future film, where they recreated the entire 1955 town of Hill Valley, California, complete with about 20 business, the clock tower, full fun fair, a cast of hundreds of actors, you name it. We were also all asked to assume an identity (I was "Tiffany Hyslop, developer!") and dress in 1955 styles. Now, I've only got one 1950s dress pattern (which I made into that Porsche dress a few years back) but it's too big in the bodice now and would require too much work.
So instead, I picked a modern dress with a 1950s feel – the Simplicity Cynthia Rowley pattern (1873) which I had already made in fuchsia and really liked the fit of.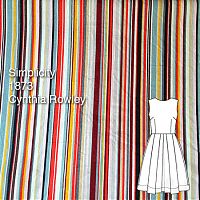 The pink version was the wrong colour for the 1950s and definitely too short, so I bought some striped cotton poplin from Minerva that had the right vibe, and figured it'd be close enough.
The cotton turned out to be quite narrow, so the incredibly full, pleated back skirt piece didn't fit on, so I had to take some width out and then just make up the pleats to match the bodice when I was sewing it. The stripes have the ability of disguising pretty much everything though, so even I couldn't tell if my pleats were even or not.
I managed to cut out the pieces one evening after dinner, but my schedule's been so jam-packed that I didn't have a chance to sew it until the day of the performance. Plus I had a two hour trail run to get in first. So in the end, I started sewing at 2pm, and I had to leave at 4:15 to meet James and our friend. So no pressure then!?!
I did a few smart shortcuts in sewing this, and even though I didn't get to finish the hem before I had to leave, it was definitely good enough for a casual setting, and absolutely better than nothing (or buying something!). So I thought it'd be worthwhile to pass along some of my tips for speed sewing, for when you really, really just have to get it done.
Melissa's Speed Sewing Tips
Wherever possible, sew pieces together in a chain, rather than stop to cut your threads after every single piece. Cutting once at the end saves time (and thread).
If there's a lining, convert darts to pleats, which are much quicker to sew.
Pick fabric that doesn't require print matching.
Staystitch instead of fuse interfacing wherever possible
Eliminate pockets or other decorative details (like the half belt on this pattern)
Sew until you can't sew any further, then batch press all your sewn seams. It saves time in walking back and forth to the pressing station.
Sew everything by machine – hand stitching takes too much time! (Knowing how to do an all-machined lining is golden…)
Consider a machine-stitched hem, or (gasp) keeping it raw

The prick-stitching I added the following day since I skipped understitching to get it done…
For me, my major tradeoffs were that I didn't have time to understitch the lining to the seam allowances at the neckline and armholes, and that I had a raw hem. To be honest, no one really noticed either at the event, and I was able to go back the next day and sew the hem, then hand prick-stitch the lining while I watched tv.
So even though it was a two hour sew, I've ended up with a perfectly nice casual summer dress!
tags:
cotton
,
designer
,
dress
,
simplicity
,
vintage
Comment [7]
27 August 2014, 13:35
It all started back in March when I received for my birthday both the royal blue ponte knit fabric and a Marfy pattern I'd requested (#2935). I was enthusiastic about both, so much so that I spent the day after my party making up the dress.
The first issue came about when I realised that the pattern was missing a piece for the horizontal waist sash. It was pretty obvious it was just a rectangle, but the dimensions of it would be useful to get the gathering right, so I emailed Marfy, and got the following unhelpful reply when I asked for the dimensions of the missing piece:
"you are right, sorry. The important thing is to cut the piece on the bias so that it will follow the body. You can decide the width you prefer, and you can close it on the back."
Ummm…
But that was just the start, because the horizontal sash was really the least wrong this about the dress. It's a basic, long sleeved knit sheath dress with front and back darts and waist seam, but then there's a weird set of gathers above the bust at the centre front that just reminds me of a vagina no matter how much I look at it, and this created a weird lump of fabric just above the bust that had to be pinched out.
But it goes on, because the diagonal sash was angled incorrectly and way too long, but if it was pulled tight enough, it started to bring the neckline down, too. The length was really dowdy, and overall, it was just a really unflattering dress. Somehow it looked straight out of the 1940s despite being modern, and it's pretty much impossible to have a fabric that is both thick enough to wear on the body but thin enough to stand up to all that draping. Big, big thumbs down for Marfy 2935. This is actually my second Marfy pattern, and the second that hasn't worked for me, so I'm kinda washing my hands of the whole company now…
But I still really liked the fabric, and wanted to do something with it to reclaim it, so this monstrosity of a muslin stayed on Susan (my dressform) literally for months. My friend FJ would come by and be like "Is that thing still there? You have got to do something with it or get rid of it – it's bringing you down!" and he was totally right.
But despite being a big dress, the uninterrupted pieces weren't very big so I had to choose my pattern carefully – and I pulled out the Seamster Patterns Yellowtail Camisole pattern that I'd bought and printed out last summer but hadn't quite gotten around to making before the weather cooled off.
I was able to fit the pieces into the Marfy dress (plus it felt quite cathartic to cut the sucker up!) and it was really quick to sew!

Seen here with my Donna Karan leggings from earlier this week…
The instructions were nicely written and it came together really quickly – I used some black FOE (foldover elastic) from my extensive lingerie sewing stash to finish it off, though I think I may have been a tad overzealous when I measured it out because I think the straps could be a pinch shorter (the cups feel like they're a little too high!).
I should also point out that the Yellowtail pattern has a "pay what you want" price tag, with half the money going to charity, which is a pretty cool concept! So if you've not tried Seamster yet (formerly known as Disparate Disciplines), then this might be a good one to start with.
Even though I'm annoyed that the Marfy pattern didn't live up to its illustration, I'm proud of myself for (eventually) reclaiming the fabric into something wearable, and trying another indie pattern company at the same time!
tags:
dress
,
knit
,
marfy
,
seamster
,
top
Comment [11]
25 August 2014, 16:34
Yikes! I actually made these leggings back in early July, but then it was so hot and sunny for weeks that I couldn't bear to do the photoshoot, even though I was wearing them in the evenings a lot. The impetus for these was that my beloved pleated "denim-look" leggings had come to the end of their life through heavy use. I've been trying to find the time to sew a new pair of denim-look leggings over the entire summer, even buying in the fabric ahead of time so it was all ready to go, but alas, other work had gotten in the way.
But then I finally had some spare time so I pulled out my denim-look jersey and Vogue 1378 – the Donna Karan separates pattern.
I'd made these leggings a few months ago in grey ponte, and I really like them – except for the floppy ankle opening things. Those really annoy me, limit my shoe choices to heels, and generally just don't work for me. So I'd already altered the pattern by overlapping the two ankle pieces and drawing a new seam line where they intersect, and I used the modified pieces here.

Seen here with my new Yellowtail Camisole – more on that later this week!
I also took a good 2 inches out of the Centre Back seam last time, so I modified my pattern pieces for that, as well as adding a bit to the back crotch curve so it matched my Duathlon Shorts pattern's curve. The crotch in particular fit so much better now – it really is amazing how much difference 5mm makes!
I'd only bought 1 metre of jersey, however, and I was determined to fit all the pieces in! For the most part I was successful, but no matter how much Fabric Tetris I played, there was always one piece that wouldn't quite fit. So I opted to place the side hip piece at an angle to make the fabric's lines a feature after double checking that there was still ample stretch in that direction.
The ankle is still a bit experimental, but I think it really works! I'd take it in another inch or so on my next pair, though, so that the ankle fit is closer still. It hangs more like a trouser here than a legging, I think.
As I mentioned in my last review, I don't really like the seam finish described in the instructions, so I just used regular overlocked (serged) seams again, really only referring to the instructions to get the order of construction correct. I was amazed how quickly these came together, despite the number of pieces!
Again, I used my own waistband elastic method that I used on all my leggings (and which you'll be familiar with if you've sewn my PB Jam Leggings or Duathlon Shorts), rather than Vogue's bizarre "double lines of straight stitching" thing. Have they not heard of double needles or something??
In any case, these new denim-look leggings get two thumbs up from me! Long may they last, and be as comfortable and versatile as their predecessors.
tags:
designer
,
knit
,
trousers
,
vogue
Comment [4]
22 August 2014, 11:44
By rights, I should totally be feeling the Fall styles right now seeing as how we're currently in the most October-feeling August I can recall (which is fine since we had a glorious July!). But despite my finding a lot to talk about in this issue, there's actually not much I can see myself making, at least not with my limited "Me Sewing" time these days…
Burda have produced so many ladies bomber jackets in the past few months, it's only natural they'd produce one for men now, too. But seriously, Burda, there is nothing British about this look! This has retro Americana written all over it!!
Ah this V-neck teeshirt looks very wearable… but I'm having deja vu… oh yes, it's because we had an almost identical tee in July's issue! At least recycle a bit further back, c'mon!
And now into the Alpine feature… yawn. If you've subscribed to Burda as long as I have, you're likely to be thoroughly sick of dirndls by now, too. I have enough dirndl patterns to create an entire dirndl wardrobe. I'm even traveling to Austria and Germany during Oktoberfest this year and I still don't want to sew a dirndl.
So, err, look at this Alpine jacket instead. It's not offensive.
This combo, on the other hand, is truly hideous.
In an attempt to show the rest of the world that dirndls really are a versatile garment, we have a "Pimp Up" spread (snigger) showing a few variations on the basic patterns. As much as I hate to admit it, I really like the "Cool" variation, with the lace illusion neckline. It'd be a great use for Minerva's skull lace, for starters!
I've been looking for a similar boxy sweatshirt style to showcase the last remaining bits of my galaxy print ponte knit, but the neckline looks way too wide here (easy to fix), and the general proportions look out of wack (not so easy to fix). Interesting that the front panel is cut on the bias, though, so you can showcase a woven instead.
Neither of these are my usual style, and I'm seeing beyond the awful floral here, too, but I still really like both the blouse and the skirt on their own and paired together like this. The blouse is even more interesting to me once I saw the layout – it's one pattern piece, with no shoulder seams and a raw-edged neckline! This skirt is apparently a knockoff of a Prada runway train skirt – not necessarily the most practical for London (dragging that train through damp streets, ewwww), though.
Love the style lines on this dress – near to being a basic princess-line dress, but the angular seaming and neck slit really gives it a modern edge. They missed a treat with the pockets though – instead of putting them in the side seams, I'd totally make use of that horizontal waist seam and stick them there instead.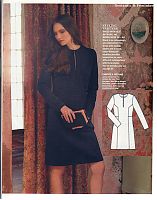 I really like the tech drawing for this asymmetric pencil skirt with its half belt (much more than the pleated trousers in a similar vein elsewhere in this issue), but sadly I'm not that into it on the model. I really wish they'd shown more than one photo of it so I could better decide. Perhaps I'll wait til the Russian ladies make it first and then decide (they're so freakin' quick!).
Love the scooped neckline seaming (and that it continues on the back!) but hate the skirt godet. Again, that's easy enough to fix by just filling in the skirt and leaving it as an A-line.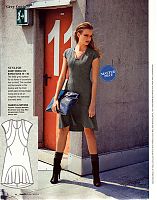 And finally, from the Plus section, have a look at the tech drawing for this coat! How many pieces is that?!? Clearly it's enough to warrant Burda including three extra drawings in the instructions to show how the pieces are split up and named… Respect to anyone who tackles this!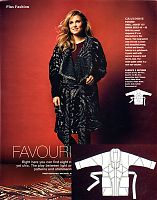 So what did you think of this issue? I know the Alpine look much be a big seller for Burda in Germany, but is anyone outside of the Alpine region that bothered? Do people actually wear dirndls outside of Germany in a regular fashion sense (ie: not as a costume to your town's Oktoberfest party)?
tags:
bwof
,
magazine
Comment [8]
20 August 2014, 22:08
Thank you all so, so much for your enthusiasm and compliments on the launch of our fabric designs last week! I've been swamped with work (which is great!) but managed to squeeze in some time to sew up the first two samples – a VNA Top and Duathlon Shorts (booty length) in the coordinating "Maps" citrine & black colourway.
So if you buy one yard of the "Maps" citrine/black VNA fabric and one yard of the "Maps" citrine/black Duathlon fabric, this is what you get! Cool, eh? There's more photos of me modelling at the end, but I know loads of you were waiting to see finished versions first before taking the plunge!
Having cut out and sewn both, I took some photos throughout the process, and have a few tips as well. The previous post shows you how to lay out your pieces onto the different zones, but in real life, I know my makeshift cutting table (err, desk!) isn't big enough to hold the full yardage.
So the first thing I recommend is to cut the fabric apart along the different zones and trim the white borders.
This makes it a lot easier to match up the edges so you can fold the zones in half and cut on the fold (or in the case of the Duathlon shorts, cut two layers at once). It also means I can fit the fabric onto my cutting table!
Here you can see the pieces in size Small and how I laid them out on the zones. As I said before, when drawing out the zones, I made sure that all the sizes fit in as printed, from XXS to XL.
And for the neckbands, you can just use the width guide provided and extend that to the set length with a ruler. Here, the neckband uses the horizontal zone and the four armbands are cut from the vertical zone (since they don't need any stretch).
One thing I noticed from my geometric speedy outfit was that the curved underbust seam was riding a bit high due to the Spoonflower Performance Knit not having any vertical stretch – just like this Performance Piqué. So to lower the underbust seam a little here, I cut it few cm lower at the CF, gradually reducing to nothing at the sides. Note that this is not an FBA – you'll find instructions for that in the pattern itself, remember.

I was using a test pattern here without seam allowances… You don't need to add any on to yours!
So once I had all the pieces cut up, sewing it together was just like any other!
For the Duathlon shorts, I wanted another booty length pair since I love my geometric ones I raced in last weekend, but the biker short length also fits into one yard (I'm working on a 2 yard solution for the capris!). The booty length only use the upper side piece (in turquoise here) and not the lower side (in citrine), so I left the citrine attached for some other future use. I've found that the key to comfortable movement in the booty short length is to use gripper (silicone) elastic inside the hems, and I had just barely enough leftover to do that here, too.
Again once the pieces were cut out, the construction was all very straightforward, and just like the million other pairs I've sewn! But when I went to try them on to check the waistband elastic, I realised that I'd been relying on the bi-directional stretch of most lycras way more than I thought – without any vertical stretch – these were really low-rise!
So having worn this pair, I know that in future, I'd definitely recommend adding vertical length above the crotch but below the waist edge. For me, I'd probably add about two inches to bring this up closer to my belly button. Adding this into the Duathlons is easy – just cut a straight line perpendicular to the grain line, spread it apart, and smooth out the pattern edges (since the back slants at the top, the smoothing out will be a bit dramatic).
You'll also need to add the corresponding length to the Upper Side piece as well as the Front and Back, remember! But I realised that the zone for this didn't allow much extra room beyond the XL size, so I've redrawn the zones in all the Duathlon fabrics now so the Upper Side piece extends all the way down the entire length, so you've got plenty of room. If you've already bought, I'd extend the Upper Side piece into the main fabric area (past the slanted end), and you'll just have an extra stripe of colour/print in there, which would look pretty cool!
But apart from the slight surprise about the vertical length, I love this set! I utterly adore the ombré, the print and the way these two pieces coordinate as a set.
Happily, I think I have enough of the main fabric zone to cut another pair of booty length Duathlons, and I'll figure something out for the sides!
You may notice a running armband in these photos too – stay tuned as I've got this to re-release as a much clearer (free!) pattern, too.
Oh, and if you're like me and want matching thread without a trip to a physical store, here are the Gutermann thread numbers for our colours:

"Citrine" is 334 (the spool looks too green but the thread on its own matches well!)


"Turquoise" is 736 (or 197 is also quite close)


"Earthy brick red" is 847


"Earthy slate blue" is 64


"Purple" is 128


And unfortunately I don't have a number for the "Earthy green" as I've got a rare other brand of thread, but if someone can provide…?


I still have two more samples to sew up – an XYT Top in "Zigzag" purple/citrine/teal and another pair of Duathlons in "Zigzag" earthy colours (I've got these earmarked for biker length!).
tags:
duathlon-shorts
,
exercise
,
fehr-trade-patterns
,
mflk
,
vna-top
Comment [7]
13 August 2014, 12:16
Wow, thank you all so much for your enthusiasm and support for the new fabric designs – I'm so glad you all are as excited by the idea as I am!!
Unfortunately, however, I didn't get a chance to sew them up into samples over the weekend because I was up north in Bolton competing in the British Transplant Games! On Saturday and Sunday I raced in the 3km "mini marathon", 1500m, 800m, 400m, and 200m (my planned mixed relay race was cancelled due to poor weather).
The bulk of my races were on Sunday (in the sideways rain!), and I'm proud to say that I competed in my own designs – a VNA Top and a pair of Duathlon Shorts, booty length. I must say, this particular combo makes me feel so speedy and confident that I just loved racing in it. Also, if you haven't tried the booty length, adding silicon "gripper" elastic to the hems makes a world of difference – they don't budge at all, and were comfortable enough to wear under my team tracksuit all day.
If you're into that sort of thing, I posted a full race report on my River Runner site, so you can see exactly how I got on…
Housekeeping note: I'm incredibly busy with work right now behind the scenes and feeling a bit overstretched, so I'm really, really sorry I haven't posted nor replied to as many emails as I'd like to – please bear with me!
tags:
duathlon-shorts
,
exercise
,
fehr-trade-patterns
,
vna-top
Comment [2]
5 August 2014, 12:25
By far the single biggest question I get with my exercise sewing patterns is "Where do I buy good fabric?". Despite compiling a list of global stockists of exercise fabric, I totally get your frustration – it's getting a lot easier to buy nice colours and quality wicking lycra, but prints are still difficult to get a hold of, and when you can, it's often costly and difficult to match colours.
But what if you could buy just one yard of fabric and be able to sew up one garment with coordinating colours and stylish prints, and mix and match to make outfits that coordinate together, too?
I'm super pleased to announce that this is exactly what I and illustrator Laurie King have made happen! Laurie is an avid cyclist and dad to two small boys, and I've been a massive fan of his hand-drawn style since before he made that amazing couch on ITV's The Cycle Show!
I've had this idea brewing for about 6 months now, but it took a design session with Laurie before the idea really came to life. Since I know the exact size and shape of all the pieces for my sewing patterns, I've created "zones" of print and colour on one yard of fabric using two of his prints in three different colourways. These prints are exclusively for your fabrics, too!! So there's very little chance you'll be exercising and catch someone across the room wearing the same thing!
The first collection is comprised of two prints – "Zigzag" and "Maps", using three different colourways – "citrine/black", "purple/citrine/teal", and an "earthy" mix of forest green, slate blue, and muted red, which should be perfect for Fall and Winter. The idea is that we'll be changing these up and releasing different designs a few times a year, too, so we're open to ideas on colour combinations you're loving!
As for the sewing patterns you can make, well, I've created specialised yardages for my XYT Workout Top, my VNA Top, and my Duathlon Shorts – I'm afraid there was no way I could fit my PB Jam Leggings into one yard (or the Duathlon capri length, either), so that's something I'll have to work on for the future.
Right now, the designs are only available through Spoonflower, though I'm working on getting a UK distributor, too (UK shoppers, you can order one yard of Performance Piqué from Spoonflower and still be under HMRC's customs exemptions value!). Having felt and worn both of Spoonflower's performance fabrics, I recommend buying their "Performance Piqué" because it's got more crosswise stretch, a nicer cottony handfeel, and I think it's closer to what most people think exercise fabric should be. The only caveat here is that the recovery and dark colour saturation are not 100% perfect, so if you're interested in a design with large swathes of black, you might want to choose their "Performance Knit" instead. Neither have any lengthwise stretch, so you may need to add a bit of length if you're used to four-way stretch fabrics.
How to use the fabric
When you order the fabric, it just comes as one big yardage, and you'll need to look at my guides below to see how the pattern pieces are intended to fit. I highly recommend you cut your fabric in a single layer (ie: not on the fold) so that everything lines up in the zones properly. I've checked the layouts digitally against all sizes,
XXS
-XL and they should all fit, and I've given as much extra room as possible to allow for common alterations like
FBA
s and lengthening. If you have altered your patterns to be significantly larger or longer, they may not fit, however, so buy at your own risk (in future, I may provide a tiled pdf just showing the outline of the zones which you can print out to double check first).
All the pattern piece outlines shown below are size XL.
For the XYT Workout Top patterns, lay out your pieces like this:


Since you'll only be making one of the upper back views, they can all fit inside the upper left zone. Note that you'll need to cut the full front and full back, so either flip the pattern pieces, trace them to have the full width, or print a second copy and tape together.
For the VNA Top patterns, lay out your pieces like this:


For two of the designs, there are vertical zigzags which should be centred along the Upper Front or Back pieces. Again, you'll need to cut the full width of the pieces rather than along the fold.
For the Duathlon Shorts patterns, lay out your pieces like this:


Note that you'll need to fit the Back piece upside down (as none of these are directional prints, that's fine!) and that you'll need to flip the pattern pieces over for everything on the right half as shown above.
I'll be posting more photos (and maybe even a video!) as I make up my own samples to help you out.
What they'll look like sewn up
I've applied the prints and colours to the tech drawings for my patterns and put them together according to colourway and print family so you can see what they look like sewn up, but also worn together. Because the colours are all the same across the colour families, you could even decide to wear the earthy "Maps" Duathlon shorts with the earthy "Zigzag"
XYT
Top and it'd still look good! This means that for $40 (plus shipping), you can have a matching, wicking exercise outfit!

"Zigzag" in purple/citrine/teal (seen above)


"Zigzag" in earthy (seen above)


"Zigzag" in citrine/black (seen above)


"Maps" in purple/citrine/teal (seen above)


"Maps" in citrine/black (seen above)

It's taken nearly a month for me to get my fabrics through from my order this time (It's usually 2-3 weeks, with most of that as shipping time) and I'm so excited I wanted to share this with you right away! I'll be making up my own samples over the next few weeks, so I'll be sharing any tips and tracks as well as photos along the way. That being said, it's possible that there might be some issues with the prints – they've all been checked and rechecked digitally, but I have only checked the fabrics themselves as swatches, apart from four I've chosen to get printed as full yardages. I'd love to buy them all, but I can't afford to buy 36 yards x $20!
If I do discover any issues, I can change and upload the designs right away, but this won't help you if you've already bought. So if you want to be extra-extra careful, wait a few weeks for me to iron out any unforeseen issues. Or if you're too excited like me, just go shopping!!
Also, if anyone wants to buy these designs ready-made into sportwear, I do sew custom work, so get in touch!
tags:
duathlon-shorts
,
fehr-trade-patterns
,
mflk
,
vna-top
,
xyt-workout-top
Comment [34]
4 August 2014, 13:02
Wow, has it really been over three months since I did the last FehrTrade patterns roundup post? Well, in that time it's clear that neither you nor I have been taking it easy, because I have so many amazing sporty garments to show you!
Frau Fleur's triple Duathlons
Fleur Hoare liked her Duathlons so much that
she made no less than

THREE

pairs
, including one made up in crazy cat-print lycra (that I am also now the proud
crazy cat lady
owner of)!
She also gave a great tip about creating a fold at the top of the pockets if you want a bit of extra security, which is totally worth checking out.
Sarai & Kristen's coordinating cat-print race gear
But if you thought these would be the last cat-printed exercise gear you'd see all day, then friends, prepare to have your expectations exceeded. The Colette Patterns ladies went and sewed an
XYT
Top, Duathlon Shorts, and
RTW
-knockoff,
all in coordinating cat-print wicking lycra
.
And then ran a half marathon in them. BOOM!
Amélie's star-print
VNA

& Duathlons

Amélie wrote me the loveliest email recently, telling me that she had once been very fit and active in a variety of sports, but had fallen out of the habit. But when she saw my pattern designs, she was inspired not only to sew them up, but also head out on her first run in years! How amazing is that?!
To start, she made a gorgeous red and grey star-print set using the VNA Top and the Duathlon Shorts, and she's already got an XYT Top in the works, too!
Kathy's double
VNA

Tops

Kathy is not only one of the most prolific sewers I know (and with a small child, no less!), but she's also been one of my pattern testers from the beginning. For the

VNA

Top patterns, she liked it so much

she ended up making two – one in pink and another in brown and green

.
I like how she chose two split two fabrics over the three pieces in a different way than I had – keeping both front pieces the same and using the back as the accent! She also gives some good tips about lengthening the pattern
Winnie's triple
VNA

s

Winnie is another of my faithful pattern testers, and you'd be forgiven for thinking these ladies are required to make more than one, but no – this is just a sign that they really do like the patterns so much that they can't stop at just one!
Winnie's used three different fabrics with different weights & stretches in each of hers, and made really interesting notes on how each behaves. I like that she's also used a bit of contrast piping in the under-bust seam on the blue version, too.
A teenager-approved
VNA

Top

Karen is the rarest of all sewists – she's generous enough to sew for her entire family, and in turn, they don't even mind going out and exercising in them to pass their feedback on to me. I know how fickle teenagers can be, though, and especially when it comes to fashion, so I was amazed to hear that

her fashion-conscious teenaged daughter "went into raptures" over her

VNA

Top

and promptly ordered more from the Shop Of Mom.
Apparently wearing fashionable kit gives you an advantage in races… If that isn't an excuse to sew more, I don't know what is!
Rebecca's
XYT

-Concert hybrid

Rebecca's made quite a few of my patterns so far, and for the recent

Sewing Indie celebrations

she decided to

hack together my

XYT

Workout Top pattern with the Dixie

DIY

Summer Concert T

. The result is a workout top that's close-fitting around the bust and shoulders, but loose around the hips!
Rebecca has documented all her pattern changes, too, so you can follow along at home.
Katherine's print & piped
VNA

Tops

I'd love to take a nosedive into Katherine's lycra stash, because if her first printed purple version isn't a "good" fabric, then what else must be lurking in there?? (Seriously though, I love those prints together, even if it was just a pattern test for me).
She also made up a second version for a friend and documented how to make a square shoulder adjustment after comparing the pattern pieces to her TNT teeshirt pattern (always a good idea!).
Allison's first-ever sportswear
And last but not least, I was so excited to see that Allison C had finally taken the plunge to sew up her first ever sportswear recently. I've been following her blog for years now and I find that we have
such
similar tastes in clothing that we end up sewing patterns right after the other has made them! Not only was it her first foray into the wide world of supplex, but also her first ever
PDF
pattern – proof that it's never too late to start either!
Her first set was comprised of a VNA Top and Duathlon capris in blue and black.
…but then Maria came to visit and they went shopping in the Hong Kong markets for exercise fabrics, so her next set of three XYT Workout Tops are made in the most amazing prints!
She also opted to merge the upper back of the X version onto the lower back, and omit the opening, giving yet another back option to this pattern!
—
Remember, there were also quite a few FehrTrade patterns seen in the Spring Race Challenge podium post, too, and several in the Pattern Review galleries that don't have blog posts so weren't included here, either.
I'm also pleased to report that I'm deep into the production of my next pattern, which has taken longer than expected as it's definitely my most technically challenging one to date (in its development, anyway – it's not any harder to sew!). It's probably still 3-4 weeks away at the earliest, though, and I've got some bigger announcements in the meantime, too!
Fancy making your own? Go to my Shop section or head straight to Etsy below…
duathlon-shorts
,
fehr-trade-patterns
,
vna-top
,
xyt-workout-top
Comment [3]
31 July 2014, 12:55
I've learned a lot through the release of my four exercise sewing patterns, and even though each is vigorously tested through my crack team of pattern testers, there are still a few things I'd go back and do differently if I had the chance.
On the XYT Workout Top, providing only one level of support and one cup option is definitely something I'd change if I was releasing it now – as printed, the bra lining is awesome if you want high support for running and other high impact sports and you're a C cup or smaller.
But two of the most common issues I see with people is that they're totally unaccustomed to how a fully-supportive compression bra actually feels (I see so many women bouncing all over the place when they run, it makes me weep for their future selves), or that they think they can "get away" without doing an FBA even though they're busty.
Let's address those two issues!
It's too tight – I need less support!
Not planning on doing any running or other high impact sports and only want lighter support? Only use one power mesh layer with the crosswise stretch (ie: going around the body) and add room at the side seams. On the Back Lining piece, you can actually just cheat and cut it a cm or so from the fold since it's just a rectangle, but on the Front Lining, add a bit to the side, then smooth out the curve to the armhole.
I recently made an adjustment similar to the darker shading for a client who wanted very minimal support for power walking. I'd suggest you do something in between should you want to wear it for yoga, cycling, and other low-impact sports.
I'm bigger than C- cup – I need an
FBA

!

If you need an

FBA

in normal patterns, then

yes

you will definitely need a Full Bust Adjustment (

FBA

) on a bra lining pattern! (I'd think this would be common sense, but you'd be surprised…)
You can just leave the Back Lining piece alone and just alter the Front Lining piece here, though if you're really busty, you may benefit from doing the same adjustment to the Front piece, too.
I've included these sort of common fit alteration illustrations in my latest VNA Top pattern, so if you purchase that they're all ready for you!
Don't have the XYT yet? Come get it here!

tags:
fehr-trade-patterns
,
xyt-workout-top
Comment [3]
30 July 2014, 11:47
I must be the only sewist on earth without enough casual dresses, but alas, the weather has turned very hot and summery and I've taken to just wearing the same jeanskirt and pair of 17 year old shorts (no, really) around the boat while I work from home. I realised I could just make any number of knit dresses, but that's too easy, and besides, my knit stash is a little low and my woven stash is spilling over.
So I decided to pull out the StyleArc Pamela dress pattern I originally planned to make for my Mexico travel wardrobe last year, and pair it with the same blue linen (blend?) that was gifted to me by Veronica back in 2012.
It's been ages since I sewed a woven for myself, so of course I forgot that they require pressing, which means heat and steam standing by the iron, ugh! But let me tell you, it was all worth it in the end because I totally love this dress. I think it might be the perfect summer dress, as it's both casual and a little different, and you can change the look just by tying it either in front, or in the back.

(Yes, I had been wearing the dress all day before these photos – including two lots of treadmill running to whilst shopping for new racing flats!)
I bought the pattern when I was a StyleArc size 14 (I'm closer to a 12 now), so the dress is a little bigger than usual on me, but this works for summer because you can get a looser fit by tying the integrated ties in a bow under the bust. Or, if you want, you can also cinch in the waist by wrapping the ties around to tie it in the back. I've been wearing it about 50/50 according to my whims.
There are a lot of great little details in this pattern – the shawl collar extends to the centre back neck, falling nicely into an inverted pleat at the inset corner.
Those ties are really cleverly drafted so that they emerge from the underbust seam with no openings at all – it's all sewn shut!
There's a choice of either sleeveless or short sleeves, so you're provided with either an all-in-one facing for the former, or just a neck facing for the latter. There's an invisible zipper in the left side seam, though I can actually pull this on without it – whether that's because it's a size too big or not, though, I'm not sure!
There's a nice walking vent in the centre back, too, and I even took the time to mitre both corners, as well as use a bit of ribbon on the hem. I'd have used hem lace but I'm all out, and annoyingly there don't seem to be any cheap stockists outside the US.
I did have an issue cutting out the upper front piece, because those ties are cut on and extend quite some way across, making it wider than my doubled fabric. Because of this, I had to piece the ties and introduce a seam there, but since the seam is at an angle and they're tied up anyway during wear, it's really not an issue!
The instructions were mostly sane, but I think perhaps they tried to be a bit too clever in making them work for both sleeved and sleeveless at the same time, which results in a poor finish for the sleeveless all-in-one facing. So after constructing both the front and back on their own, I instead opted to keep the centre back and side seams open, sew the shoulder seams together, then attach the facing at the neckline and armholes. I could even end up understitching the entire way along both the neckline and armhoes, too, which was a nice surprise! Once the facing was attached, I could just pull the backs through the shoulders and then sew up the remaining seams.
This is by far my preferred approach if there's a centre back seam – I hate leaving the shoulder seams til last and fiddling with the hand stitching (ie: Burda's "wooden spoon" approach!).
So, this dress may not have gotten to see the dizzying heights of Mexico, but as luck would have it, we're off to Budapest, Vienna, Prague, and Berlin at the end of September, so it looks likely she'll get rolled up in a suitcase and be taken on a Eurailing adventure instead!
tags:
dress
,
linen
,
style-arc
Comment [11]