In Progress
4 June 2015, 13:06
I haven't got any finished projects or magazines to show you this week, so I thought it'd be a good opportunity to catch you up on all the smaller things I've been up to that maybe wouldn't be enough for their own post…
The New Sewing Room
I know it feels like it's taking forever (and believe me, it does to me, too!) but my new sewing room in the front of the boat is nearly done, so I've been spending a lot of time getting that ready to move into.
Most recently, I've been cutting, piecing, gluing and now sanding the beeeeeeeeautiful smoked oak mosaic panel flooring into place, which, while both expensive and time consuming, is something that makes me happy every time I see it.
The final remaining step is to put a few coats of oil on the flooring and tack the edge trim down and I'm ready to move in! And yes, at roughly 2m x 2m, it's still smaller than most American closets! Our boat is heowge, but this particular room will be small, and hidden away, but it will be mine.
Seamwork articles
I've been a big fan of
Seamwork magazine
and a subscriber since Day One, and loads of you have written to tell me how much you enjoyed my first article,
A Guide to Activewear Fabrics
.
This month's current issue is all about sewing knits (I know, right
) and I've actually got TWO articles in it!

A Guide to Coverstitch Machines is basically the article that I wish someone had written when I bought my machine, and combines all the little tips and tricks I've picked up over the (nearly) six years I've had my coverstitch machine. It also contains a handy buyer's guide if you're thinking about taking the plunge.

A Guide to Shopping for Knits is all about five focused questions to ask yourself when you're in a fabric store, see an amazing fabric from across the store, and want to decide if it's right for you (or your project). Very good advice, if I do say so myself – and mostly learnt the hard way over the years!
And if I wasn't already knit-consumed at the moment already, then this Saturday's Thiftystitcher Breton Tee class would certainly push me over the edge! This class is already sold out, but keep your eye on the site for future dates for it, my leggings class, or my panty class.
The next pattern
Truth be told, my pattern mojo has been stagnating for a little while. I have
plenty
of ideas, but I was just having a hard time refining the details in my head, and actually just starting. Since January, I've been working in an office Mon-Thur in order to finance a big boat renovation next year, so all my sewing business activities have been compressed into Fridays, weekends, and evenings, which makes it tough to maintain momentum.
But the good news is that I finally had a breakthrough last Friday – I got the first few drafts and muslins going, and I'm ready to do my first on-the-road test once my fabric arrives! The release is still a ways off, but it feels like I'm moving forward again.
You may also have noticed that I'm a sponsor of Indie Pattern month over at the Monthly Stitch this year, so if you enter their "New-to-Me" contest (starting 15 June), then you could win patterns from me and other great indie companies. Their Dresses contest is on now but you still have time to take part!
Next projects
I've sewn six of them, but somehow still don't have a
Great British Sewing Bee drapey dress
in my own wardrobe, so I've bought some
duck egg blue ponte from Truro Fabrics
to finally make one I get to keep, yippee!

Truro Fabrics know how I feel!
I've also splurged and bought the most recent McCalls vintage gown (yes, they are expensive over here, especially with shipping!) and with the help of my style muse, I've settled on this brick red/orange silk satin (charmeuse) to make it up in. But I'm not telling you where it's from until I buy my own yardage!
The McCalls blog street-style photoshoot of this gown really helped to show how it moves and looks in different positions, and I absolutely love it. I've even got an event coming up to wear such a gown to – the Argentina World Transplant Games gala dinner! I've got an end of August deadline to work towards, so it's a good thing that some cheap lining fabric for a muslin is already ordered!
And breaking news – last night Orange Lingerie released a new bra pattern!! It took me less than a minute between the announcement and my buying it, and it's printed off already…
tags:
knit
,
reflections
,
shopping
Comment [7]
25 April 2015, 12:14
Intrigued by the title yet? Well, it didn't start out as a marathon mission, I just decided to add that part in.
But let's start at the beginning – I've long said that I love FunkiFabrics' lycra (the standard "Flexcite" stuff), but that I personally wouldn't wear it to run anything longer than a half marathon, and only then in cool conditions, as it isn't wicking. I've made loads of leggings and shorts out of their digitally printed lycra over the years, and it really is fantastic quality – never fading, or pilling, or bagging out. But I still wouldn't wear it to run a marathon.
I finally just up and asked Funki if they had any plans to ever print onto a wicking lycra base, since they sell supplex and now compression fabrics, but only in plain black or white. Cue a bit of technical discussion on their end, and then about a month ago they asked if I wouldn't mind testing out two different new base fabrics and giving them my opinion as both a sewist and a runner. Umm, would I???
So just before we left for NYC, my two experimental Funki flavours arrived, one with the Beam Two Bright print and the other with Checker Magic Multi, plus some really geeky technical specs of each base fabric, plus their regular Flexcite data sheet for comparison.
I read the data sheets, picked the one I thought would probably be best, the went away to NYC and promptly forgot which was printed on which base. Which was good, as it's better for testing purposes if you've not already formed an opinion! After a quick prewash, I sewed the Beam Two into a pair of Duathlon Shorts and the Checker Magic into my Steeplechase Leggings, both biker short length, and with scraps of wicking lycra for the sides and yoke.
I ended up testing both by running (I had planned to cycle in one, but plans fell through), and in warm weather, too – so the tests were under as similar conditions as I was able to get!
I wore the "Checker Magic" / Steeplechase pair to run the second half of the London marathon route with friends (about 14mi at steady pace, for 2hrs) a few Sundays ago. It was a sunny day, and feeling pretty warm in general – my Garmin data says it was 10C and sunny, but I'd estimate that by the end it was certainly closer to 15-17C. In any case, this pair felt great, no issues at all in terms of feeling cloying or rubbing, or anything. Pretty boring, with nothing to report.
I wore the "Beam Bright Two" / Duathlon pair on a Tuesday night group tempo session – first 3km easy up to the group, and then another 6km fast around central London. Even though the main session was after dark, it was still a really warm night (my Garmin says it was 17C & clear). By the end of the session, the shorts felt a bit, well, claustrophobic – it's hard to describe, other than that your legs can't breathe, like they're in sausage casings. It wasn't a terrible thing, and it wouldn't keep me from wearing these in short or cool sessions, but I wouldn't want to wear them in the heat, or for anything longer than an hour or two – the same as I'd feel for the regular Flexcite base.
Both fabrics felt great to the hand as a sewist – plenty of stretch in both directions, great recovery, nice hand, and equally vivid printing, so the way they felt while exercising is about the only thing I could see which differentiated them in my eyes.
Now here's the funny bit – when I read the tech specs earlier, I thought that the PF1004 base sounded like it'd probably be the better one (even though neither tech spec specifically said they were wicking?), but when I checked which print was which afterwards, it turns out the "Beam Bright Two" was on that base and was the one I'd not enjoyed running in quite so much.
So to summarise, if I had to choose between the two, I'd pick the PF1003 base that "Checker Magic" was printed onto. And since I am choosing between the two, I'll be wearing that Steeplechase pair to run London marathon in tomorrow, along with my Run dem Crew vest!
This might possibly be the first Funkifabrics to run a marathon, too? I feel like I'm the first man on the moon, breaking new barriers! Though in reality, it's nothing new for me – I've run all four of my previous marathons wearing me-made leggings or shorts!
I've posted up all my pre-marathon thoughts as well as how you can follow me and send me messages to be spoken into my ear while I race over on my running site, RiverRunner.
Wish me luck, and I hope to see (or hear from) some of you tomorrow! And fingers crossed that Funki take my feedback on board and start selling some digitally printed wicking bases soon!
Funkifabrics sent me these experimental fabrics to test, but I was under no obligation to write about them in any way, nor race London marathon in them! All opinions above are genuine. And these are actually the first freebies I've ever had from them, believe it or not!
tags:
exercise
,
fehr-trade-patterns
,
knit
Comment [9]
18 March 2015, 14:06
Like little green shoots poking through the earth as the warmth of Spring approaches, I feel like my sewing productivity and creativity is just pushing through from all angles at the moment. I'm so proud that so many of you love my Steeplechase Leggings pattern as much as I do (and I've got loads more to share!) but I wanted to share a bunch of smaller things I've been getting on with…
Have you ever heard of Sock Stop? It's a bit like puffy paint we used in the 90s, but it's intended to paint onto the bottoms of socks and slippers to prevent slips and falls. I bought
some from Guthrie & Ghani recently to see if it helps keep activewear hems in place without requiring silicone elastic (which can be a bit fiddly to sew on). I've tried it out on the hems of my Steeplechase capris (which you'll see soon) and I want to test them out on my next cycle ride…
I can't believe my birthday's nearly here again – it seems like I only just made my galaxy-print sheath dress! I celebrated early with my BFF Pip, and she very kindly bought me this Secrets of Sewing Lingerie book and a metre of gorgeous silk chiffon from Dalston Mills! I'm super impressed by the variety and styles of panties, bras, camisoles, garter belts, and accessories in the book, but I want to try out a few patterns before I post a review.
I made another batch of Armbands for Argentina over the weekend (using my free Running Armband Pocket pattern) since I nearly sold out of the first lot (and created a lot of new lycra scraps in the making of all my Steeplechase Leggings samples)! This new batch sold SO well at Run dem Crew last night that I've only got 3 or 4 left again!! I've just hit the £1,000 milestone on my fundraising page, too! I've got a Team GB training day this weekend so I'm hoping I'll find out when I'll get my official team kit, which is clearly what I'm most concerned about at this stage, ha.
You may have already seen on their site or newsletter, but my patterns are now available to buy through Pattern Review! So if you review one of my patterns on there, it will link through nicely and show you all the details, on top of being able to buy directly through the site. There's also a great interview with me up on their blog, which is worth reading, too.
And now that my Steeplechase Leggings pattern is finally out, I can actually sew some non-activewear for once in my Fun Sewing queue. I really need a new pair of jeans and have some fantastic denim I'd bought from Ditto Fabrics, so I've been working on these in little snippets of time before work and in the evenings – it'll be a modified version of the last Burda pair I made. I love that I can sew an entire pair of jeans without any instructions (including the fly front zipper) but I always stall at the back pocket design, argh! Anyone have any good sites for back pocket inspiration (that aren't Pinterest?)?
The funny thing is that when I pulled my vintage hand crank Singer out, I was surprised to find it was threaded in pale blue. I scratched my head for a bit, then remembered the last thing I'd sewn with it was the men's cargo shorts seen in the Great British Sewing Bee book!
I'm also itching to sew a Paprika Jasper sweatshirt in some fabulous technical jersey-bonded fleece I got gifted, so we'll see if I can finish both the jeans and it before we leave for New York next week.
And speaking of New York – if anyone fancies joining me on a little Self-Sewn run around the Brooklyn bridge area on Sunday 29 March, please leave a comment so I can keep you in the loop. All abilities welcome – the only requirement is that you wear something you've made!
But if you're closer to London, there's also still time to learn to sew leggings or Breton tees with me this Sunday, 22 March at the Thriftystitcher studio in Stoke Newington. Or you can sign up to do both in one "Stretchacular" day, too!
Phew! See, I told you I was working on a lot!
tags:
exercise
,
fehr-trade-patterns
,
jeans
,
lingerie
Comment [5]
5 March 2015, 12:58
Let me just start by saying how excited I am about this design. As I hinted about months ago, it's a concept that I've never seen done before, either in a sewing pattern nor in RTW – leggings with no inseam!
The idea was planted into my head by an equestrian student at one of my leggings classes, and it brewed in my head for a few months before I was ready to start developing it. First I started by just shifting the seam to the outside leg, at which point I could've just inserted a panel like I did with my Duathlon Shorts pattern. But since I'd already done that before, why not do something different and shift the seam to the back of the leg and add in some curves and a yoke panel, too??
Why not, indeed!
My official blurb is:
These leggings have no inseams! Instead, a curved, outer seam runs from the back of the ankle up to the centre front, where it joins a separate yoke piece. There's an optional, hidden back pocket, elasticated waistband, and your choice of three lengths: biker short, capri, or full length leggings.
It's particularly exciting for me because these bring a whole new sport into my pattern stable (ahem) – horseback riding! But they work equally well for running, cycling, and yoga, too, whether you've had problems with inner-leg chafing in the past or not. Despite the crazy concept and WTF pattern shapes, these are also deceptively easy to sew up, too – most of my testers made these in a single evening, from cutting to wearing!
These are available in my usual size range, and also come with the usual, fully illustrated instructions complete with Common Fit Alterations section, and Print at Copy Shop version included as standard.
I've sewn up SO many samples for myself over the past few weeks, and I've been testing them out on my river runs, and also on Tuesdays at Run dem Crew. Because it's still quite chilly here in London, I've been mostly sewing the full-length leggings, but I've got (more sedate!) capri and biker short length versions ready to photoshoot this weekend, too.
I've still got lots to do before the release sometime next week, though – like going through all the feedback from my incredible band of pattern testers, creating the To Do list of tweaks and suggestions, coordinating the photoshoots of all my samples, plus some of my niece wearing her samples in the saddle (yay!), and finishing up the pattern covers, which I decided to change up a bit for 2015.
I'm still working on this, but you can see a peek of the fantastic illustrations I commissioned from Lauren Cox! There's just something cathartic about colouring in, even if it's in Photoshop instead of crayons…
As I mentioned, I'm not sure of the specific day next week that these will be released, as it depends on a few outside factors. If you'd like to know as soon as these are available to buy, PLUS an exclusive discount code, sign up to my patterns newsletter below!
This is the same form that's on the bottom of my Shop page – if you received last week's teaser email about this pattern, then you're good to go. I only occasionally send emails, and usually that's when I've got an announcement or discount code, so it really is worth signing up!
Oh, and did I mention I'm running a half marathon on Sunday? And in a pair of these leggings? Wait til you see this particular pair!!
tags:
fehr-trade-patterns
,
steeplechase-leggings
Comment [16]
18 February 2015, 13:54
Following on from yesterday's Part One, I've got a whole new heap of activewear sewing inspiration coming your way. You ladies have been so busy sewing up a storm, and I love that you get so excited when I release a new pattern like the Surf to Summit Tops that you make it all in droves!
Winnie's fabulous peacock print Duathlon capris
Read more…
Cidell's winter running Surf to Summit Top for her husband, Jordan
Read more…
Katherine's green cherries runderwear (included in my Threshold Shorts pattern)
Read more…
Veloswer's kiwi-styled cycling Surf to Summit Top
Read more…
Carey's teal and white Surf to Summit Top
Read more…
Carol's trio of Lacey Thongs
Read more…
Maria's reflective, stormset Surf to Summit cycling jersey
Read more…
Kathy's three different winter running Surf to Summit tops
Read more… My

XYT

Workout Top also made her Top 5 Patterns of 2014, too!
Suzy's short sleeved Surf to Summit rashguard and matching swim briefs
Read more…
Kerry's "hunter orange" and pink Surf to Summit jacket
Read more…
Sandra's yellow and white Surf to Summit Top (with back reflective piping)
Read more…
As I've been hinting here and on twitter, my next pattern is very nearly ready to release to my pattern testers. I've made up several muslins on my own, and it's passed my stringent "Does this annoy me on a run?" test with flying colours – both on my 2+hr trail run and again during an hour-long tempo run.
I am super super excited for this one, not only because it's a really cool, versatile design, but also one that brings in a whole new sport I've not designed for before! It also works for the usual running, cycling, ypga, gym-going, too, don't worry! Anyone want to hazard a guess as to what the new sport might be?
tags:
duathlon-shorts
,
fehr-trade-patterns
,
lingerie
,
surf-to-summit-top
,
threshold-shorts
Comment [8]
11 December 2014, 14:26
My next sewing pattern is very nearly ready to release, so it's high time I gave you a pre-release look at what I've been slaving over the past few months, right? I've been dropping hints all over, but this pattern will be released simultaneously for women and men for the first time ever! I've been wanting to release menswear patterns since the very beginning and I'm super proud that my first is such a versatile one, too.
My official description is:
A top with long or short raglan sleeves with optional sleeve mitts, tall integral collar to keep your neck covered, princess seams with side panel, and your choice of two hem lengths. An optional half zip and back cycling-style pocket are also included.

Click any image to make it bigger!
This one's called "Surf to Summit" because with all the optional extras, you really can wear it for surfing, running, cycling, and skiing or snowboarding, as well as just as a regular casualwear base layer, too.
The men's version has the same style lines and optional extras, but has a completely separate draft, with a straighter cut which a lot of men tend to favour over the ultra slim-fitting fitness tops.
If you want to get a head-start on ordering fabric for Christmas gifts, you'll need a 2m (or 2yd) if you're making any of the long sleeved options, and about 1.5m (1 1/2yd) for the short sleeves, depending on the options you choose and how you colourblock it. And both colours of this wicking merino jersey are freaking gorgeous, just sayin' (the teal is shown with the snowboard above).
When I said this will be released very soon – I mean it! I may be able to finish up the last few bits tomorrow, or barring that, it'll be up for sale on Monday. My newsletter subscribers will get an exclusive discount code for use in my pattern shop on top of a notice as soon as it's released, so if you're not signed up yet, it's a really good time to do so!
Pop over to shop.fehrtrade.com and use the signup form at the bottom of the page. It's a very low-volume newsletter service, I promise – I'll only be using it to showcase new patterns, discount codes, and (heaven forbid!) any corrections that might occur.
Update: I'm hearing reports that some people are having problems visiting the Shop (seems fine when I test it though?). Alternatively, you can sign up below:
tags:
fehr-trade-patterns
,
surf-to-summit-top
Comment [3]
2 December 2014, 15:00
My next pattern is off with the pattern testers right now and I'm frantically sewing up final samples for photoshoots, filling in missing illustrations, and responding to comments as they come in, but I've managed to occupy my brain with the thought of things I might sew for fun next!
I did indeed wear my traced-from-RTW mustard yellow sheath dress to Number 10 Downing Street last week, and even managed to get some photos with the famous door(!) afterwards, but you'll have to wait for those until the proper photoshoot is done showing the rest of the dress details in some decent lighting.
But I can say already that I love the dress! It needs some slight tweaking to the shoulder area, but apart from that, my tracing was spot-on, and I'm so chuffed it turned out so well without a muslin.
The crazy seaming really started getting my brain thinking about all the ways it could be colourblocked, though, and I looked up and suddenly found inspiration from a magazine photo I'd cut out years ago and had hanging on my sewing cave wall!
So I rummaged through my ponte scraps and realised that I had the most perfect shade of teal viscose ponte leftover from a client commission, and together with the leftover mustard scraps (and some newly-bought white ponte), I could make my very own Chalayan-inspired sheath dress!
I whipped up a tech drawing in Illustrator so I could play with the different colourblocking combinations, and I'm not sure which I should go for.
I've only got 1.2m of the teal and even less of the mustard, but I could buy whatever white I need to make up the rest. I think I have enough to make any of these combos, but I will of course double-check with my pieces before I order the white.
I also finally sewed up a muslin of this short coat from the Sept 2010 Burda (also known as one of my favourite issues Of. All. Time.):
I actually like the design enough on me that I'm willing to push on through the changes required, and that's saying something! I'll need to extend the sleeves (easy), broaden the back shoulders, take in the back waist (as it's too boxy back there), and importantly, I'm going to add zippered pockets into the massive front darts – because what's the point of a coat without pockets?!? I've already got a wonderful navy wool coating and vintage Italian silk twill lining earmarked for this, so I'd really only need to buy the zippers.
The other idea rolling around my head right now is that I really want to make more from the Japanese-design inspired feature in the June 2014 Burda magazine that I loved so much. I realised that I have the most perfect fabric in my stash for this bonkers jacket: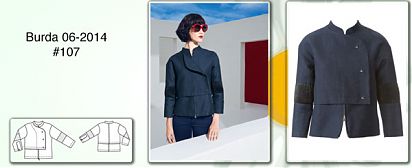 It's a dark navy denim that has a woven repeat in it that looks like little dots/starfield/snowflakes which gradually gets denser and then fades away. Extremely cool.
I've got 2m and the woven-in dots appear every metre, and I think it'd be stunning made up in this jacket. So I might work on it a bit over the holidays, along with the other coat above, even though it'll be too lightweight to wear until Spring.
But back to the Chalayan colourblocking – which should I go for? Answers in the comments below or on Twitter to @fehrtrade!
tags:
burda
,
coat
,
designer
,
dress
,
muslin
Comment [10]
19 November 2014, 17:03
Contrary to the amount of time I've been spending behind a computer recently, I actually have been finding some time here and there to sew, too. It's just, well, most of it is for my next pattern, which is going well, but is still at least three weeks off going live (sorry!). It turns out that, even though I can reuse some parts of the pattern between the men's and women's versions, there still an awful lot of extra work involved in creating two versions!
You might reasonably expect that I'd have to make twice as many samples, but there's other added time involved with "invisible tasks" like walking seam lines and measuring finished garments, for instance. While both are made considerably easier done digitally, and even moreso if you've organised yourself a nice little Excel spreadsheet to do the heavy calculating and imperial converting, there's still an awful lot of measuring to be done. But it gives me a little thrill when I can see my finished garment measurements vs body measurements equating to ease, down to 1/100ths of a mm!

This is just a small portion of my spreadsheet – the other bits gave too much away!
If you want to be the first to hear details of my new pattern, then now is an excellent time to sign up for my FehrTrade patterns mailing list, which which you'll find at the bottom of my Shop front page. If you ticked "Yes" to marketing emails when grabbing my free Running Armband Pocket pattern, then you're already on it. And I absolutely promise you that the email volume will be really low volume and only important stuff, like sneak previews and special voucher codes.
So on top of getting my next pattern ready to send to my two teams of pattern testers, organising athlete-models, and sewing up more samples, I've been spending my office hours working on an upcoming sewing book (not mine!) for a publisher, too. So it's good practice in double-checking instructions and illustrations, but it is rather brain-taxing to be doing all day!
I've managed to squeeze in a few "Fun Sewing" projects, though, including a pair of leggings made from some luuuuuuuuuscious Funki Fabrics lycra (bought with my own money).
I took these for a test (trail) run on Sunday so I can wear them to race Three Molehills this weekend, where I'm hoping to get a few more photos for you all!
I also finally cut out the pieces to make a replica of a favourite mustard yellow ponte sheath dress!
The original is from ASOS, but I just adored the curvy, paneled seaming so I traced off the original a few months ago. The original dress is grubby and pilling, and about 10cm too short in the sleeves and hem, so I of course corrected that on my pattern!
I'm trying to sew this together in as many 15 minute segments as I can gather together – I managed to construct the back (minus the zipper) over lunch today, for example. I've actually been personally invited by Samantha Cameron(!) to attend a reception at Number 10 Downing Street next week, so I'm trying to finish this to wear to that! So far I've been told that the toilets there are "must see", and that I should eat as many canapes as possible. Done and done! (No cameras allowed inside though, so no shots of the dress in an iconic location like the Houses of Parliament this time around)
tags:
fehr-trade-patterns
,
knit
,
knockoff
Comment [3]
7 November 2014, 11:39
I've been a bad blogger this week. I've been doing lots (as you'll soon see), but working every weekend for the past three, plus the weeks in between, and some out-of-town trips have all really sapped my enthusiasm to write! So I'm taking the lazy option out and catching you all up with a little roundup – a week's worth of posts in a day…
Like the Wind workshop
Cult running magazine
Like the Wind
approached me a few months ago to ask if I'd like to run a "sew your own leggings workshop" at the week-long popup they were throwing together at the end of October. I'd known one half of the husband-and-wife team that run the magazine, but I'd never met Julie before this. Once I found out that she not only owns her own overlocker, but bought it when she sewed her own wedding dress with it(!), I knew we'd get along
just fine
.
We had five runners who'd only done a small amount of sewing before, but had never touched an overlocker before, and certainly not a coverstitch either! They each picked their own fabric from FunkFabrics' range, and walked home in some very stylish leggings at the end of the afternoon!
Georgina picked a "Gotham" print, so of course she just had to pose with the Batman art in the gallery!
And here's the finished set! I saw quite a few little "omg I'm so happy in my leggings" dances at the end, which really reminds me why I love teaching so much. Lucy posted a great writeup of the street art tour and my class, too.
There may be another Like the Wind workshop in the new year if we can work out the logistics, but there will definitely be more up at the Thriftystitcher studio in January and February, to be announced very soon! The classes are very similar, so if you're a runner you can come learn at Thriftystitcher, or non-runners vice-versa at Like the Wind.
But I was so jealous of all their finished leggings that I treated myself to some Funkifabrics lycra this week (it was difficult, but I settled on this geometric aqua number in the end, because it reminded me of a Lamb album cover!).
Random sweatshirt sewing
When I was pulling out supplies to bring along to the workshop, I came across pieces for this sweatshirt that I'd cut out in February when I was trying to deplete random bits of leftover sweatshirting that was taking up too much room in my little sewing cave. The
lavender "sacrificial sweatshirt"
came out of that same cull, but for some reason I never quite got around to sewing this blue one together at the time.
It's a testament to the tidyness of my tiny sewing cave that I still have all the pieces, really, and I've made this pattern (from the November 2006 Burda magazine) so many times (8? 9?) that I don't need to dig out the instructions. This really did come together in a morning, and it's perfect for this weather, now, too.
Spoonflower prints
Spoonflower had a free shipping day back in October, and I couldn't resist another yard of
my fabric collaboration with illustrator Laurie King
!
This is the "Maps" in the purple colourway for the Duathlon Shorts pattern, but I may use it instead to see how my Threshold Shorts work in the one-way-stretch Performance Pique fabric…
(Oh, and Spoonflower have BOGOF on all fat quarters (all fabrics) for the next week, so if you wanted to make a bunch of Running Armband Pockets (FREE Pattern alert!) as Christmas gifts, you'd be wise to buy a few fat quarters now!)
My next pattern – male testers needed!
UPDATE

: wow, thanks guys! I've got enough testers now!

I'm not yet in a position to give away too many details about my next pattern (sorry!) but it's going very well, and is ready to be graded, and after that, the testing! Yay! What I can say is that this design will be released for both men and women – two different drafts – not one "unisex" one that fits no one well, bleurgh!

I've got plenty of fit lady testers, but I could really use some more male testers! What this means is that I need either men who sew and exercise regularly, or women who sew with a man if their life who exercises regularly. You'll need to have had some experience sewing stretch fabrics, and will need to be able to sew a sample and give feedback within two weeks (I always give you at least two weekends included in the turnaround time). You don't need to have a blog! In return, you'll get a chance to test the pattern early, plus a finished (and updated!) copy at the end.

If this sounds like something you'd like to do, please leave a comment and I'll get in touch. For this particular pattern, men who cycle, run, ski or surf are ideal.

I can't share my tech drawing yet, but I did stumble across this unlikely colour combo when I was pulling out fabrics for my next sample!
How much do I love this aqua and yellow combo?! You may recognise the yellow from my gold medal leggings – I'd cut up the leftovers into strips for coverstitch binding, but they're also perfect for stretch piping!
Fun Sewing
And finally, after way too much Work Sewing, I've cut out some Fun Sewing projects for me. First up is a "statement sweatshirt" using some leftover galaxy print ponte from
my birthday dress
. I don't usually sew from Big Four patterns as they're so freaking expensive here, but in order to get the cheapest price on the Kwik Sew leggings pattern for the Like the Wind workshop, I had to become a Sew Today member, which came with my choice of two free patterns. One of which was
McCalls 6992
.
I could've easily drafted it myself, but I thought it might feel too much like work, so I grabbed this instead, and since it was free and I was feeling supremely lazy, I actually (gasp!) cut the pattern tissue instead of tracing it. Eep. I also chose McCalls 7026 at the same time, so I'm going to try and graft the thumb-hole cuffs onto this at the same time.
I decided to use some black scuba from Tia Knight for the contrast raglan sleeves, but I've also been thinking recently that I really need a basic black skirt. My Colette Beignet skirt looked fine in the photoshoot last week, but it's really too big in the waist now.
What I decided I really wanted was another of Christine Jonson's Travel Trio Three skirt, as I wear the blue one I made last year all the time, and I consistently get compliments on how thin I look every time I wear it (bonus!).
Since the pattern is already traced out and within easy access, I should be able to sew both this skirt and the sweatshirt in the same weekend. Fingers crossed I can squeeze in a trail run, a 40th birthday party, and a photoshoot into my "free weekend", too.
And lastly, I want to leave you with two cool things – Joost has gone and completely rebuilt Make My Pattern, which auto-generates free patterns based on your measurements. He's got a necktie and boxer-brief pattern up now, and I'm guessing he'll add the teeshirt and trousers from the old site in time, too. Secondly, if you've got an iPad, check out Pret a Template, an app for quickly sketching out garment ideas onto croquis (they also have an impressive set of free crquois to download as pdfs, too!)
tags:
christine-jonson
,
class
,
exercise
,
mccalls
Comment [7]
8 October 2014, 13:38
Remember a few weeks ago when I took a quick trip down to Brighton and came back with some gorgeous wool coating and vintage Italian silk lining from Ditto? Of course you do!
Well, as shown in the photo above, I bought it intending to make the StyleArc Audrey pattern to be a transitional Fall "car coat" (heavier than a jacket, but not a full-on winter coat). So having arrived home to decidedly Fall weather, I thought I should get a move on with this coat or else it'll be too cold before I can make it!
So I pulled out my Audrey pattern, cut out all the million pattern pieces (the attention to detail is really terrific – the lining and facing pieces are exquisitely drafted rather than just carbon-copies of the exterior), and made a muslin.
I know muslins can be super useful, especially for fit problems, but there's something about them that makes me lose all enthusiasm for a pattern once I see it made in beige, crumbled fabric held together with pins and covered in Sharpie marks. I think I've probably dumped more coat patterns at the muslin stage than any other garment (let's all try to erase the Armani coat muslin horror from our minds… oops)! I put this one on, looked in the mirror and thought…. meh.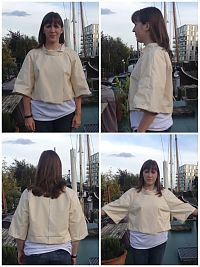 So I recruited James and a friend for second opinions. They both gave it the thumbs down, then started going through the list of things that could be done to improve it, lengthen here, take out fullness here, etc etc. Err, no – for something that's supposed to be "fun sewing" I'd rather just dump this and use another pattern I haven't yet lost all enthusiasm for!
As I said, this was all beautifully drafted, and the instructions were actually pretty well done (if you can read through StyleArc's sometimes strange wording), I just don't think the proportions of this swing coat style really work for me – the hem ends at my widest part, and with the sleeves being the exact same length, it just adds a huge amount of visual width onto my hips. Yay! That, and the collar should be twice as high as you see here, which looked spectacularly bad. It's a rectangle, drafted on grain with no shaping. A bias or curved piece would be so much better here, but as a quick fix I just folded it down again to see if it behaved any better.
Oh, and the coat has princess seams, which was a surprise after looking at the tech drawing. Not a bad surprise, mind, but I really can't see this swing coat shape being flattering to anyone with a bust, either, despite how much I want to like it! (Though I'm reminded that Beth made a fantastic version of this in 2012, so perhaps it's fine for some shapes afterall!)
So I sifted through Burda magazines coat patterns for suitable replacements, and this one from my favourite September 2010 issue is at the top, though if I had more fabric I'd be sorely tempted by the seaming on this one! I couldn't find any reviews of the former, but I could've sworn someone made it (or the longer version, #120) a few years ago, if anyone with a better memory can pass me a link in the comments?
Anyway, after that I needed a pick-me-up, so I cut into the kitten-face lycra Fleur brought me from the Garment District.
MEOW! More on these later, I love them (and they took like 15min to make)!
tags:
coat
,
kwik-sew
,
muslin
,
style-arc
Comment [12]