In Progress
8 October 2014, 13:38
Remember a few weeks ago when I took a quick trip down to Brighton and came back with some gorgeous wool coating and vintage Italian silk lining from Ditto? Of course you do!
Well, as shown in the photo above, I bought it intending to make the StyleArc Audrey pattern to be a transitional Fall "car coat" (heavier than a jacket, but not a full-on winter coat). So having arrived home to decidedly Fall weather, I thought I should get a move on with this coat or else it'll be too cold before I can make it!
So I pulled out my Audrey pattern, cut out all the million pattern pieces (the attention to detail is really terrific – the lining and facing pieces are exquisitely drafted rather than just carbon-copies of the exterior), and made a muslin.
I know muslins can be super useful, especially for fit problems, but there's something about them that makes me lose all enthusiasm for a pattern once I see it made in beige, crumbled fabric held together with pins and covered in Sharpie marks. I think I've probably dumped more coat patterns at the muslin stage than any other garment (let's all try to erase the Armani coat muslin horror from our minds… oops)! I put this one on, looked in the mirror and thought…. meh.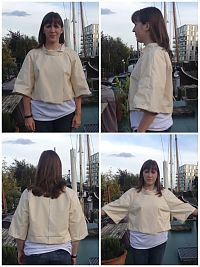 So I recruited James and a friend for second opinions. They both gave it the thumbs down, then started going through the list of things that could be done to improve it, lengthen here, take out fullness here, etc etc. Err, no – for something that's supposed to be "fun sewing" I'd rather just dump this and use another pattern I haven't yet lost all enthusiasm for!
As I said, this was all beautifully drafted, and the instructions were actually pretty well done (if you can read through StyleArc's sometimes strange wording), I just don't think the proportions of this swing coat style really work for me – the hem ends at my widest part, and with the sleeves being the exact same length, it just adds a huge amount of visual width onto my hips. Yay! That, and the collar should be twice as high as you see here, which looked spectacularly bad. It's a rectangle, drafted on grain with no shaping. A bias or curved piece would be so much better here, but as a quick fix I just folded it down again to see if it behaved any better.
Oh, and the coat has princess seams, which was a surprise after looking at the tech drawing. Not a bad surprise, mind, but I really can't see this swing coat shape being flattering to anyone with a bust, either, despite how much I want to like it! (Though I'm reminded that Beth made a fantastic version of this in 2012, so perhaps it's fine for some shapes afterall!)
So I sifted through Burda magazines coat patterns for suitable replacements, and this one from my favourite September 2010 issue is at the top, though if I had more fabric I'd be sorely tempted by the seaming on this one! I couldn't find any reviews of the former, but I could've sworn someone made it (or the longer version, #120) a few years ago, if anyone with a better memory can pass me a link in the comments?
Anyway, after that I needed a pick-me-up, so I cut into the kitten-face lycra Fleur brought me from the Garment District.
MEOW! More on these later, I love them (and they took like 15min to make)!
tags:
coat
,
kwik-sew
,
muslin
,
style-arc
Comment [12]
23 July 2014, 12:39
I was hoping to have been able to show you photos of my latest Donna Karan denim-look leggings, as well as what the Aztec-print sports bra looks like on a real person, but alas, I have succumbed to The Cold that all of London has already had over the past month and that I naively thought I'd evaded. Boo.
So because I've been laid low under a mountain of tissues and Netflix, I've not been able to do much of anything besides the few client projects which had to be done, and we'll have to catch up on photoshoots, the road-testing of my next pattern, and the August BurdaStyle magazine when I'm feeling more energetic.
I did, however, managed to cut out and sew most of the StyleArc Pamela dress in fits and bursts between lying down.
I had my first try on yesterday and I really like it! It works equally well tied in front or tied in the back, and is just the sort of casual summer dress I need in my wardrobe (somehow I appear to be the only sewist on earth that doesn't make enough casual dresses?!).
So apologies for the delay, but I'll be back atcha when I'm less, err, atchoo.
tags:
style-arc
Comment [5]
15 July 2014, 11:34
Last week saw the end of a very good but busy work project, so what do I do when faced with a bit more time and mental energy than usual? Why, I sew of course!*
Liberty, but not as we know it
I received
some lovely Liberty gift coins for my birthday
, and because Previous Me knows Future Me so well, I had stashed some extra birthday cash along with it in the suede pouch, knowing I'd forget all about it and be pleasantly surprised. Which is precisely what happened!
So now armed with £60 to play with in Liberty, I decided to take advantage of a rainy day and go shopping. Now, I know loads of you go weak at the knees for anything Liberty, but I don't. I find most of the traditional Liberty prints to be painfully twee and nothing I'd ever, ever wear. So I was thinking I'd see what was on offer in their jerseys, but first I got waylaid by the remnants table, where I scooped up a vaguely-African print silk twill (1m for £25, seen lower left).
The jersey selection was really small and mostly ditzy print (gag), but I kept being drawn to a dreamy, blurry, triangular print that came in a few shades, but only in Tana Lawn. I finally decided that if I kept coming back to this print then I should buy it and figure out a project later. So 1.5m of the palest colourway came home with me (seen upper left above) and brought my grand total to £58. Now that's budgeting!
Refashioned suede wristlets
A friend had recently given me two skirts which no longer fit her, a suede one and a silk one, and mentioned that I might want them for the fabric. Of course! So I chopped up the suede one on Sunday, making two of the free Cake mini wristlets.

(The colour on the left is more accurate…)
I would've preferred to make the bigger size, but because the original skirt was in swirled panels, I could only barely fit the mini pieces into the largest panels, and I didn't want extra seaming on the bags. The only thing I had to purchase here were the zippers, and we've each got a new little evening bag!
Designer "not jeggings"
Having finished the wristlets with several hours home alone remaining, I turned to a project I've been meaning to do for weeks – replace my very well loved and now falling apart
pleated denim look leggings
. I could've just made them again, but I thought I'd bring out
the Donna Karan seamed leggings pattern again
since I generally liked the fit.
These will get a full post, but I eliminated the ankle flaps here and they're now 90% perfect. And guaranteed to be worn as much as my previous "denim look leggings"!
Geometric teal running set on the road
I started off Monday morning with a hot, sweaty, speedy intervals session along the river, and I thought the perfect outfit to make me feel like an elite would be my
teal mixed print

VNA

& Duathlons I showed you on Friday
. Since you didn't get to see me wearing it before, we snapped some photos before and after my run.
I'd run in them separately before, but together I feel unstoppable! The gripper elastic really freaking works on those booty short length hems, too. Highly recommended, even for improving RTW hems that slip around.
Aztec sports bra
I carried on the momentum by sewing up a new sports bra, doing pretty much the exact same finish as
my previous Jalie tribal print one last summer
, but lowering the neckline by 4.5cm.
The Aztec print is from Spoonflower (only a fat quarter, because I'm cheap!) and the white supplex is leftover from way back when I made my sailor girl running costume three years ago. What can I say, I have a deep lycra stash to work through!
Citrine – turquoise – rainbow Duathlons
And last but not least, I wanted to do
something
with this combo of colours in my wicking lycra stash, so I made another
pair of Duathlon Shorts
(biker length). But my piece of citrine supplex
from Sewing Chest
was only 18cm tall and I loved the colour too much to only have it on the Lower Side, so I drew some curves and colourblocked the front and back with more!
It only needs the coverstitching done, and you'll see more of this in a photoshoot, too.
Anyone else try additional seaming on my patterns, out of fabric necessity, or pure whim?
* I also squeezed a two hour hilly trail run plus another two hour guided walk into Saturday, and a bunch of caulking of the walls of my future sewing room on Sunday, plus some client work on Monday!
tags:
exercise
,
fehr-trade-patterns
,
jalie
,
leather
,
recycled
,
shopping
,
silk
Comment [4]
11 June 2014, 12:46
I'm very pleased to report that my next sewing pattern will be ready for sale within the next week! I literally only have the final photoshoots to do (lined up for tomorrow evening), and the Copy Shop versions to tweak and that's it!
Many of you will be pleased to hear that it's another top pattern, and this one works for exercise or casualwear! It's called the "VNA Top" because it's inspired by a Vionnet evening gown (say "VNA" fast and it sounds like… yup!).
My official description:
This is a pattern for a close-fitting, sleeveless workout top inspired by a 1930s Vionnet evening gown. It features a front V-neck, curved under bust seam, and distinctive angular seaming in back. Neckline and armhole edges are finished with binding, and there are no side seams.
It's the same size chart as my previous patterns, but I recommend you go up one size if you're sewing this for casualwear, as my excerise draft has negative ease, and you'll probably want it to fit a bit looser as a teeshirt!
Again, I've got fully illustrated instructions but as a new addition, I've also included diagrams for some common fit alterations since the seam lines are so unorthodox.
So stay tuned for the full release very soon!
tags:
fehr-trade-patterns
,
vna-top
Comment [9]
5 June 2014, 09:58
I've been feverishly working behind the scenes here at FehrTrade Towers (or maybe that should be HMS FehrTrade?), but an awful lot of that isn't quite ready to be fully shared yet…
Next Pattern samples
Case in point – the samples I've been making for my next FehrTrade pattern! Loads of you have been asking when this will be ready, and the answer is, well, it should be up for sale within the next two weeks. This pattern is for a top that can work for workout wear
or
casualwear, so it means I've been sewing even more samples than usual to show off both sides of it. I'm not yet ready to reveal the tech drawing, but you can see how colourful my samples have been so far!
I'm pretty sure the teal-y one in the upper right might be my favourite top EVAR…
Anyway, I really do hate to be a tease, but I hate it even more when I see something I really want to buy then have to wait ages (by which point the excitement has worn off), so I'm trying to hold back until I have an exact release date for you guys. The wonderful thing about digital patterns is that I don't have to wait for any printers to release it!
Workout Inspiration
Speaking of FehrTrade patterns, have you all seen
the

XYT

Workout Top hack Rebecca did
for Sew Indie Month? Those of you who prefer a more loose-fitting workout top might be particularly interested in her changes, just saying…
And if you're looking for inspiration to get more bang for your XYT Workout Top buck, then you may want to consider using this Athleta/Gap "Zahara Tankini" as inspiration – it's a dead-ringer for the T-Back version!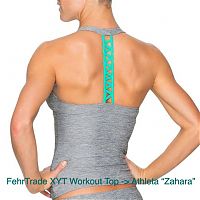 (Thank you to whomever sent this to me, I'm so sorry but I've lost the email!)
Manequim cropped blazer
I've got a wedding coming up and, despite actually
buying
a dress (I know!), I wanted a cropped jacket to go with it. So I quickly made this Manequim cropped jacket in a green piqué and I adore it!
This is totally done, and just waiting for a photoshoot, which may or may not come before the wedding itself…
Also for the same wedding, I've got a commission from a client to make a very cool design of a silk shirt, which has really been testing my spatial ability (I've brought out my old paper model trick!) to draft the pattern, but it's really fun. Fingers crossed I can meet the wedding deadline!
New video class
I've so far resisted the draw of Craftsy video classes (mostly because I have a very short attention span for YouTube videos, and I'm not sure I'd enjoy the format), but I received a very kind offer from Susan Khalje to try out
her new Cocktail Dress video class
for free (possibly because I took her Couture Hand Stitches class on PR a while back?).
I have huge respect for Susan, and even moreso now that she's developed her own format for classes away from any other company structure. She's got a big enough name in the sewing community to hopefully be able to do this on her own, and I really want to support this sort of independent venture.
Excitingly, the class comes with her own dress pattern, too! I may be wrong, but I think this marks the first time she's ever released her own patterns, which is quite exciting on its own, even. So I received the tissue pattern in the post, and I'm going to try and watch the videos in this "spare time" I've heard so much about, and have this dress as a sideline to my other projects. And it's not just because I've been wanting an excuse to buy the Minerva "skull lace" ever since they added it to the shop. Oh no.
tags:
fehr-trade-patterns
,
xyt-workout-top
Comment [2]
12 May 2014, 17:41
This is an epic jacket, and something I've been wanting to do for, ooh, 6-7 years at least. You see, I really liked the idea of wearable electronics, and clothes that do something and interact with their environment, so I started buying LilyPad components many years ago with the hopes of making something.
Then I realised that I know nothing about circuits and electronics, and it all seemed really confusing every time I tried to sit down and learn about it. Finally, I decided that I'd bring my suitcase of tricks (no really, I have a little yellow plastic "suitcase" with all my beginning circuitry stuff in it!) along to France on holiday and I'd sit down and teach myself how to do it then. And I actually did!
LilyPad is the sewable line of Arduino products, made especially for folks like us. They're easy to attach onto clothes, and (apart from the batteries) are machine washable, too. For this jacket I used a LilyPad battery pack (I started with the Coin Cell one but it wasn't quite enough power), a Lily Twinkle controller, a bunch of LEDs, and a spool of conductive thread.
I used a mix of the regular LilyPad LEDs and the Micro LEDs because that's what I had – the micro green ones were much brighter than the bigger purple ones, but you can really only get about four loops of thread around each terminal of the micro ones, so if you need to connect it to more than two lines, go for a bigger one. The Twinkle controller is really just a tiny board with four connection spots for LEDs and makes them fade in and out randomly (though you can connect more than one LED to each spot & they'll twinkle in unison). I wanted to make things easy for myself this time around so I left out any input sensors, though I do have an accelerometer in my stash…
I'd thought to bring along this "Fashioning Technology" book and between that and this Lilypad Twinkle tutorial, I pretty much taught myself how to make a simple circuit to do what I wanted. When I go to do my next project, I'll need to read a few different chapters and watch some more tutorials, I'm sure!
I first tested out my electronics circuits by drawing it out with pencil and paper, and then hooking everything up with alligator clips. I swear I did a dance around the room when the first little LED lit up – magic! After I was fairly confident that my circuit idea was okay, I put some scrap fabric in an embroidery hoop and used the conductive thread to hand sew all the components together and check I could still attach everything okay (and it was here I noticed how tiny the holes on the micro LEDs are!).
When I got home, I plotted out my full circuit for how everything would fit onto the Middle Back piece of my Steffi jacket pattern. I'd decided I wanted the battery pack to be concealed in a pocket so I could turn it on and off easily, plus be able to disconnect it (and potentially transfer one battery pack between a bunch of different projects). So rather than running to a battery, my circuits ended on two metal snaps, where the battery wires would then connect. I ran a line of LEDs directly off the snaps, which would stay solidly lit, and then a line to the Twinkle controller, with an LED running off each spot on that – these are the ones which twinkle and fade.
For the jacket, I wanted everything to be on the inside except the LEDs, so I hand-wound a bobbin with conductive thread and used matching grey thread in the top of my sewing machine. I then just sewed a line between each of the components, keeping very long thread tails at both ends. I'd pull both tails to the inside, tie them off, trim the non-conductive thread, then thread the conductive tail into a hand sewing needle so I could sew it around the LED, snap, or controller. I'd take a few loops around to make sure the connection was tight, then knot it off, and seal with some Fray Check.
Looking at my circuit, you can see there are a lot of ends to secure! It pretty much took me an entire day to sew the circuit onto the Middle Back piece, and I checked it periodically by attaching a battery pack with alligator clips so I knew it was working, too!
Once the main circuitry was done, I sewed up the jacket as normal (more on that later this week). When it was completely sewn, I sewed two elastic loops between the pocket and the snaps to hold the wire in place, and snipped a small hole into the pocket bag – it only needed to be large enough to pass a snap through, not the entire battery pack!
I was planning on attaching the battery to the circuit with the same conductive thread, but James pointed out that there was likely a lot of resistance in the thread and that the LEDs would likely be brighter if we used a shielded wire in between instead. So he helped me solder a wire to the battery pack, but then the snaps had some sort of coating the solder didn't like, so I had to loop the ends of the wire and use conductive thread to join them to the snaps.
But I know it's boring looking at still images when something twinkles and fades, so we recorded this short video on YouTube so you can see how the LEDs light up!

Sorry about the vertical video – we weren't thinking when we recorded it!
Stay tuned later this week for Part Two – the sewing of the jacket!
tags:
electronics
,
exercise
,
jacket
,
style-arc
Comment [16]
30 April 2014, 14:15
For my first set of patterns, I was designer, pattern drafter, digitiser, and model, but for my latest Duathlon Shorts pattern, I wanted to bring in a few athlete friends to help model the different versions. You've already seen her legs modelling the "Booty Shorts" version on the pattern envelope, but my friend, training partner and sometimes-coach Claudia really helped me in the early testing stages to get the pattern suitable for cyclists.
She's modelling the second version I made for her here, in size XXS using the "Booty Short" length. Even though these are short, you still get the integrated pockets on both sides and a nice place to use up contrast fabric. She specifically asked for dark fabric for the main shorts, as you can apparently get unattractive crotch sweat patches while cycling, even in wicking fabrics, and they're apparently less noticeable in dark colours! Dark colours or bold patterns also help to disguise the topstitching used to attach the crotch padding as well…
The first test version used a double layer of sweatshirt fleece as the crotch padding, but when Claudia tested it on a routine spin class, she found it wasn't nearly enough padding, though it was very comfortable to wear. In this version, I used laminated foam padding (normally used in bra making), zigzagging around the edges, which she said was definitely better and still quite comfortable to walk around in, though not as padded as ready-made cycling chamois.
So if you want padding for short cycle rides where you need to be not walking like John Wayne, laminated foam padding is the way forward…
Laminated foam padding stockists
(Any other suppliers? Please tell me in the comments!)
If you're going to be riding for long distances and want the pre-molded, silicone inserts used in commercial cycling shorts, then there are several places online you can buy those to insert into your Duathlon shorts, too!
Chamois (cycle seat padding)
(I'd love to add more suppliers, especially European ones if anyone knows of more?)
And finally, Claudia also said that she really likes to have grippy elastic at the hems of her shorts. I personally have never really seen the need for these in running (and the silicone tends to leave red marks on my skin), but she said that shorts tend to ride up when you're cycling due to the movement of your legs. So if you're finding this happening (especially with the shorter length shorts), just zigzag some gripper elastic (in whichever width you prefer) onto the right side of the shorts hem before you turn it under and twin needle (or coverstitch) the hem.
Gripper/silicone elastic
(Again, if you know any more suppliers, please say so in the comments!)
I really respect Claudia's opinion on all these extra little touches, as she's not just a runner (having just BOSSED Boston Marathon in 3:26 the other week!), but she's an Iron(wo)man, too. I'll definitely be cheering for her as she tackles Ironman Mallorca 70.3 in a week's time! She's not just an inspiration for fit ladies everywhere, but she's a great coach, too – when I needed a pick-me-up at Mile 21 of the London marathon, she jumped on the course and gave me the pep talk I needed to power on through to the finish.
I'm in Brittany, land of seafood and salted caramel, for holiday this week. Please forgive me if I'm slower than usual to reply to questions – I'm likely in a food coma.
Fancy making your own? Go to my Shop section or head straight to Etsy below…

tags:
duathlon-shorts
,
fehr-trade-patterns
Comment [6]
2 April 2014, 13:05
Argh I've done that thing again where I get really busy in my sewing cave (and elsewhere!), ignore my laptop altogether, and end up accumulating a full week's worth of posts that I can't face writing. This usually bogs me down mentally for a few days until I realise I have to face the laptop at some point, and I work a "computer day" (I much prefer "sewing days"!) to clear the slate.
But a-ha! I gotcha, "internet day", because I'm going to cram together all the updates I really should write about in one big go. Didn't see that coming, didja?!? (frollicks off to the sewing cave…)
Birthday gifts
Thank you again so much for all your compliments on
my galaxy print birthday dress
last week! I'm not sure what I did right, but I ended up getting an awful lot of lovely sewing gifts this year…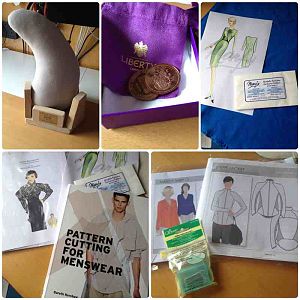 Clockwise from upper left: