In Progress
18 February 2015, 13:54
Following on from yesterday's Part One, I've got a whole new heap of activewear sewing inspiration coming your way. You ladies have been so busy sewing up a storm, and I love that you get so excited when I release a new pattern like the Surf to Summit Tops that you make it all in droves!
Winnie's fabulous peacock print Duathlon capris
Read more…
Cidell's winter running Surf to Summit Top for her husband, Jordan
Read more…
Katherine's green cherries runderwear (included in my Threshold Shorts pattern)
Read more…
Veloswer's kiwi-styled cycling Surf to Summit Top
Read more…
Carey's teal and white Surf to Summit Top
Read more…
Carol's trio of Lacey Thongs
Read more…
Maria's reflective, stormset Surf to Summit cycling jersey
Read more…
Kathy's three different winter running Surf to Summit tops
Read more… My

XYT

Workout Top also made her Top 5 Patterns of 2014, too!
Suzy's short sleeved Surf to Summit rashguard and matching swim briefs
Read more…
Kerry's "hunter orange" and pink Surf to Summit jacket
Read more…
Sandra's yellow and white Surf to Summit Top (with back reflective piping)
Read more…
As I've been hinting here and on twitter, my next pattern is very nearly ready to release to my pattern testers. I've made up several muslins on my own, and it's passed my stringent "Does this annoy me on a run?" test with flying colours – both on my 2+hr trail run and again during an hour-long tempo run.
I am super super excited for this one, not only because it's a really cool, versatile design, but also one that brings in a whole new sport I've not designed for before! It also works for the usual running, cycling, ypga, gym-going, too, don't worry! Anyone want to hazard a guess as to what the new sport might be?
tags:
duathlon-shorts
,
fehr-trade-patterns
,
lingerie
,
surf-to-summit-top
,
threshold-shorts
Comment [8]
11 December 2014, 14:26
My next sewing pattern is very nearly ready to release, so it's high time I gave you a pre-release look at what I've been slaving over the past few months, right? I've been dropping hints all over, but this pattern will be released simultaneously for women and men for the first time ever! I've been wanting to release menswear patterns since the very beginning and I'm super proud that my first is such a versatile one, too.
My official description is:
A top with long or short raglan sleeves with optional sleeve mitts, tall integral collar to keep your neck covered, princess seams with side panel, and your choice of two hem lengths. An optional half zip and back cycling-style pocket are also included.

Click any image to make it bigger!
This one's called "Surf to Summit" because with all the optional extras, you really can wear it for surfing, running, cycling, and skiing or snowboarding, as well as just as a regular casualwear base layer, too.
The men's version has the same style lines and optional extras, but has a completely separate draft, with a straighter cut which a lot of men tend to favour over the ultra slim-fitting fitness tops.
If you want to get a head-start on ordering fabric for Christmas gifts, you'll need a 2m (or 2yd) if you're making any of the long sleeved options, and about 1.5m (1 1/2yd) for the short sleeves, depending on the options you choose and how you colourblock it. And both colours of this wicking merino jersey are freaking gorgeous, just sayin' (the teal is shown with the snowboard above).
When I said this will be released very soon – I mean it! I may be able to finish up the last few bits tomorrow, or barring that, it'll be up for sale on Monday. My newsletter subscribers will get an exclusive discount code for use in my pattern shop on top of a notice as soon as it's released, so if you're not signed up yet, it's a really good time to do so!
Pop over to shop.fehrtrade.com and use the signup form at the bottom of the page. It's a very low-volume newsletter service, I promise – I'll only be using it to showcase new patterns, discount codes, and (heaven forbid!) any corrections that might occur.
Update: I'm hearing reports that some people are having problems visiting the Shop (seems fine when I test it though?). Alternatively, you can sign up below:
tags:
fehr-trade-patterns
,
surf-to-summit-top
Comment [3]
2 December 2014, 15:00
My next pattern is off with the pattern testers right now and I'm frantically sewing up final samples for photoshoots, filling in missing illustrations, and responding to comments as they come in, but I've managed to occupy my brain with the thought of things I might sew for fun next!
I did indeed wear my traced-from-RTW mustard yellow sheath dress to Number 10 Downing Street last week, and even managed to get some photos with the famous door(!) afterwards, but you'll have to wait for those until the proper photoshoot is done showing the rest of the dress details in some decent lighting.
But I can say already that I love the dress! It needs some slight tweaking to the shoulder area, but apart from that, my tracing was spot-on, and I'm so chuffed it turned out so well without a muslin.
The crazy seaming really started getting my brain thinking about all the ways it could be colourblocked, though, and I looked up and suddenly found inspiration from a magazine photo I'd cut out years ago and had hanging on my sewing cave wall!
So I rummaged through my ponte scraps and realised that I had the most perfect shade of teal viscose ponte leftover from a client commission, and together with the leftover mustard scraps (and some newly-bought white ponte), I could make my very own Chalayan-inspired sheath dress!
I whipped up a tech drawing in Illustrator so I could play with the different colourblocking combinations, and I'm not sure which I should go for.
I've only got 1.2m of the teal and even less of the mustard, but I could buy whatever white I need to make up the rest. I think I have enough to make any of these combos, but I will of course double-check with my pieces before I order the white.
I also finally sewed up a muslin of this short coat from the Sept 2010 Burda (also known as one of my favourite issues Of. All. Time.):
I actually like the design enough on me that I'm willing to push on through the changes required, and that's saying something! I'll need to extend the sleeves (easy), broaden the back shoulders, take in the back waist (as it's too boxy back there), and importantly, I'm going to add zippered pockets into the massive front darts – because what's the point of a coat without pockets?!? I've already got a wonderful navy wool coating and vintage Italian silk twill lining earmarked for this, so I'd really only need to buy the zippers.
The other idea rolling around my head right now is that I really want to make more from the Japanese-design inspired feature in the June 2014 Burda magazine that I loved so much. I realised that I have the most perfect fabric in my stash for this bonkers jacket: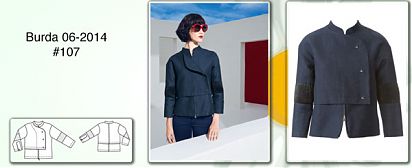 It's a dark navy denim that has a woven repeat in it that looks like little dots/starfield/snowflakes which gradually gets denser and then fades away. Extremely cool.
I've got 2m and the woven-in dots appear every metre, and I think it'd be stunning made up in this jacket. So I might work on it a bit over the holidays, along with the other coat above, even though it'll be too lightweight to wear until Spring.
But back to the Chalayan colourblocking – which should I go for? Answers in the comments below or on Twitter to @fehrtrade!
tags:
burda
,
coat
,
designer
,
dress
,
muslin
Comment [10]
19 November 2014, 17:03
Contrary to the amount of time I've been spending behind a computer recently, I actually have been finding some time here and there to sew, too. It's just, well, most of it is for my next pattern, which is going well, but is still at least three weeks off going live (sorry!). It turns out that, even though I can reuse some parts of the pattern between the men's and women's versions, there still an awful lot of extra work involved in creating two versions!
You might reasonably expect that I'd have to make twice as many samples, but there's other added time involved with "invisible tasks" like walking seam lines and measuring finished garments, for instance. While both are made considerably easier done digitally, and even moreso if you've organised yourself a nice little Excel spreadsheet to do the heavy calculating and imperial converting, there's still an awful lot of measuring to be done. But it gives me a little thrill when I can see my finished garment measurements vs body measurements equating to ease, down to 1/100ths of a mm!

This is just a small portion of my spreadsheet – the other bits gave too much away!
If you want to be the first to hear details of my new pattern, then now is an excellent time to sign up for my FehrTrade patterns mailing list, which which you'll find at the bottom of my Shop front page. If you ticked "Yes" to marketing emails when grabbing my free Running Armband Pocket pattern, then you're already on it. And I absolutely promise you that the email volume will be really low volume and only important stuff, like sneak previews and special voucher codes.
So on top of getting my next pattern ready to send to my two teams of pattern testers, organising athlete-models, and sewing up more samples, I've been spending my office hours working on an upcoming sewing book (not mine!) for a publisher, too. So it's good practice in double-checking instructions and illustrations, but it is rather brain-taxing to be doing all day!
I've managed to squeeze in a few "Fun Sewing" projects, though, including a pair of leggings made from some luuuuuuuuuscious Funki Fabrics lycra (bought with my own money).
I took these for a test (trail) run on Sunday so I can wear them to race Three Molehills this weekend, where I'm hoping to get a few more photos for you all!
I also finally cut out the pieces to make a replica of a favourite mustard yellow ponte sheath dress!
The original is from ASOS, but I just adored the curvy, paneled seaming so I traced off the original a few months ago. The original dress is grubby and pilling, and about 10cm too short in the sleeves and hem, so I of course corrected that on my pattern!
I'm trying to sew this together in as many 15 minute segments as I can gather together – I managed to construct the back (minus the zipper) over lunch today, for example. I've actually been personally invited by Samantha Cameron(!) to attend a reception at Number 10 Downing Street next week, so I'm trying to finish this to wear to that! So far I've been told that the toilets there are "must see", and that I should eat as many canapes as possible. Done and done! (No cameras allowed inside though, so no shots of the dress in an iconic location like the Houses of Parliament this time around)
tags:
fehr-trade-patterns
,
knit
,
knockoff
Comment [3]
7 November 2014, 11:39
I've been a bad blogger this week. I've been doing lots (as you'll soon see), but working every weekend for the past three, plus the weeks in between, and some out-of-town trips have all really sapped my enthusiasm to write! So I'm taking the lazy option out and catching you all up with a little roundup – a week's worth of posts in a day…
Like the Wind workshop
Cult running magazine
Like the Wind
approached me a few months ago to ask if I'd like to run a "sew your own leggings workshop" at the week-long popup they were throwing together at the end of October. I'd known one half of the husband-and-wife team that run the magazine, but I'd never met Julie before this. Once I found out that she not only owns her own overlocker, but bought it when she sewed her own wedding dress with it(!), I knew we'd get along
just fine
.
We had five runners who'd only done a small amount of sewing before, but had never touched an overlocker before, and certainly not a coverstitch either! They each picked their own fabric from FunkFabrics' range, and walked home in some very stylish leggings at the end of the afternoon!
Georgina picked a "Gotham" print, so of course she just had to pose with the Batman art in the gallery!
And here's the finished set! I saw quite a few little "omg I'm so happy in my leggings" dances at the end, which really reminds me why I love teaching so much. Lucy posted a great writeup of the street art tour and my class, too.
There may be another Like the Wind workshop in the new year if we can work out the logistics, but there will definitely be more up at the Thriftystitcher studio in January and February, to be announced very soon! The classes are very similar, so if you're a runner you can come learn at Thriftystitcher, or non-runners vice-versa at Like the Wind.
But I was so jealous of all their finished leggings that I treated myself to some Funkifabrics lycra this week (it was difficult, but I settled on this geometric aqua number in the end, because it reminded me of a Lamb album cover!).
Random sweatshirt sewing
When I was pulling out supplies to bring along to the workshop, I came across pieces for this sweatshirt that I'd cut out in February when I was trying to deplete random bits of leftover sweatshirting that was taking up too much room in my little sewing cave. The
lavender "sacrificial sweatshirt"
came out of that same cull, but for some reason I never quite got around to sewing this blue one together at the time.
It's a testament to the tidyness of my tiny sewing cave that I still have all the pieces, really, and I've made this pattern (from the November 2006 Burda magazine) so many times (8? 9?) that I don't need to dig out the instructions. This really did come together in a morning, and it's perfect for this weather, now, too.
Spoonflower prints
Spoonflower had a free shipping day back in October, and I couldn't resist another yard of
my fabric collaboration with illustrator Laurie King
!
This is the "Maps" in the purple colourway for the Duathlon Shorts pattern, but I may use it instead to see how my Threshold Shorts work in the one-way-stretch Performance Pique fabric…
(Oh, and Spoonflower have BOGOF on all fat quarters (all fabrics) for the next week, so if you wanted to make a bunch of Running Armband Pockets (FREE Pattern alert!) as Christmas gifts, you'd be wise to buy a few fat quarters now!)
My next pattern – male testers needed!
UPDATE

: wow, thanks guys! I've got enough testers now!

I'm not yet in a position to give away too many details about my next pattern (sorry!) but it's going very well, and is ready to be graded, and after that, the testing! Yay! What I can say is that this design will be released for both men and women – two different drafts – not one "unisex" one that fits no one well, bleurgh!

I've got plenty of fit lady testers, but I could really use some more male testers! What this means is that I need either men who sew and exercise regularly, or women who sew with a man if their life who exercises regularly. You'll need to have had some experience sewing stretch fabrics, and will need to be able to sew a sample and give feedback within two weeks (I always give you at least two weekends included in the turnaround time). You don't need to have a blog! In return, you'll get a chance to test the pattern early, plus a finished (and updated!) copy at the end.

If this sounds like something you'd like to do, please leave a comment and I'll get in touch. For this particular pattern, men who cycle, run, ski or surf are ideal.

I can't share my tech drawing yet, but I did stumble across this unlikely colour combo when I was pulling out fabrics for my next sample!
How much do I love this aqua and yellow combo?! You may recognise the yellow from my gold medal leggings – I'd cut up the leftovers into strips for coverstitch binding, but they're also perfect for stretch piping!
Fun Sewing
And finally, after way too much Work Sewing, I've cut out some Fun Sewing projects for me. First up is a "statement sweatshirt" using some leftover galaxy print ponte from
my birthday dress
. I don't usually sew from Big Four patterns as they're so freaking expensive here, but in order to get the cheapest price on the Kwik Sew leggings pattern for the Like the Wind workshop, I had to become a Sew Today member, which came with my choice of two free patterns. One of which was
McCalls 6992
.
I could've easily drafted it myself, but I thought it might feel too much like work, so I grabbed this instead, and since it was free and I was feeling supremely lazy, I actually (gasp!) cut the pattern tissue instead of tracing it. Eep. I also chose McCalls 7026 at the same time, so I'm going to try and graft the thumb-hole cuffs onto this at the same time.
I decided to use some black scuba from Tia Knight for the contrast raglan sleeves, but I've also been thinking recently that I really need a basic black skirt. My Colette Beignet skirt looked fine in the photoshoot last week, but it's really too big in the waist now.
What I decided I really wanted was another of Christine Jonson's Travel Trio Three skirt, as I wear the blue one I made last year all the time, and I consistently get compliments on how thin I look every time I wear it (bonus!).
Since the pattern is already traced out and within easy access, I should be able to sew both this skirt and the sweatshirt in the same weekend. Fingers crossed I can squeeze in a trail run, a 40th birthday party, and a photoshoot into my "free weekend", too.
And lastly, I want to leave you with two cool things – Joost has gone and completely rebuilt Make My Pattern, which auto-generates free patterns based on your measurements. He's got a necktie and boxer-brief pattern up now, and I'm guessing he'll add the teeshirt and trousers from the old site in time, too. Secondly, if you've got an iPad, check out Pret a Template, an app for quickly sketching out garment ideas onto croquis (they also have an impressive set of free crquois to download as pdfs, too!)
tags:
christine-jonson
,
class
,
exercise
,
mccalls
Comment [7]
8 October 2014, 13:38
Remember a few weeks ago when I took a quick trip down to Brighton and came back with some gorgeous wool coating and vintage Italian silk lining from Ditto? Of course you do!
Well, as shown in the photo above, I bought it intending to make the StyleArc Audrey pattern to be a transitional Fall "car coat" (heavier than a jacket, but not a full-on winter coat). So having arrived home to decidedly Fall weather, I thought I should get a move on with this coat or else it'll be too cold before I can make it!
So I pulled out my Audrey pattern, cut out all the million pattern pieces (the attention to detail is really terrific – the lining and facing pieces are exquisitely drafted rather than just carbon-copies of the exterior), and made a muslin.
I know muslins can be super useful, especially for fit problems, but there's something about them that makes me lose all enthusiasm for a pattern once I see it made in beige, crumbled fabric held together with pins and covered in Sharpie marks. I think I've probably dumped more coat patterns at the muslin stage than any other garment (let's all try to erase the Armani coat muslin horror from our minds… oops)! I put this one on, looked in the mirror and thought…. meh.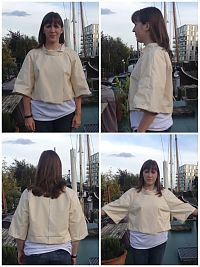 So I recruited James and a friend for second opinions. They both gave it the thumbs down, then started going through the list of things that could be done to improve it, lengthen here, take out fullness here, etc etc. Err, no – for something that's supposed to be "fun sewing" I'd rather just dump this and use another pattern I haven't yet lost all enthusiasm for!
As I said, this was all beautifully drafted, and the instructions were actually pretty well done (if you can read through StyleArc's sometimes strange wording), I just don't think the proportions of this swing coat style really work for me – the hem ends at my widest part, and with the sleeves being the exact same length, it just adds a huge amount of visual width onto my hips. Yay! That, and the collar should be twice as high as you see here, which looked spectacularly bad. It's a rectangle, drafted on grain with no shaping. A bias or curved piece would be so much better here, but as a quick fix I just folded it down again to see if it behaved any better.
Oh, and the coat has princess seams, which was a surprise after looking at the tech drawing. Not a bad surprise, mind, but I really can't see this swing coat shape being flattering to anyone with a bust, either, despite how much I want to like it! (Though I'm reminded that Beth made a fantastic version of this in 2012, so perhaps it's fine for some shapes afterall!)
So I sifted through Burda magazines coat patterns for suitable replacements, and this one from my favourite September 2010 issue is at the top, though if I had more fabric I'd be sorely tempted by the seaming on this one! I couldn't find any reviews of the former, but I could've sworn someone made it (or the longer version, #120) a few years ago, if anyone with a better memory can pass me a link in the comments?
Anyway, after that I needed a pick-me-up, so I cut into the kitten-face lycra Fleur brought me from the Garment District.
MEOW! More on these later, I love them (and they took like 15min to make)!
tags:
coat
,
kwik-sew
,
muslin
,
style-arc
Comment [12]
23 July 2014, 12:39
I was hoping to have been able to show you photos of my latest Donna Karan denim-look leggings, as well as what the Aztec-print sports bra looks like on a real person, but alas, I have succumbed to The Cold that all of London has already had over the past month and that I naively thought I'd evaded. Boo.
So because I've been laid low under a mountain of tissues and Netflix, I've not been able to do much of anything besides the few client projects which had to be done, and we'll have to catch up on photoshoots, the road-testing of my next pattern, and the August BurdaStyle magazine when I'm feeling more energetic.
I did, however, managed to cut out and sew most of the StyleArc Pamela dress in fits and bursts between lying down.
I had my first try on yesterday and I really like it! It works equally well tied in front or tied in the back, and is just the sort of casual summer dress I need in my wardrobe (somehow I appear to be the only sewist on earth that doesn't make enough casual dresses?!).
So apologies for the delay, but I'll be back atcha when I'm less, err, atchoo.
tags:
style-arc
Comment [5]
15 July 2014, 11:34
Last week saw the end of a very good but busy work project, so what do I do when faced with a bit more time and mental energy than usual? Why, I sew of course!*
Liberty, but not as we know it
I received
some lovely Liberty gift coins for my birthday
, and because Previous Me knows Future Me so well, I had stashed some extra birthday cash along with it in the suede pouch, knowing I'd forget all about it and be pleasantly surprised. Which is precisely what happened!
So now armed with £60 to play with in Liberty, I decided to take advantage of a rainy day and go shopping. Now, I know loads of you go weak at the knees for anything Liberty, but I don't. I find most of the traditional Liberty prints to be painfully twee and nothing I'd ever, ever wear. So I was thinking I'd see what was on offer in their jerseys, but first I got waylaid by the remnants table, where I scooped up a vaguely-African print silk twill (1m for £25, seen lower left).
The jersey selection was really small and mostly ditzy print (gag), but I kept being drawn to a dreamy, blurry, triangular print that came in a few shades, but only in Tana Lawn. I finally decided that if I kept coming back to this print then I should buy it and figure out a project later. So 1.5m of the palest colourway came home with me (seen upper left above) and brought my grand total to £58. Now that's budgeting!
Refashioned suede wristlets
A friend had recently given me two skirts which no longer fit her, a suede one and a silk one, and mentioned that I might want them for the fabric. Of course! So I chopped up the suede one on Sunday, making two of the free Cake mini wristlets.

(The colour on the left is more accurate…)
I would've preferred to make the bigger size, but because the original skirt was in swirled panels, I could only barely fit the mini pieces into the largest panels, and I didn't want extra seaming on the bags. The only thing I had to purchase here were the zippers, and we've each got a new little evening bag!
Designer "not jeggings"
Having finished the wristlets with several hours home alone remaining, I turned to a project I've been meaning to do for weeks – replace my very well loved and now falling apart
pleated denim look leggings
. I could've just made them again, but I thought I'd bring out
the Donna Karan seamed leggings pattern again
since I generally liked the fit.
These will get a full post, but I eliminated the ankle flaps here and they're now 90% perfect. And guaranteed to be worn as much as my previous "denim look leggings"!
Geometric teal running set on the road
I started off Monday morning with a hot, sweaty, speedy intervals session along the river, and I thought the perfect outfit to make me feel like an elite would be my
teal mixed print

VNA

& Duathlons I showed you on Friday
. Since you didn't get to see me wearing it before, we snapped some photos before and after my run.
I'd run in them separately before, but together I feel unstoppable! The gripper elastic really freaking works on those booty short length hems, too. Highly recommended, even for improving RTW hems that slip around.
Aztec sports bra
I carried on the momentum by sewing up a new sports bra, doing pretty much the exact same finish as
my previous Jalie tribal print one last summer
, but lowering the neckline by 4.5cm.
The Aztec print is from Spoonflower (only a fat quarter, because I'm cheap!) and the white supplex is leftover from way back when I made my sailor girl running costume three years ago. What can I say, I have a deep lycra stash to work through!
Citrine – turquoise – rainbow Duathlons
And last but not least, I wanted to do
something
with this combo of colours in my wicking lycra stash, so I made another
pair of Duathlon Shorts
(biker length). But my piece of citrine supplex
from Sewing Chest
was only 18cm tall and I loved the colour too much to only have it on the Lower Side, so I drew some curves and colourblocked the front and back with more!
It only needs the coverstitching done, and you'll see more of this in a photoshoot, too.
Anyone else try additional seaming on my patterns, out of fabric necessity, or pure whim?
* I also squeezed a two hour hilly trail run plus another two hour guided walk into Saturday, and a bunch of caulking of the walls of my future sewing room on Sunday, plus some client work on Monday!
tags:
exercise
,
fehr-trade-patterns
,
jalie
,
leather
,
recycled
,
shopping
,
silk
Comment [4]
11 June 2014, 12:46
I'm very pleased to report that my next sewing pattern will be ready for sale within the next week! I literally only have the final photoshoots to do (lined up for tomorrow evening), and the Copy Shop versions to tweak and that's it!
Many of you will be pleased to hear that it's another top pattern, and this one works for exercise or casualwear! It's called the "VNA Top" because it's inspired by a Vionnet evening gown (say "VNA" fast and it sounds like… yup!).
My official description:
This is a pattern for a close-fitting, sleeveless workout top inspired by a 1930s Vionnet evening gown. It features a front V-neck, curved under bust seam, and distinctive angular seaming in back. Neckline and armhole edges are finished with binding, and there are no side seams.
It's the same size chart as my previous patterns, but I recommend you go up one size if you're sewing this for casualwear, as my excerise draft has negative ease, and you'll probably want it to fit a bit looser as a teeshirt!
Again, I've got fully illustrated instructions but as a new addition, I've also included diagrams for some common fit alterations since the seam lines are so unorthodox.
So stay tuned for the full release very soon!
tags:
fehr-trade-patterns
,
vna-top
Comment [9]
5 June 2014, 09:58
I've been feverishly working behind the scenes here at FehrTrade Towers (or maybe that should be HMS FehrTrade?), but an awful lot of that isn't quite ready to be fully shared yet…
Next Pattern samples
Case in point – the samples I've been making for my next FehrTrade pattern! Loads of you have been asking when this will be ready, and the answer is, well, it should be up for sale within the next two weeks. This pattern is for a top that can work for workout wear
or
casualwear, so it means I've been sewing even more samples than usual to show off both sides of it. I'm not yet ready to reveal the tech drawing, but you can see how colourful my samples have been so far!
I'm pretty sure the teal-y one in the upper right might be my favourite top EVAR…
Anyway, I really do hate to be a tease, but I hate it even more when I see something I really want to buy then have to wait ages (by which point the excitement has worn off), so I'm trying to hold back until I have an exact release date for you guys. The wonderful thing about digital patterns is that I don't have to wait for any printers to release it!
Workout Inspiration
Speaking of FehrTrade patterns, have you all seen
the

XYT

Workout Top hack Rebecca did
for Sew Indie Month? Those of you who prefer a more loose-fitting workout top might be particularly interested in her changes, just saying…
And if you're looking for inspiration to get more bang for your XYT Workout Top buck, then you may want to consider using this Athleta/Gap "Zahara Tankini" as inspiration – it's a dead-ringer for the T-Back version!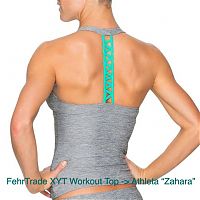 (Thank you to whomever sent this to me, I'm so sorry but I've lost the email!)
Manequim cropped blazer
I've got a wedding coming up and, despite actually
buying
a dress (I know!), I wanted a cropped jacket to go with it. So I quickly made this Manequim cropped jacket in a green piqué and I adore it!
This is totally done, and just waiting for a photoshoot, which may or may not come before the wedding itself…
Also for the same wedding, I've got a commission from a client to make a very cool design of a silk shirt, which has really been testing my spatial ability (I've brought out my old paper model trick!) to draft the pattern, but it's really fun. Fingers crossed I can meet the wedding deadline!
New video class
I've so far resisted the draw of Craftsy video classes (mostly because I have a very short attention span for YouTube videos, and I'm not sure I'd enjoy the format), but I received a very kind offer from Susan Khalje to try out
her new Cocktail Dress video class
for free (possibly because I took her Couture Hand Stitches class on PR a while back?).
I have huge respect for Susan, and even moreso now that she's developed her own format for classes away from any other company structure. She's got a big enough name in the sewing community to hopefully be able to do this on her own, and I really want to support this sort of independent venture.
Excitingly, the class comes with her own dress pattern, too! I may be wrong, but I think this marks the first time she's ever released her own patterns, which is quite exciting on its own, even. So I received the tissue pattern in the post, and I'm going to try and watch the videos in this "spare time" I've heard so much about, and have this dress as a sideline to my other projects. And it's not just because I've been wanting an excuse to buy the Minerva "skull lace" ever since they added it to the shop. Oh no.
tags:
fehr-trade-patterns
,
xyt-workout-top
Comment [2]