In Progress
20 February 2014, 13:10
Real life is starting to run away from the documented garments on this site, so it's definitely time for a little roundup of projects which I've been working on, yet haven't quite done a full photoshoot for yet…
The Sherlock coat
The Sherlock coat
is 90% done – I've attached the lining and flipped it all right side out, but there's still some hand-stitching to be done. However, this is currently "parked" while James is waiting for the Etsy lady to put up more replica buttons for sale (yes, someone makes buttons that look just like the ones on Cumberbatch's coat!). When those arrive, I'll finish the handstitching, sew them on, and make a gajillion keyhole buttonholes with my vintage Singer attachment.
The Rainbow PB Jam Leggings
I used some of my most precious, imported
Space Dyed "confetti" supplex
to make a pair of
my PB Jam Leggings
to wear to the Bath Half marathon next weekend, and
possibly
run London marathon in, too, depending on the weather. These are totally finished and road-tested at Run dem Crew last week (to rapturous compliments!) but I'm waiting until next weekend to do a photoshoot in the race environment.
You saw these in my invisible pocket tutorial, remember?
(Actually, now that I think of it, I still need to show you all my last set of PB Jams and XYT Tops from my big pre-release photoshoot, too!)
The Brasilia Dress
I've been wanting to make Rachel's
free Brasilia Dress pattern
since she released it on Christmas Day, and I finally got the kick I needed, in the form of a big opportunity – I've been asked to speak at the House of Commons on Monday about a new stem cell bill! Omg!! So of course I needed a new dress, and I figured the red cotton sateen in my stash would be perfect, both for confidence and the connotation with blood. Even though it was a rush job, I still made enough time to sew up a muslin first, and the finished dress is now finished, too. I'll try to do a photoshoot this weekend and the grab a few photos in the Houses of Parliament itself next week!
Named Jamie Jeans – take two
Despite
the lengthwise stretch

FAIL

the first time around
, I'm still totally on track to sew another version of the Jamie Jeans in that silvery denim/bengaline. I'm finally getting to meet
Scruffy Badger
next weekend so I'd love to finish these in time so we could both wear our Jamies together (you have seen
her magnificent final pair
, right??)
The next pattern…
I'm hard at work on the next
FehrTrade pattern
, too! The draft is pretty much done, and I'm working on the instructions now, ready to go out to testers next week for a "sometime-in-March" release. I'll share more closer to the time, but it's one that the cyclists are particularly going to love!
And one last thing – anyone recognise the hands in this Great British Sewing Bee video?? I'll give you a hint – they're not May Martin's!
tags:
coat
,
dress
,
exercise
,
fehr-trade-patterns
,
named
Comment [14]
10 February 2014, 19:37
I ended up having a fun and full weekend of sewing this weekend, partially because I lost a few days work last week to a spa day (omg!) and a full day of filming (for Extra Mile – if you haven't already seen my blue wigged self all over your internets, watch here!). Part of the work sewing was to get a bunch of stuff done on my next pattern, which is digitised, graded, and now ready for my second test version before I test it out on some unsuspecting local athletes, mwahahah! I also had a few projects for private clients to get done, as well, so I had to change mental "gears" a few times, too.
Another bit of work sewing was actually a bit too fun to be strictly considered "work", and that's because I needed to sew up a fresh sample pair of my free Lacey Thong pattern to bring along to the Panty Party class this Thursday, 13 February. There are still a few spots left if you want to snag them and join the fun, btw – I mean, seriously, look at this pile of lace and fabrics that arrived last week which is all for the class! Don't you want to dive right in?!
To clarify: The Panty party class is at the ThriftyStitcher studio in Stoke Newington, North London, and it's this Thursday! (PS: The Overground is not affected by the impending tube strike, either!!)
I've probably made at least ten versions of my Lacey Thong for myself, but, umm, I wear those, and it's pretty creepy and gross to be showing other people your worn underwear, even if it's clean, eww. So that's why I needed to sew up a fresh sample pair to show off in the class, so I selected this thin, blue burnout jersey and some white lace and paired it with navy blue satin-edged elastic.
Isn't she pretty? I also received a comment today from a Frenchman who made this utterly gorgeous satin & lace pair for his woman. So it doesn't have to be a one-way lingerie sewing street – you could book your man on the course as a "surprise" and let him sew a pair for you! Ha!
I got to a point early on Sunday where I'd finished all the work sewing I wanted to accomplish, so I pulled out the Named "Jamie Jeans" pattern (now with US Letter-compatible printing and multi-sized, btw). I've been eyeing up this pattern since it was released, but it took it disappearing when the new collection was released to make me realise how much I wanted to sew it! Since a-l-l of my clothes are falling off me right now (thanks, running!) I am in serious need of trousers and even my leggings are baggy, so these were the top of my Fun Sewing list.
I had two lots of Minerva's silver-coated denim (now sold out!) in my stash – 2m which lost most of its silver when I prewashed it (and I then used to make my last minute Mexico bag), and another 2m Minerva sent as a replacement. So in lieu of a muslin, I thought I'd use the faded yardage here and save the really silvery stuff (and/or some nice navy stretch twill, or leftover denim in my stash) after I tweaked the fit.
I used the very last scraps of my runner fabric (also used inside my classic jeans, which I still wear even though they're comically baggy now) for the pockets and fly facing.
I really love the piecing and seamlines on this pattern, it's a perfect mix of quirky and classic at the same time. You can't really see in my fabric, but there's a horizontal seam on the back pocket piece, and on the front pocket top, you use the reverse of your fabric as a contrast.
Hooooooooowever, as I was sewing up those long front seams, I had the sinking realisation that my fabric actually has the stretch running lengthwise, rather than across like every other stretch fabric in the universe (and come to think of it, it feels nothing like the denim it was advertised to be so I'm fairly certain this is actually bengaline).
It was at this point that I had a feeling these would be pretty tight and possibly not wearable at all, but I was enjoying the sewing and decided I'd keep going until I completed the crotch seam (minus the fly and waistband) and could try them on.
I tried them on.
I couldn't get them past my meaty runner calves, let along check the waist & hips! Again, if you've only skimmed this post, this is not the pattern's fault – it's my stupid fault for not realising I had only had lengthwise stretch in my fabric!
I probably should've been more upset about losing a few hours and 1.5m of decent fabric, but I kinda expected this to happen, and that I've got more of this exact same fabric waiting in the wings kinda lessened the blow. So I'll cut these out again (with a very modified layout!!) at some point in the next week or so when I'm caught up with my work sewing. I've got inspiration in the form of Catherine's pair in this same fabric and Winnie's denim Jamies to propel me forwards, too….
Soooo… what's the stupidest mistake you've ever made while sewing?
tags:
fehr-trade-patterns
,
jeans
,
lace
,
lingerie
,
named
Comment [9]
6 February 2014, 13:16
One of the favourite features of my PB Jam Leggings pattern is that there's a secure, inner pocket at the upper back to keep things like your phone, keys, or gels handy while you're working out. While I was developing the pattern, I decided to make this pocket one layer, and use the exterior of the leggings as the other side of the pocket, sealing off the bottom with topstitching.
But sometimes you may not want any topstitching visible from the right side, so to do this, you only need one extra piece of fabric and a few short steps. Making the pocket invisible from the outside will only add about 5 minutes max onto your construction time, but if your fabric is thick, definitely consider cutting your pocket from a thinner lycra!
Here's the finished invisible pocket on my latest "rainbow sherbert" pair I've just finished!
Before you start…
When you're cutting out your fabric,
cut two pocket pieces
instead of just one.
Step One
Fold down the shorter, curved edge of one of the pocket pieces and topstitch with a twin needle or coverstitch (or, alternatively, finish with narrow elastic or
FOE
)
Step Two
With right sides together, stitch the longer, curved edge of the two pocket pieces, and flip right side out (note: if you're zigzagging this seam, you'll want to trim the seam allowance and/or clip the curves to get a smooth seam)
Step Three
When you get to Step 6 in the instructions, lay the pocket pieces face down on top of the Back Contrast pieces with the folded, topstitched edge facing down and aligned with the marks. Stitch through all layers (Middle Back, Back Contrast, and both Pocket pieces)
Step Four
Flip your pocket to the inside of the leggings, and continue with the instructions.
Step Five
At Step 14, fold the waistband inside and pin, ensuring that you catch the taller pocket piece but
not
the folded, topstitched pocket edge. Carefully topstitch the waistband with a twin needle or coverstitch from the right side.
And that's it! You're done!
fehr-trade-patterns
,
tutorial
Comment [5]
21 January 2014, 11:07
I mentioned briefly back in December that, for James's birthday, I gave him the promise of a custom-made coat in the style of the one Benedict Cumberbatch wears in Sherlock. Or as it will henceforth be known, "the Sherlock coat".
A few others online have made this coat (including a few FehrTrade readers, hello!!), but I found the most helpful resource to be this livejournal entry from a lady who sketched and measured a lot of the details after analysing screen grabs. This was a big help in taking James's TNT short jacket pattern and adapting it to look more like the coat on screen!
I first made an approximation on his paper pattern and sewed up a muslin. From this the only real fitting problems were that the upper back was too tight, and the Centre Front needed to be shifted by about an inch, but it was otherwise fine. I guessed a bit wrong on the collar and lapel shape though, but it was fairly easy to just draw a nicer shape onto the muslin itself and transfer it to the pattern.
Once the muslin was settled, I then bought the wool coating (delayed a bit as Crescent Trading were closed over the holidays) – not the exact black and grey small houndstooth used in the original (simply because I couldn't find any locally), but instead a black/grey/brown check which still had the same feel. I also bought the black acetate lining at the same time, but the black cotton flannel for underlining came from Minerva.
I then settled in for the mammoth task of cutting out all the pieces in wool, underlining, interfacing, and lining, then fusing the crap out of everything that needed interfacing. With two patch pockets (and flaps), plus two welt pockets, two back belt pieces, sleeve cuffs, and a collar, (not to mention facings!), there was a good day taken up just by fusing alone!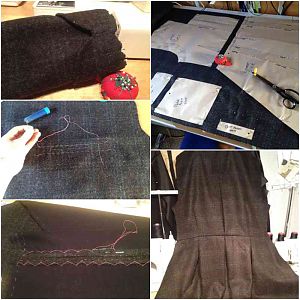 The next step was to carefully baste the flannel underlining to the wool pieces. I've underlined quite a few of my coats in flannel, and the extra bit of warmth and windblocking it provides is well worth it even though it's extra work and bulk. We agreed here to only underline to the waist, though, as the voluminous back skirt didn't really need either warmth nor bulk.
The underlining also provides a nice place to hide handstitching, and with bulky coating seams, it's a really good idea to catch-stitch the seam allowances flat, especially on places like the long sleeve seams where you can actually feel a ridge there if you don't!
I forgot to take photos of the patch pockets, but I'm super pleased with the finish on them – instead of just turning the seam allowances under, I turned the top of the wool back to form a self-facing, stitched it to a lining piece (leaving an opening for turning), then stitched the other three sides, flipped, and pressed. I could've used a blindstitch to attach it 100% invisibly as Kenneth King directs in "Cool Couture", but the original jacket has it topstitched on, so I did that instead.
I was really dreading inserting the chest single welt pockets even though I've done them a bunch before, probably just because it involves cutting and I didn't have enough fabric leftover to recut the entire neck-to-hem front piece if a screwed it up. I got the first one in and looking spiffy, and after some thought I even got the lining pieces aligned correctly (the flipping inside always messes with my brain so I'm glad the lining doesn't have a right/wrong side).
The second chest welt pocket was going really well, too, until I went to flip it around and realised I'd applied the welt to the wrong side, so it opened from the centre rather than from the side! ARGHGHG!!
After a few minute maelstrom of swearing and a proper little tantrum, I very carefully unpicked the lot, thanked Previous Me for remembering to interfacing the coating so it didn't shred where I'd already cut the opening, and verrrrrrrrry carefully restitched the whole thing, this time with the welt facing the right direction!
Other details I didn't mention above:

The lined, curved sleeve cuffs


The overlapping half-belt in back which covers up my nicely-matched pleats and darts, boo!


The box-pleat from the mid-shoulder to waist in the back, secured at the top with triangular topstitching


The back skirt box pleats which must align with the upper back darts and pleats (and tartan, since I'm nuts)


James has got some replica buttons on order, but they won't be ready til February. Luckily, since the original has stitched keyhole buttonholes (the front ones all in red!), the buttons are literally the last thing to be done so I can finish the rest of the coat and just do those when they arrive.
Apparently the tv costume department also adapted the original coat to make the collar more easily stand up, adding corset wire into the collar piece. I don't think I'll go so far (mostly since I only had rigid boning which isn't really the right choice), but I might add in some extra topstitching to the undercollar to make it a bit stiffer, but still retain flexibility.
And then of course there's the whole lining to sew, shoulder pads and sleeve heads to insert… I always maintain that coats are a lot of work (which is why I only ever do one a year at most!), but I want to do this one right since it's his now-very-belated birthday gift. It does make you see how the replica coats for sale totally justify the $1200 price tag!
Brits – the last episode of Sherlock is still on iPlayer for the rest of the week. Americans – the excellent third series is just starting on PBS this week, if I recall…
tags:
coat
,
knockoff
,
menswear
,
wool
Comment [8]
18 December 2013, 10:41
Update to this post: FehrTrade patterns – now in size XXS!
Thank you all so, so much for your kind words and enthusiasm on my pattern announcement! It's been literally months in the making and it was totally nerve-wracking to hit the Publish button.
Some of you commented on the XS size not being small enough, however, and I wanted to talk you through the background on this.
As we all know with multisize patterns, you can only have a limited number of sizes. Each size you add on must be graded (which is no mean feat!), then double-checked, adjusted, sewn up, and all the various trims must be calculated as well. For my first collection, five sizes seemed a reasonable number without biting off more than I could chew. I have huge respect for companies like Jalie that create their patterns in an epic amount of sizes, but that's not something I'm qualified enough to do right now (nor am I particularly interested in designing for children)!
So I have to make choices. For me, I feel very strongly about supporting Plus sized ladies to exercise. I've had conversations with Plus sized fitness bloggers like Fattymustrun about the absolute lack of exercise gear for size 16+ in RTW – companies may say they offer it, but in reality, it's almost impossible to actually buy, and when it does, you usually only get the choice of black (or worse, pink!). So when it came to choosing between offer one size smaller or one size larger, I made the choice to offer one size larger, so that larger women can have the opportunity to wear some fun exercise clothes, too.
You may think, "well, it's no extra room on the pattern sheet to add another smaller size!" but it's nowhere near that straightforward. Multisize patterns aren't exactly like Russian nesting dolls – the way patterns are stacked to allow people to cut between sizes if they wish, there are multiple places where the smallest size line is actually outside the largest size!
Both the XYT Workout Top and the PB Jam Leggings are really tightly squished into their allotted number of pages, and I really don't want to increase the number of pages that everyone needs to print, tape, and cut any more than I absolutely have to.
It may be that I can fit in a XXS (or TW for "teeny-weeny"?!) into my existing pattern sheets, but it won't be before launch, and I can't delay the launch any further in order to fit it in. What I will say, however, is that I will look into it, play around in Illustrator and see if I can fit in an additional size once the general pattern launch activities are out of the way, and if it is possible, I'll update the patterns in the shop. So thank you all very much for commenting – I assure you I am listening!
The other aspect I wanted to address is that both of my patterns are drafted with 10% negative ease, so that they are worn tight around the body. This means that the finished garment measurements are 90% of the given body measurements – so even if you are 81B/62W/86H (32B/24W/34H), you can still wear the XS in my patterns and the lycra should still be close against the body. In fact, if you prefer to wear your exercise clothes a bit looser, you may wish to go up a size anyway.
A few of my pattern testers were smaller than the XS and still got great results from the patterns without doing much extra work, so if you like the patterns, waiting around for a pattern update may prove unnecessary anyway.
And for those with the opposite issue, I'm organising a guest post about how to perform an FBA (Full Bust Adjustment) on the XYT's bra lining sometime in January!
tags:
drafting
,
fehr-trade-patterns
Comment [14]
12 December 2013, 13:00
I promised you all a big announcement this week, and my big news is that I'm releasing my first sewing patterns at the end of this month! I'm focusing on exercise gear, and the first two patterns are super versatile!
The xyt Workout Top
This is a pattern for a close-fitting, sleeveless workout top with front scoop neck, and choice of three upper back designs. An optional built-in bra is included, and neck and armhole edges can either be finished with hidden elastic or bound using a coverstitch binder.
You might see now why I named it the "XYT" – each of the three back variations forms the shape of the letter! The T back in particular has so much scope for variations as the vertical part can be any sort of fancy trim in your stash – lace, sequins, fishnet, fancy elastics, etc…
I absolutely love the built-in compression bra I've developed here, too – I've never had a RTW one work for me, but these are supportive enough for my B cups to run in, and some of my pattern testers with larger busts have had equal success with only a small FBA!
The pb Jam Leggings
This is a pattern for close-fitting, workout leggings with contrast swirl design on the upper front thigh leading to the upper back. There's a hidden pocket inside at the upper centre back, perfect for gels, keys, or your phone, and contrast panels at the back of you knees are perfect for mesh fabrics. An elasticated, high-rise waistband means they won't shift around as you move, either!
You may recognise these from my mocha running top photos earlier this week – these have become my favourite leggings ever in a very short amount of time, and when I wore them to my running crew I had several people begging to buy them off my body, no less! The design lines carry around the sides so you look good from all angles, and the hidden pocket in the centre back is sized so you can stash your phone, gel, or keys without having to carry anything.
Because I sew and so many of the great lycra stores only sell by the whole meter, I designed these so you only need to buy one meter of main fabric!
Oh and the name – "PB" stands for "Personal Best" (Americans use "Personal Record" I'm told), which is used in running circles as your gold standard – the fastest you've ever run that distance. "Jam" because I can't see the letters "PB" without thinking "and jelly!" but jam is more fun as it's sort of a little party, too. So together it's about being the best you can be and having fun at the same time!
Q & A
To answer a few potential questions…
What are the sizes?
XS-XL – here's the size chart:

UPDATE: Please see my post A note on sizing… for more information on this!
How much will they cost?
I'm not 100% certain on the prices yet, but they will certainly be in line with other independent patterns with similar complexity and size range!
What formats can I buy them in?
These will be digital patterns, in pdf format (for both Print at Home and Print at a Copy Shop). I've physically tested these on both A4 and US Letter printers and they work on both! There is no plan to release these as paper patterns at the moment. At 12 and 24 pages each, neither is too cumbersome to print and tape together at home.
Are there illustrated instructions?
YES! I've painstakingly illustrated each and every step for both patterns, and the feedback has been brilliant.
Will there be a Sew Along?
I'm not sure yet – if there's a big demand I might, but frankly, I'd rather get started on my next set of pattern ideas! You'll definitely get to see the collection of samples I've personally made of the patterns, though, as well as all the variations made by my pattern testers over the last month.
Where/When can I buy these?
These will be for sale from this site (via Etsy) from the last week in December. Don't worry, there will be plenty of noise here when they are ready to buy! (I've got lots of work to do on the site to get everything ready for the launch, so don't get too excited when you see a Shop section appear – I'll announce it when they're ready!)
I want to hugely, hugely thank my amazing team of pattern testers for their feedback, patience, extremely helpful criticism, and support over the past few months. This has been a massive learning experience for me, and the process has been far, far more hard work with so many unanticipated setbacks and the patterns wouldn't be anywhere near as high quality without them.
So yes… exciting! What do you think of them?
tags:
exercise
,
fehr-trade-patterns
Comment [45]
5 November 2013, 15:54
I appear to have found myself again in the position where I've been doing an extreme amount of sewing and sewing-related activity, but I can talk about only a small portion of it, and I don't have any proper photoshoots for the things I can talk about… Bad, Melissa, very bad!
So consider this a little roundup post to let you know what I've been up to, until I can get my act together properly…
Silver cowl top
I cut out this MyImage cowl top pattern before we went to Mexico, thinking I might have enough time to quickly sew it up before we left. I would've, too, if I hadn't decided I needed to make a quick travel bag. So it was waiting for me when I got back to cold, grey London, mocking me with its sleeveless-ness. I finally just sewed it up so I could have the space back in my sewing room, though I'm afraid I won't really get to wear this until next year.
I made it out of some absolutely glitter-tastic jersey I bought at Tissue Reine in Paris a few years back, and I recall it was on the pricey side. It also left a trail of silver all over my sewing room… Boo.
Anyway, I like the top (though the cowl is waaaaaaay too deep to wear on its own), but I've been putting off doing the photoshoot for it because it's freezing outside!
Cynthia Rowley satin jacket
We have a wedding coming up this weekend, which I'm planning on wearing my purple Matthew Willamson birthday dress to, but seeing as how it's November, I wanted to make a little jacket/coverup to wear with the dress. The problem is that there wasn't very much of the purple satin leftover, but I liked how it looked paired with the salmon satin of my swirl sheath dress, so I decided I'd make a jacket using both fabrics and then I could wear it with either one. Clever, see?
The pattern is the same Cynthia Rowley Simplicity pattern I used for my fuschia party dress – a simple, loose, open jacket with dropped shoulders and wide sleeves. I just drew some extra seamlines onto the pattern pieces for my colourblocking. It's also unlined, so I sewed it all with french seams and neat finish facings (where you sew the facing to the interfacing, then flip it around to fuse). It's debatable whether just drafting a lining would've taken up more time!
Anyway, I'm not entirely sure whether I like it or not, or whether it's "me" – I vacillate between thinking it's a chic kimono vs a "lady of a certain age" style. I guess I'll ultimately decide at the wedding, where I'll try to get some photos of me wearing it with the dress.
More lingerie
After my success with
my turquoise lingerie set
, I immediately started on a lemon yellow & pale blue set, but I ran into some supply issues that forced me to stall a bit. I'm still waiting on the straps to arrive, but the panties have been done for ages. Here's the set in progress: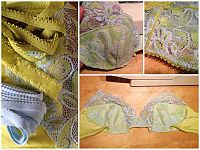 And if you did like my turquoise lingerie set, then please vote on Pattern Review if you're a member! I've entered it in the lingerie contest, but voting is only open for a few scant days so do it now!
KnipMode update
Lauriana alerted me last week
that KnipMode's future is looking uncertain
as its parent publisher is looking to sell off the bulk of their titles, KnipMode included. I really hope they can find a buyer who can keep the sewing focus and make it even better. I've stopped buying it over the past few years as it's gotten very expensive and
IMHO
the styles went downhill after the latest editor took over, but there have also been big improvements made, too (most noteably
the pd download store
) and it'd be a shame for such a Dutch sewing institution to fail now… tags:
knipmode
,
lingerie
,
mexico13
,
myimage
,
satin
,
simplicity
,
ss13
11 September 2013, 12:33
We're travelling to Mexico in a few weeks, and I decided I should probably have a money belt to keep my passports and spare cash secure while we're there, especially since we'll be staying in mid-range hotels and travelling by coach. But the money belts available to buy are all really uncomfortable-looking, made of either rough fabric that will get soaked by sweat, or plasticky fabric that will stick to your skin, and with chunky buckles that will dig in over the course of a day.
Since I'm sewing a bunch of bottoms for my trip anyway, I figured there must be another way, so I had the idea to draft up a simple zippered pocket that attaches onto the waistband and hangs discreetly inside. It can be accessed easily in a private place (like a toilet stall), but not easily seen or pickpocketed, and the zippered opening means its contents aren't going to just fall out, either.
I've added this pocket into my recent travel skirt, leggings, and Hummingbird skirt already and I've worn these around London to test drive them successfully!
You can choose to either permanently sew the pocket into the waistband of your skirt or trousers, or you can use snaps to make it removable at the last step, like I did for my leggings.
It's sized to allow a standard passport to fit through the zipper, plus some emergency cards and cash and other small items you want to keep on you at all times, but that don't have to be readily accessible.
You'll need a 20cm/8" invisible zipper, and a small amount of fabric, either in matching fabric or something you've got lying around (since no one's going to see it but you, why not make it FUNKY?). Why an invisible zipper? Well, because the zipper will be facing towards the body, you'll probably want to minimise the contact of it against your skin, as fabric will be more comfortable pressing against your waist all day. But if you've got lots of regular zippers on hand and don't mind this, feel free to use those instead.
Step 1 – Pattern prep
Print it out, making sure your print scaling is set to 100% or you may not be able to fit a passport in! There are only two pieces here, but one is too big for the standard Letter/A4 page so you need to tape it together, aligning the triangles. Cut along the solid lines so your two pattern pieces are free, then cut out each in the fabric of your choice (you only need one of each so cut in a single layer).
Step 2 – Invisible zipper
Open up the zipper and place it right side facing down onto the right side of Piece A, aligning the teeth with the dashed "zipper" line. If your zipper is too long (like mine is), align the open ends with the edge of the fabric and let the joined end hang off the edge. Sew the zipper to Piece A, using a zipper foot or invisible zipper foot.
Close the zipper and align the teeth onto the marked "zipper" line on Piece B, right sides facing, and making sure that the sides of the fabric are aligned. Pin in place, then unzip the zipper and sew.
Step 3 – Side seams
Open the zipper part-way and fold the pocket pieces together, right sides facing, so that the marked "under waistband" portions are together. Pin the side seams and sew with a 1cm (3/8") seam allowance, taking extra care to backstitch securely over the zipper.
Step 4 – Trim
Clip the corners, and trim the zipper teeth as closely as possible to the seams.
Step 5 – Flip & baste
Flip the pocket right-side-out, and machine baste along the top edge.
The main construction of the pocket is now complete!
Step 6 – Attach to your waistband
If you're making this pocket a permanent addition to your skirt or trousers you just need to sandwich the top portion of the pocket into your waistband facing and topstitch it in place. You may want to put your passport inside and pin or baste it into place first to check the placement. I found that an off-centre position in front worked best, but remember that passports don't bend easily, so if you place it right over your hip, it may stick out funny!
Optional: Removable pockets
You may not want your skirt or trousers to have a hidden pocket in place all the time – one of my travel wardrobe is a pair of leggings, and I didn't want the extra bulk for everyday wear, but I still wanted to option to have the hidden pocket during my travels. You may also decide that one or two interchangeable pockets is plenty, so can attach the same travel pocket to whatever bottoms you're wearing that day.
If this is the case, you can attach snaps (like I did) or velcro or buttons to the top edge of the travel pocket, and the corresponding side to the waistband of the skirts or trousers you'd like to attach them to. I used ring snaps here, but you could just as easily use sew-in snaps!
A word on comfort – always place the uncomfortable part of the fastening away from the body, on the pocket side (so the male portion of snaps, or the button, or the scratchy velcro). This way when the pocket is not in place, the softer potion on the waistband won't irritate you.
Please let me know if you've tried this, or if you have any questions!
Pro-tip: You can now print this tutorial (or any other post on this site) without wasting paper on the sidebars or comments!
tags:
mexico13
,
tutorial
Comment [12]
23 August 2013, 12:23
I've made a few mentions of it over the past few weeks, but James and I are off on a grand holiday to Mexico at the end of September! We've been talking about going for years and we're so excited to have finally booked everything. We decided on the Intrepid "Mexico Unplugged" trip since it stops everywhere we want to go, is a small group & eco company, and provides the perfect mix of taking care of booking hotels and transportation, but doesn't tell us how to fill our days. Which will mostly be filled with eating and visiting ruins!
Anyway, as this is a different sort of holiday than the past few we've gone on, and I have a few weeks left to prepare, I thought I'd share with you the few pieces I'd like to sew before we leave…
As you can see, I've included lots of bottoms as those are what I'm most in need of right now after losing weight for my track race! My tops still fit reasonably well, though so I'm happy to just bring along ones I've already made to pair with them.
I'm hoping to sew:

(I'm cheating a bit by posting this after I've started sewing – two of these are done already!)
Plus if I can fit them in before I go, either of the two workout tops from my SS13 Sewing Ideas, or the jeans which I keep delaying…
We're not going in the hottest part of the year, but we are at the tail end of the rainy season, so I'm expecting it to be fairly humid. Plus, we got a lot of time on buses in between the different cities, so comfort is a consideration, as is the ability to avoid wrinkles, stains, and sweat marks (eww).
I've got another trick up my sleeve to share in a bit, too. I was researching money belts online as I'm not entirely comfortable leaving my passports and spare cards in middle-of-the-range hotels, but all the belts looked rough and uncomfortable. So I've drafted up a "travel pocket" in place of a money belt – a pattern & tutorial will follow as soon as I can digitise it, but that might not be til after we leave!
Has anyone been to the same areas of Mexico that we're going to? Any tips to share?
tags:
cake-patterns
,
christine-jonson
,
dress
,
knit
,
mexico13
,
skirt
,
style-arc
,
travel
Comment [17]
9 August 2013, 12:55
I've found myself at the end of yet another extraordinarily busy week, one where we've been out pretty much every single night, and we've had a friend over from the States, too. However, I have managed to make progress, albeit slow, on my swirl sheath dress in a series of 10 minute segments snatched here and there.
Since I bought my silver stretch lining fabric on Goldhawk Road last Saturday, I've managed to sew and press all the darts (the lining uses the original base pattern so no swirls inside), attach it to the facings, sew the side seam, and attach it to the invisible zipper.
Here's the back of the dress hanging flat in my sewing cave:
I did the lining hem by machine, but the coral fabric hem needs doing by hand, possibly in the car this weekend. The right side strap also needs a little bra keeper snap strap to keep it in place as it's a pinch too long. Otherwise it's done!
It doesn't quite fit as well as the muslin did when I made it last summer though, but that's down to me rather than the pattern – I've got a big track race next weekend in Sheffield for the British Transplant Games and my trainer has put me on a training diet to shed as much excess weight as possible before the race, as this translate directly into seconds on the track.
She and I were both taken aback by how successful this has been – I've lost 4cm (1.5 inches) off my waist and hips and 4.5kg (10lb) in four weeks! If it wasn't for the hours of running up hills I'd suggest she sell it as a diet plan (the running would reduce its popularity somewhat!). And really, don't be concerned, as I've been stuffing my face with fruit and veggies and lean meats pretty much continuously all month, so I'm not on some idiotic juice cleanse starvation diet or something.
The downside of this is that all my trousers and skirts are hanging off me (my poor Beignet skirt has a cinched paper bag waist now!) and I'm in desperate need of new bottoms. I was planning on sewing up a few pieces for our upcoming Mexico trip next month(!!) but now it's clear I need to sew as many bottoms as possibly and just pack tops I've got already.
I'm still mentally putting together a nice travel wardrobe plan (which I shall reveal in good time), but my immediate sewing plans are thus:


Hem my swirl sheath dress


Sew up the Jalie sports bra & running shorts in orange wicking fabric & tribal lycra offcuts


Sew a Cake Hummingbird skirt in the swapped terracotta sateen


Also very high on my sewing list is the Christine Jonson Travel Trio Three skirt in the blue neopreney fabric I bought at the weekend, but it was drying after a pre-wash and wasn't to hand for my photo this morning!
But it's all traced and ready to go (as are the Jalie and Cake patterns), and I remembered what an awful time I had tracing out the tops from this pattern a few years ago, because the pattern sheets are tissue (ugh) and abso-freaking-lutely enormous! They're literally bigger than the floorspace I have, and Nishi took this as a sign to attack the invader!
Luckily she just stayed in her tissue paper den for a few minutes and didn't rip anything!
Anyway, the upside to having several projects in my immediate queue before those Burda jeans is that they may not need any enlarging if I hang on for another week or two!
tags:
cake-patterns
,
christine-jonson
,
dress
,
jalie
,
nishi
Comment [2]