Inspiration
27 August 2015, 13:20
I know I've been talking about my new sewing room for ages (and believe me, it feels like even longer to me!) but I'm finally moved in and so chuffed to finally share it with you!
My new sewing room is very small, but what it lacks in size, it more than makes up for in cool points – who else has a sewing room on a boat, concealed behind a hidden bookcase door, eh??
This is the bit everyone loves – a modified Hemnes bookcase from Ikea, with reinforcements, casters (wheels), and a hidden pull latch to keep it closed. Our joiner is a genius and we're so lucky to have found him!! The greatest thing about this is that my sewing room is at the very end of the corridor, and the way the various deck heights work means there's a porthole just above the bookcase. So it really does look convincing, like there's no boat beyond it!!
Once inside, I've put a corkboard on the inside of the door as a place to pin all my magazine clippings, sketches of designs past and present, and general mood-boardy stuff. You can also see how small the room is here – it's only a little under 2m (6 feet) long by 2m wide at its widest point.
Also take note of the smoked oak parquet floor that I painstakingly cut, laid, sanded, and hand oiled myself. Loooouuuurve my floor! It was expensive, both in cost and effort, but so worth it.
When you enter the room, immediately on your left you'll find Susan, my dressform (seen here wearing my Laurie King fabric collaboration VNA Top pattern), and my pattern rack, which I've had for quite a few years but came from the garment industry supply shop, Morplan. As you can see from the number of patterns on it, I find it unbelievably useful! Also note the cute sewing machine clock my mom sent over to me!
The curved wall along the left will have a radiator on it before winter, and you can see my walnut worktop along the back wall – this was an Ikea Karlby kitchen countertop that we cut down to the right size (as well as cutting out a hemisphere at the back to thread cables through). It's jointly supported by wall brackets and two adjustable legs. On the left by my coverstitch is a 120 spool thread rack that I spray painted white and have since mounted on the wall after these photos were taken. You can also just see at the top that I've found the clothes line above my machines to be so indispensable for dealing with pieces of works in progress that I've moved it over from the old sewing room. Can't sew without it!
Not pictured, but underneath the worktop on the right is a little red IKEA Helmer chest of drawers which has held all my smaller haberdashery like zippers, elastics, ribbons, buttons, etc for quite a few years now. It's a bit hidden under the worktop, but I know where everything is in there anyway by now.
Rotating around to the right you can see the biggest object in the sewing room, an IKEA Stuva wardrobe to which I've added a bunch of internal shelves and doors and which was so big we very nearly couldn't get it into place (cue frantic disassembling and hacking together to squeeze it in, ultimately meaning I had to leave the top set of doors off since the ceiling slopes doward with the deck above!). Pictured above is just my lycra/activewear stash and I love the basket drawer which contains all my weird little lycra scraps for colourblocking. These were previously in a plastic bag in my old room and it's much easier to find stuff now! I'm also proud to say that my woven and "casual knits" stashes are small enough to only occupy one shelf each (up by the ceiling).
To the right of the stash wardrobe is an old IKEA chest of drawers I've had for a few years, which holds my envelope patterns, lingerie stash, and various other small bits of fabric that aren't activewear. I've turned the side of the wardrobe into storage for my drafting tools and I finally have a place to showcase my Rosie Lee "Health is Wealth" lithograph which is pretty much my mantra.
And with that, we're back at the door again! But to anticipate some questions from you all…
Where were you sewing before?
I'm glad you asked! You can see some photos I took just after we moved onto the boat 8 years ago here, ooooooorrrrrr, because I love you all, I actually filmed some Before & After videos so you can compare my old, temporary space with my new sewing space!

It's about 6:30min in total and the new room starts at about 3:50min in if you want to skip straight to that bit!
Where do you cut fabric?
I use the desk up in the saloon (living room) to cut all my fabric. It's just wide enough to hold folded 150cm width fabric, though I do have to clean off James's stuff a lot of times as it becomes a bit of a dumping ground.
Where do you press?
My iron and ironing board are currently in the corridor outside my old sewing room, but when the renovations are complete, my pressing station will be in the corridor outside my new sewing room. Which, umm, currently houses Nishi's litter tray.
Don't you have a lot of pattern magazines? Where are they?
Well spotted – as a long time pattern magazine subscriber, I've got a lot of magazines stretching back over the past ten years! I diligently scan the "At a glance" page for each issue (or create one if it doesn't exist) and store these online for me to easily browse through. The magazines themselves are now in our storage hold, with one of these boxes holding approximately 3.5yrs of Burda magazines. These will be ultimately stored in the corridor outside my sewing room once it's finished and the shelves are up.
Don't you find it cramped? And dark with no windows?
Nope! I love my little room! I love that I can sit on my little swivel stool (designed for beauticians & tattoo artists so comfy for sitting for long periods!) and easily scoot between my three main machines (sewing, overlocker/serger & coverstitch) and grab supplies from elsewhere in the room without getting up. I love that I can shut the door and know I'll be finding everything in the same place and be able to sew in little 10min snippets here and there. The lack of windows doesn't really bother me, either – our bedroom and saloon are really bright and airy, so I can do delicate work in natural light there if I want, but the LED 24v lighting (fed by our solar panels so free!) gives me plenty of light, and, frankly, I like that I can be in the zone for hours without noticing the passage of time!
Just for the avoidance of doubt and/or new readers, I want to point out that our boat itself is enormous – it's just my sewing room that is small, and that we're still very much renovating the rest of the boat so that's why it looks like a building site in the background of some photos/videos. I really do keep my sewing room as impeccably tidy as it appears in these photos, though. I thrive on organised, clean spaces!!
tags:
fehr-trade-patterns
,
ikea
,
reflections
,
shopping
Comment [12]
25 August 2015, 17:21
Hola from South America! No, I'm not in Brazil (yet – I'll be just over the border one day next week), but in neighbouring Argentina, where I've just become World Champion at the 5km road race here at the World Transplant Games. omg! While that sinks in, let's have a look through the July Manequim…
Here's a better look at the cover outfit, but with pattern details this time. I'm not fully sold on crop tops for myself, but I like the idea of the stretchy striped midi pencil skirt and the two pair together really well.
The patterns aren't particularly special, but I just love the digitally printed fabric they used to make the shirt, with its sheer sleeves, and the banded, full skirt.
Ooh, I just love the starburst hip seaming on this midi skirt and the deep slit really gives it some added drama. That it's in my size is just a bonus, really.
…and a, err, here's a pencil skirt with starburst seaming and deep slit. Guess it was a good enough idea to do twice?
Here are the Plus patterns this month – IMHO a really nice collection with the faux leather leggings, basic button-down shirt, a wrap dress, and a banded dress.
I thought perhaps this would be the final Manequim I'd have to show you before I'm there myself (ready to scour the newsstands for any pattern magazines!) but no – August's issue arrived just before I left so you'll be seeing that later this week, too.
And yeah, World Champion WHAT?!? Best way to keep updated on the rest of my events (Friday & Saturday) is to follow @fehrtrade on Twitter or Instagram…
tags:
magazine
,
manequim
Comment [6]
14 August 2015, 18:12
When I was sewing up my Kimono Sweat samples for myself and my athlete models, I put together a little list of all the great sweatshirt fabric supplies I could find, and then starting thinking about what colours I wanted to play with. Since I made the list for myself, I figured I may as well share it with you, and I've added a few US suppliers, too (Aussies and anywhere else, please add your favourites in the comments!).

Clockwise from Top Left: Turquoise Multi Fleck, from Guthrie Ghani, Orange and Pink Star, from Stone Fabrics, Chartreuse Washed Wool & Viscose, from Ditto Fabrics, and Fusion Coral, from Girl Charlee UK
UK shops
Guthrie-Ghani – Great colours and prints, including the speckled green I used for my casualwear version (be aware that lengths are in

HALF

metres, so you need to order "3" for the Kimono Sweat!)
Dragonfly Fabrics – Limted colours but they're organic!
MyFabrics – These guys have a milllllion colours, and ship from Germany, I believe.
Stone Fabrics – a nice mix of neutrals and jewel tones, and even a star print in the mix!
Tia Knight Again, loads of colours, including some neons…
Josery – these guys mill their own sweatshirting, right here in the UK, and have matching ribbing which you could use for your facings, too.
Jersey Fashion (NL) – Really nice colours and stretch – I ended up using this place for Binta's version (Note that they also have bamboo jersey, which is perfect for View B!)
Girl Charlee UK – some really nice solids here, all for £7.95/m
…while not strictly sweatshirting, you may also wish to consider using Ditto's striped loop-backed jerseysand washed wool & viscose knits, which would also work for View A. They've got suuuuuuch lush colours on the latter, and I'm already planning another for myself!
US shops
If you're planning on shopping for fabrics in a physical store, you may wish to read the article I wrote for Seamwork magazine on Shopping for knits (Also great is this Sewing knits without a serger article, though I didn't write it!).
Happy Friday shopping!! If I've missed off your favourite shop, please tell me in the comments!
And remember you can use the code BOTTOMSUP for 20% off all my shorts and leggings patterns (ie: anything in the "Bottoms" section) from shop.fehrtrade.com until 24 August, which is the day of my first event in Argentina, eeep! (Paypal users take note that you'll go quite far through the checkout process before the discount box appears, but it will!) This means you can make yourself a Kimono Sweat and something new for your legs, too!
fehr-trade-patterns
,
kimono-sweat
,
shopping
Comment [2]
10 August 2015, 13:52
My Kimono Sweat pattern is out now and ready for you to sew! Yay!
How fantastic is the cover illustration from Lauren Cox? You all loved her illustration on my Steeplechase Leggings pattern so much that I just knew she had to be involved again this time! It gives a great feel for how the pattern can be worn that you just don't get from the official tech drawing (seen below).
View A
Two tops from one pattern! View A is a top with a deep armscye and kimono-inspired short sleeves with a faced V-neck and dipped hem, designed to wear for your warmup or cool-down, or even just with jeans.
And because I know how much you all love my weird-shaped pattern pieces, I couldn't resist a special "Fehr Trade touch" on the sleeve of View A, which wraps around and gives nice shoulder coverage while being a bit more interesting than the average cap or short sleeve.
I must say, I've surprised even myself with how much I've been wearing my own short sleeved samples! I've literally worn my grey version after every workout that's not ended at home – it's perfect to roll up in a bag and not have the whole world looking at your sweaty bod on the way home (or leaving sweat marks all over the bus seats, eww).My green sweatshirt version I wore out to the cinema a few Fridays ago, and then to work, to a family lunch…
View B
View B is a sleeveless tank/vest top with a banded, scooped neckline and straight hem. Deep armholes, and loose, draped sides make this a perfect warm weather workout top for those who prefer a looser fit (and showing off a fancy sports bra!).
I've had so many requests for for looser-fitting workout gear (both tops and bottoms), both for reasons of personal preference but also because some women feel self-conscious or even unsafe exercising in tight-fitting clothing. View B is for those women who want something looser but still fashionable and allowing movement. It's crazy how many women out there who play basketball, rock climbing, lift weight, etc just don't have many good options!
Since I know how many of you love to buy patterns in pairs so you can sew coordinating sets, you can use the code BOTTOMSUP for 20% off all my shorts and leggings patterns (ie: anything in the "Bottoms" section) from shop.fehrtrade.com until 24 August, which is the day of my first event in Argentina, eeep! (Paypal users take note that you'll go quite far through the checkout process before the discount box appears, but it will!)
And of course, keep your eyes peeled here over the next few weeks while I show you some more shots of my two athlete models, Binta and Lorna, rocking each of the pattern views!
tags:
exercise
,
fehr-trade-patterns
,
kimono-sweat
Comment [1]
6 August 2015, 13:24
You can pretty much assume by this point that if I've gone a bit quiet on this site, then it probably means I've been sewing up a storm behind the scenes and am just struggling to find the time to tell you all about it! And yes, it's happened again… So I'll try and catch you up on a bunch of things at once!
Sewing Indie Month – Pattern Bundle 1
Remember how much fun
Sewing Indie Month
was last year?? It was a full month full of interviews, great tutorials (like Heather Lou showing you
how to turn my

XYT

Workout Top into a summer maxi dress!
), and fabulous Sew Along prizes and it's
back
again this September!
But because us pattern designers know how much you all love a bargain, we've joined forces to create two pattern bundles in advance of Sewing Indie Month, and the first pattern bundle is on sale now through Wednesday 12 August only.
Click through to see all the included patterns and the different tiers, including some brand new patterns exclusive to this bundle! The cool thing here is that you're not only buying these patterns for well under the usual price, but 20% of bundle proceeds will be donated to the International Folk Art Alliance, which provides education and exhibition opportunities to folk artists from around the world. So you're helping out other crafters, too!
I made the Lolita Patterns Sugar Plum dress a few years ago and honestly, it's one I still wear in regular rotation (and looks so much better than the photos in my post, annoyingly!). The Sugar Plum dress is a knit/woven hybrid, but the patterns in this first bundle are mostly wovens, so the sale timing gives you time to make muslins before the sewalong contest begins in September while supporting small women-owned businesses and raising money for charity. You can see the size range for each of the included patterns here, too.
Aztec Duathlon Shorts
Psychologically, short shorts make me run faster. Well, not really, but I
think
they do, and that's all I need! So, a few weeks ago, with the British Transplant Games coming up, I managed to squeeze out a new pair of
Duathlon Shorts
for the occasion!
I ordered a massive pile of Funkifabrics lycra a few months back when I won a discount code, so I dipped into my stash for these, making them in the suitable jazzy summertime "Aztec Stripe" print in the green colourway (it also comes in purple or yellow), with a bit of leftover scrap fluorescent red wicking lycra for the side panels.
I've made loads of my Duathlon Shorts in the biker and booty length (I'm not much of a capri girl!) and, though the biker length stay in place just fine, the booty length usually need some help to stop shifting around. So again I added some silicone elastic zig-zagged onto the hems to keep them in place (pro-tip – use tissue paper to prevent it sticking to the machine bed!). I also added silicone elastic to the hems of all my Team GB shorts, since they're also all booty length and really wouldn't stay put before!
The photo of me running in my Aztec shorts was taken at the British Transplant Games up in Newcastle this past weekend, which were a fantastic warmup for the World Games in a few weeks! If you'd like to read more about my winning four gold medals, a bronze, and retaining my trophy for another year, head over to my running site…
New Sewing Room
I am fully moved into my new sewing room! Wa-heeeey! It turns out all I needed was a firm deadline – my new sewing cave will be featured in a major UK sewing magazine, how cool is that?!
I've also shot some videos in the old room before I moved out and the new room which I'll be posting along with all my storage supplies (so much IKEA!) when I get a chance – it might be a good one to post for while I'm on holiday at the end of the month…
Spoonflower Sports Lycra
This news came out of nowhere but omg they've
finally
released a
sports lycra base fabric with stretch in

BOTH

directions!
. I've ordered a swatch, but it sounds utterly perfect. Who's going to be the first to try one of
my Laurie King collaboration designs
in the new sports lycra?? (
Jump straight to my Spoonflower page here
if you're not interested in seeing the examples)
Honestly, the only thing I didn't like about their previous Performance Pique and Performance Knit bases was that they had zero lengthwise stretch (so you had to modify all your patterns which require two-way stretch, or everything comes up too short!), so this is fantastic. Now if only (the UK based) FunkiFabrics started on-demand printing for their technical fabric bases, I'd be an extremely happy bunny!
Next pattern – next week!
The biggest thing I've been working on though is
my next pattern
!! Weeee! It's gone through all my lovely pattern testers, I've got the illustration for the front cover, all my samples are sewn both for myself and my two badass athlete models, so it
should
be ready to go live some time next week!
Just like with the past few patterns, I'll be sending out the first peek details to my newsletter subscribers very shortly, so if you haven't already, join the newsletter!
This is the same form that's on the bottom of my Shop – I really hardly send out any emails at all, and only when I've got either a new pattern announcement or a discount code.
This pattern's got two distinct views, and fulfils some wishes that've been requested by a lot of customers, so I hope you're all going to be as excited as I am!
Admitting defeat
So, on a bit of a down note, I'm sorry to admit that I am, in fact, not Superwoman. (Boo!)
This week I finally admitted to myself that there's no way I can release a pattern, host a Thriftystitcher panty party (sold out!) and sew up a silk ballgown in the 2.5 weeks before I leave for Argentina. This is always my problem – I want to do everything and then feel disappointed that I can never do the insane amount of tasks I want to! But we're attending a wedding in Provence at the end of September, so I think I'm going to re-target the silk ballgown (that McCalls vintage reissue!) for that instead. I've already traced the pattern and cut out the skirt pieces for the muslin (I'm not as fussed about the bodice), so it might be do-able?
PS: Anyone have any fabric store recommendations for either Buenos Aires, Mar del Plata, or Iguazu Falls?
tags:
duathlon-shorts
,
fehr-trade-patterns
,
sewing-indie
,
shopping
Comment [2]
31 July 2015, 13:50
Finally, after months of lacklustre issues, Burda have produced one that I'm actually excited to show you! August is traditionally the start of the Fall fashions, but there's plenty of transitional designs included in here too, and so many I want to wear right away…
Just to start things off on a damp squib – I see what they're trying to do here and I know I'm normally a sucker for anything asymmetric, but I'm just not convinced by this shapeless dress with a weird pleated section tacked on at the hem.
It's not really my style, but this riding jacket is beautiful. The details, the proportions, the finish – just lovely.
The outfit on the left, however, I'd wear exactly as it is, in a heartbeat! Both tops shown are the same raglan-sleeved top made from lightweight wovens, and the midi skirt with the hi-lo (or "mullet"!) hem is cut on the bias. I'm not a wide-legged trouser fan, but they're an interesting design with the deep pleats.
Is this a shot straight out of Mad Men or what?? I love this simple silk teeshirt, with or without the folded overlay section (which would show a little bit of the matte reverse on a silk charmeuse, just saying!). I bet this would fit into one metre of fabric if you left off the overlay, too. And the pencil skirt is a great pairing – again, with or without the sailor-style buttons.
On the left is that riding jacket again, but the right – heart be still! A seamed ponte sheath dress!! Unfortunately it's in Tall sizing, which Burda claim is changed only in length, but every time I've altered Tall patterns down to normal, the sizing has been way off, so I'm not convinced. But for this dress, I might try anyway.
What? Two awesome knit sheath dresses in one issue!? You're killing me here Burda, because this one is so flattering and a no brainer to colourblock, too!!
Let's overlook the weird hip-pleat dress on the bottom again and instead focus our attention on that Tall sheath dress, shown here as a top. Burda are quite proud that it's made in "romanit" fabric, though, so I actually went and looked it up – it appears to be what every German website calls ponte (or ponti roma), so, err thanks for translating that, guys. But on the upside, it's a million times easier to find great ponte knits than killing myself searching for "romanit".
Such a simple dress, but so nicely done. This is a beautiful example where simplicity is just so chic, and the shape would be not only flattering on many body types, but also great for transitional weather with those half-length sleeves, too.
Now, into the Plus patterns, where we have a shirtdress pattern with a lot of nice details in the pockets and sleeve tabs, though they seem to have forgotten any waist definition…
Never let it be said that Burda don't print fashionable Plus patterns, because you couldn't be more on trend than culottes right now!
I've seen the preview for the September issue already, and I'm just going to say that the Oktoberfest pattern explosion every single year is getting reeeeeeeeally old. Let's hope they've put some amazing patterns in the rest of the mag to even it out for their global audience!
tags:
bwof
,
magazine
Comment [6]
29 July 2015, 14:05
I don't know about you, but there's just something about adding your own label into a garment you've sewn that just makes it feel 100% more professional. Sometimes it's practical, too – it's a lot easier to see a label on a teeshirt or pair of leggings and instantly know that side is the back, but this could also be accomplished by some extra stitching or a bit of folded ribbon, which doesn't give anywhere near the same finishing touch.
Way back in 2006 I made my own first labels – I'd bought some pale green ribbon and used iron-on inkjet transfer paper to put my logo onto each one. Even back then, I knew it was a pain to print, cut, and iron each one (especially since we were early adopters to laser printing and had to borrow an inkjet printer!), and after repeated wears, the transferred area would wear and look a bit grubby.
I still wear a few items from this era, but couldn't find any in my summer wardrobe when I went on a hunt to photgraph the changing evolution in my labels, so you'll have to make do from the above image from 2006. The baby I sewed those trousers for is now nearly 10 years old!
After those ran out (I stupidly printed "2006" on half of them so I couldn't really use them in 2007! Lesson learnt.) I placed my first order with Cash's for woven labels. Since they didn't have mint green, I chose black and silver instead, purely as I thought it'd be the least likely to clash with my fabrics. These were quite narrow and had about four fonts to choose from, and a handful of symbols too (which were all incredibly "happy hands at home" so I opted to have no symbol at all). But their best feature was they were super cheap, so I'd just re-order them when they ran out. At some point they changed their fonts, as you can see in this photo.
I've been largely satisfied with these labels, but I've been jealous of all the ones I've seen from other sewists online with their logo woven inside that look even more professional. I'd even gone and shopped around on a few occasions, but there seemed to be an overwhelming array of label places on Etsy, nearly all shipping from the US or Asia with long turnaround times.
So when the Belgian-based Nominette approached me and asked if I'd like to try out their labels and English-language site, I think I took all of 30 seconds to reply!
They've got an online form where you can upload your logo, pick your font, colours and washing care symbols (a bit tricky unless you predominantly sew with the same fabrics – I chose care instructions for lycra, for instance!), and also the orientation of where you want the fold. You also get some space for a custom message so I went with "Designed and sewn on a barge in London", which I think adds a nice little personal touch for any custom client sewing I may do (not like I've had the time to do any since I took my office job in January, though!).
These arrived in about a week, and I am so happy with the quality. These look seriously professional! I feel like I've just level-upped in the label stakes! Coming from the 8mm Cash's tapes, these are a bit taller than what I'm used to (you can get narrower ones, but then you loose the custom logo, which was my main driver).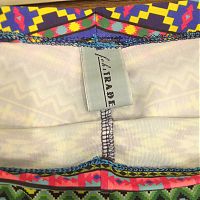 These are about an inch tall, and since I prefer 3/4in elastic on my leggings and shorts, these won't really fit horizontally on my waistbands. But they do fold really nicely between the logo and the care instructions, so I inserted one under the elastic as I did the last topstitching instead! Problem solved.
My only complaint is that the colour isn't quite what I was expecting – in the online form the colour I selected definitely appears to be pale green, but in reality it's a sky blue. So not really on-brand for me, but I suggested to them that having some photos of the labels on that page would really help give an idea of the true colours. Hopefully they'll put up some example product photos soon to make colour choosing easier, because the finished labels are really very nice indeed.
Nice enough that you may find yourself only adding these to your absolute best garments, and leaving the slapdash ones' origins as a mystery…
Disclaimer: Nominette kindly sent these for review, but my opinions are entirely mine and I don't earn anything should you care to order for yourself.
tags:
shopping
Comment [4]
22 July 2015, 13:16
It's been a while since we had a look inside the bi-annual, quadrilingual pattern magazine, MyImage – over a year in fact! But they've got a new issue out, full of Fall and Winter styles and they've got a few new tricks up their sleeve, too, like a wider size range for more patterns, and some pdf pattern options, too.
MyImage magazine is printed on nice, thick paper that's actually larger than my scanner bed, so apologies that some of the images are a bit cropped here – you get a nicer look at the images than if I'd just taken a photo of it! Or you can always have a better look in the digital magazine flipthrough, too.
I knew it was a great sign when I saw these seamed jeans about two pages in – SWOON! It's like they made a pattern just for me! I love, love, love the seaming on these – they'd look great from all angles and really take the average pair of jeans up a notch. Or for that matter, they wouldn't even have to be in denim – I've some great stretch navy twill in my stash…
I also wanted to show you some of the improvements they've made to the instructions (which are, as always, offered in English, Dutch, German, and French) – many of the patterns now also have photos or illustrations showing how to do some of the details of the pattern construction, and these jeans actually have an extra tech drawing which labels where all the pattern pieces go! What a great idea!
The raglan teeshirt dress on the left could be a great style basic, but I also really like the jogging bottoms and cropped jacket on the right, too. The trousers reminded me of the True Bias Hudson Pant that so many people have made, and looks super comfortable for lounging!
This sweater would be a really quick make, with its kimono sleeves and slouchy fit – I also noticed here that it (and many other patterns, like the accompanying panelled skirt) now go up to size 50, too!
This last jersey tunic/dress pattern to catch my eye isn't actually included in the magazine at all, but showcases the new range of pdf patterns, some of which look familiar from earlier issues (great if you missed it the first time around!). If you've got the magazine, you get a 50% discount on the pdf patterns, bringing them down to a (quite frankly, ridiculously cheap!) price of €2 each.

Apologies for the weird ghost on the right-hand lady – it's show-through from the back cover!
As per usual with My Image, you can browse through the full magazine here and see a full overview of the tech drawings here. I love that they offer this, as I usually have to spend loads of time compiling my own At-a-glance images for my own records, and this just makes it so much easier!
Giveaway!

Thanks to the magazine producers, I've got a copy of this issue to give away to my readers! Due to international post skyrocketing in the last few years, however, I'm afraid I'm only able to ship to UK/EU addresses (mostly because there's a cheap "printed materials" rate within the EU). If you live elsewhere and would still like to enter, please only do so if you're willing to pay for the postage.
To enter the draw, please leave a comment below stating, in your opinion, the optimum date to start sewing Fall fashions. ha!
I'll pick the winners by random draw next Thursday, 30 July. Good luck! Congrats to Terri, winner by random.org draw!
These issues were kindly provided by MyImage, but I've bought (and sewn!) plenty on my own in the past, and my opinions here are all my own.
tags:
magazine
,
myimage
Comment [24]
20 July 2015, 14:12
My main sewing machine is a JoAnn Sonata, and it has a bit of a history. It's technically a vintage machine, I think, having been made in the early 1980s and then promptly forgotten by the entire world. Every now and then I get an email from someone who bought one at a yard sale, thanking me profusely for scanning and uploading the user manual, but for years the only Google hits for it were ones I'd written myself.

My machine, photographed in 2006
To complicate matters even further, my machine began life as my sister-in-law's grandmother's machine, which was gifted to me well over a decade ago when my mom brought it over as checked luggage on a flight from the States. So on top of being some random, vintage brand no one's ever heard of, it's also the wrong voltage (I run it through a voltage converter).
Considering the sheer volume of use it sees, the machine does so well, and I have no intention of ever replacing it so long as I can keep repairing it. I mean, I clean it fairly regularly, but I hardly ever oil it, and it only went in for its first ever service (during my tenure, anyway) last winter when the foot pedal stopped responding. My man at Maury Sewing was able to repair the foot pedal then, but advised that if it failed again, I should buy a replacement pedal from the States and just swap out the plug end (he looked into replacing the motor with a 220v one but couldn't find one to fit the body on short notice).
The repairs lasted a good six months, but again recently, I found myself having to pump the pedal to get it to respond, and even then, it'd only go at maximum speed which isn't exactly ideal. So I hunted on US eBay and found a really similar-looking vintage, metal food pedal in 110v wiring, with the thought of recruiting James to rewire the old plug end onto the new-to-me pedal.

The eBay replacement (top) and my original (bottom)
But our friend Alex happened to be visiting after it arrived, and said he'd be happy to have a look. He grabbed a screwdriver and opened them up and to our amazement, the pedals were actually identical inside!
He started to take them apart and check the voltage and everything, but then realised it was going to be a bigger task than he'd thought, so agreed instead to take it in to his work (he's the one who works at "the death ray" we toured last Fall) where they had better equipment, and he'd post them back to me.
A few days later the text messages started arriving – apparently the in-house electronics technician came over to have a look, started taking it apart, and got really interested in the vintage electronics! Instead of just swapping the plug end so the eBay one would fit into my machine, they opted instead to repair my original pedal using the eBay one as spare parts, which was much more fun!
Apart from not having an Earth because it's US wiring (in the UK, the outside chassis would be connected to Earth to ground it, but US plugs don't do that), they've said it's perfectly up to safety specs (the voltage converter I use has it's own fuses), and the slight charring we saw on the wires' insulation was most likely caused by the earlier repair soldering and not any electrical fault! Phew!
Apparently the coolest thing about the pedals is that they have about 100 or so little carbon discs inside (see photo above) – as the pedal is pressed, the stack of discs is squashed down, which changes their resistance! The technician had never seen anything like this before, and was very pleased to have worked on it. A few of the discs in my pedal were singed and a few were shattered, so the main repair work just consisted of replacing the discs with ones from the eBay pedal, and in one case, a brass washer so that the right space is still maintained. How cool is that?
And to answer your question – it sews like a dream now! It's purring like a kitten in a way I've not seen in ten years. And more importantly, it's allowed me to keep sewing on my machine which I love, otherwise works great, and has a wonderful history. A new, plastic replacement machine couldn't have come close!
tags:
electronics
,
machine
Comment [9]
7 July 2015, 14:11
We experienced a bit of Brazilian heat here in London last week, but I'm happy to report that it didn't stop me from moving into my new sewing room. Hefting furniture and hauling boxes wasn't fun when dripping with sweat, but I'm about 80% moved in and I'll of course give you all a tour once I'm done. Even without my machines hooked up and with some temporary lighting, the space just makes me happy just being inside.
But for now, let's try and cool off with some thoughts of a Brazilian winter…
First up is this leather pencil skirt, which really reminds me of my grey one I made a few years back, though it's sadly now too big. And this one's sized far too small!
These may not seem like much, but a nice, basic trouser pattern in the full standard size range is an absolute goldmine! I get asked over and over (and over!) again what I do when a pattern I love isn't in my size, and basic patterns like this are great for transferring interesting details from ones that are too-big or too-small. Just take the pleat, or panel, or pocket, or seamline you love and transfer it onto a basic version in your size…
From the same "black and white" feature, we get a pattern for this asymmetric, faux-wrap skirt, which is really striking with the colourblocking, but I think would also be great in an all-over tweed with a leather buckle detail.
Like the multisize trousers, this basic woven shift dress could be really useful for adapting other, fancier patterns that aren't in your size (it also looks similar to the orange dress hack in the 3rd GBSB book)
Ooh men's patterns! I can't actually recall another time in the past 3-4 years I've been subscribing that they'd offered patterns for men! It's only this pea coat and a pair of basic trousers, but still! Also, this ladies long faux fur coat looks like it'd be useful, though potentially too hot for Brazil…
This piped, short jacket is utterly lovely, and I'm intrigued by the cross back shown only in the tech drawing, too.
I've seen this silhouette everywhere for the past few years, but this is a nice take on the casual, silk trouser.
At first glance, this looks like any old wrap dress, but look closer and you can see some great, asymmetric seaming going on here.
There are only the usual three Plus patterns this month, but the short culottes are very on trend, and the playsuit is really cute, too.
Only one more issue of Manequim to go before I'm (eep!) in Brazil myself, though only barely over the border and just for one day. But still!! (Iguazu Falls side trip after competing in the World Transplant Games in Mar del Plata, Argentina)
tags:
magazine
,
manequim
Comment [2]