Inspiration
29 May 2015, 11:10
Yawwwwwwwwwn. Another lacklustre issue – what is up with the design team at Burda HQ recently? I know they're capable of amazing, fashion-forward and flattering designs, because they break out of these ruts every now and then and just wow us with a consistent 6 months or so of designs.
I mean, this time last year I was praising them for a consistently amazing few months of issues, the pinnacle of which was the amazing Japanese-design feature. Maybe I should just go back to my spring 2014 issues instead until the tide rolls back into a more favourable patch…
I really want to like this blouse with its asymmetric collar, but it just feels like they've tried to add too many incongruous details into one garment. Skewed collar! Neck ties! Boxy shape! Asymmetric taped sleeve! Any one or two of these together would be fine, but all of them and it just feels unfocused and busy.
I'm officially on Team Jumpsuit and I like the look of this one on the model, but this is a Tall size pattern, with extra elongated body lengths, so I think this on top of jumpsuits being elongated anyway means that it'd be a tricky one for me to fit. And I'm not convinced I need more than one summery jumpsuit in my wardrobe right now!
This sheath dress is just fantastic – it's simple, but it's shown several times in the magazine, both partially colourblocked (as it is here), but also all in one fabric, and again with three separate coloured fabrics. The seams all flow together nicely at the sides, and there's an option for shoulder ties, too. This could be a great basic pattern for adding further design elements (cough Pattern Magic cough), too.
I feel like a broken record here, but not all open backed dresses are practical or flattering. I like the curved seaming on the skirt, but the upper back is just too open, and the top is only held together with a single hook and eye. Again, the La Maison Victor open backed dress from last Winter is far superior (and you can wear a bra with that one).

And the ugly combo award for this issue goes to… The ugly muu muu dress & equally ugly popped collar bomber jacket (bomber pattern number 754353 from Burda, ugghgh). Come and collect your awards!
CLOWN PANTS!!

Honestly, why?? Who would ever-?? Good god, who signed off on these?
err, clown blouse? This might have been ok in a soft fabric (might), but in a poplin?? It just makes those horrible 1970s bell sleeves look like the big tent.
There was nothing notable in the Plus section, but I did enjoy the extended feature on natural dyes. It seems to compliment the natural dyeing article Seamwork had in their latest issue… I like the idea of dyeing (especially for lingerie), but I've been wary to buy all sorts of chemicals for it!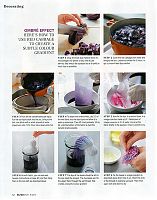 What did you think of this issue? Am I off base? Care to nominate your favourite issue from the last few years for me to revisit for inspiration instead??
tags:
bwof
,
magazine
Comment [11]
21 May 2015, 13:03
It's that time again! I can barely keep up with all your amazing, inspiring, and beautiful versions of my patterns these days, and before I know it, I've got an overflowing heap to share with you! I know how helpful many of you find these – it's all well and good that I make nice versions of my patterns, but so much more helpful when you see how good they look on other bodies, too!
Be sure to click through to read the details and see more photos on each of these entries, too. With a long weekend coming up both here in the UK and in the US, there's no excuse not to whip up something sporty!
Winnie's Steeplechase Leggings with exterior rolled seams & zebra Surf to Summit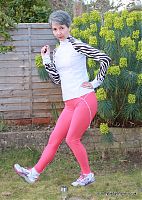 Read more…
Karen's 5(!) Steeplechase Capris for herself and her daughters
Read more…
Maria's three pairs of Steeplechase Capris, with great reflective accents
Read more…
Sally's wintry Surf to Summit for the ski slopes!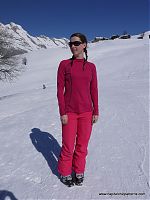 Read more…
Maria's "Hunger Games" inspired Duathlon leggings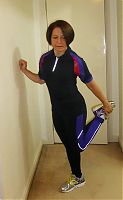 Read more…
mixtilli's red Lacey Thong lingerie set
Read more…
Allison's two new
VNA

& Duathlon workout sets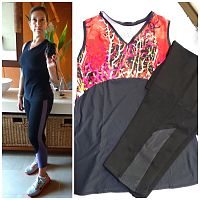 Read more…
Katherine's Steeplechase leggings with yoga waistband
Read more…
Sandesh's
XYT

Workout Top in a Laurie King print
Read more…
Winnie's badger-print Surf to Summit Top!
Read more…
Sophie-Lee's cheetah-print Steeplechase capris & coordinating
XYT

Workout Top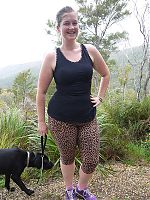 Read more… (plus bonus New Zealand fabric suppliers!)
Winnie's London marathon badger armband pocket
Read more…
Louise's London marathon Duathlon Shorts, with plenty of pocket room for both inhaler and gels!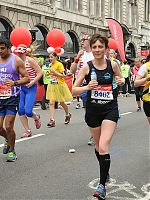 Read more…
Karen went and made
THREE

more

VNA

Tops, for herself and her daughters!
Read more…
Claire ran a race in Central Park in her gorgeous, swirled Steeplechase capris
Read more…
Wingamajig made her Duathlon Capris both subtle
AND

psychadelic!
Read more…
Karen's running armband pocket
Read more… (with step-by-step photos)
And, as always, you can buy any of my digital sewing patterns from shop.fehrtrade.com (except my Lacey Thong pattern which pre-dates the Shop), where you'll get both fully road-tested multisize patterns in both "print at home" and "print at a copy shop" pdfs, fully illustrated instructions, plus the knowledge that the highest percentage of your money is going directly to the designer! (And yes, I take Paypal, too)
duathlon-shorts
,
exercise
,
fehr-trade-patterns
,
lingerie
,
steeplechase-leggings
,
surf-to-summit-top
,
vna-top
,
xyt-workout-top
Comment [3]
5 May 2015, 14:21
Wooo!!! It's the best Manequim of the year – the one with all the Oscars gowns! Let's breeze through the rest of the issue and get straight to those Hollywood designer evening gown patterns, shall we?
First off, the Plus selection this month is just the usual three patterns, but they're keeping to the glamourous end of the scale, using singer Adele as the muse.
I LOVE this classic leather biker jacket – it might be slightly too small for me, though (I'm in between 42 and 44, I've discovered), but it'd be easy enough to adjust using another pattern as a guide…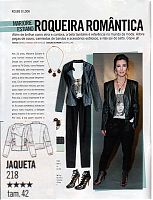 I think I've discovered the secret to me and blazers – I hardly ever wear them myself, but I'm occasionally drawn to the odd one or two in magazines, like this orange one (Can I just say that I love everything about this image? Wonderful model & composition and art direction!!). I think the main thing is that I dislike the traditional, folded over, notched lapel – so designs like this which are a bit different in that area really appeal to me!
Again, I'm not really even into this kimono pattern, I'm just digging the art direction (helicopter landing pad?! Must be Sao Paolo!).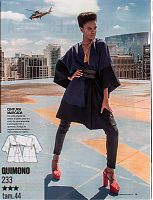 This is the only actual jeans pattern in this jeans feature (and I'm so not feeling the bell-bottoms!) but I was really intrigued by the simple tee paired with it. It was almost entirely covered up in the photo, though (thanks, Manequim!), but it was shown later in the roundup images so I could see it's just a really simple two-piece teeshirt.
And now, for our main event… it's the Hollywood gown special!!! (not just the Oscars this year, no, no!)
First up, we've got a pattern for this gorgeous strapless lace Givenchy gown that Rosamund Pike wore to the Oscars. Pure fantasy!
Next, we've got patterns for Emma Stone's Lanvin jumpsuit from the Oscars and Anna Kendrick wearing a Gorgeous Peekaboo gown (living up to its "peekaboo" name??) at the Oscars.
Then, it's a pattern for Reese Witherspoon's off-the-shoulder, monochrome Armani Privé Oscars gown and Helen Mirren looking fabulous as always in Docle & Gabbana at the Golden Globes.
And finally, the fabric on Lupita Nyong'o's Ellie Saab gown is a large part of the "wow" factor on her Screen Actors Guild Awards gown, but I'm looking at that pattern and definitely seeing scope to shorten it for a more cocktail look (and far less fabric to buy!).
I know we can often fall into the trap of only making glamorous dresses and then only wearing them once or twice (I can't resist making a new dress for pretty much every wedding I attend!), but I've actually got an event I need to sew for coming up! I'll need a posh gown for the gala dinner at the end of the World Transplant Games in Argentina in August, and when I saw this amaaaazing 1930s McCalls gown I knew it was just what I needed!
What about you – is anyone else planning a glamorous make any time soon?
tags:
magazine
,
manequim
Comment [7]
30 April 2015, 14:09
Thanks so much for your congratulations on my London marathon race this weekend! My legs are amazingly feeling pretty much back to normal already, though I still need quite a bit of recovery time "under the hood". In all the excitement (and a fair bit of "post-marathon brain"), I completely forgot to congratulate some other fierce and fantastic women who ran it, too!

With a fair amount of resting time ahead of me in the next two weeks (before I run a half marathon, then cycle our first sportive, then run a 10km on successive weekends. No joke!), I'm hoping to get some quality sewing time in. But I'm not seeing much to inspire me in the latest Burda edition…
I'm really getting tired of Burda's recent ruffle fixation, but I actually don't hate this ruffled coat, which is surprising. Maybe it's that it reminds me of the Lolita Patterns Spearmint coat, or maybe it just seems a bit more well thought out than just randomly slapping ruffles onto an unsuspecting garment…
On first glance, this seems like a dress pattern we've seen a thousand times before, but the overall body shape is closer to a cocoon-shape than I've seen in a dress before. And the pleated neckline creates a bit of interest (and could conceal a big meal, hahah).
I can't really see myself wearing this shirt, but I love that they've placed a very vintage detail like the jabot and created a look that is unambiguously fresh and modern. I have a feeling this might be a pattern that grows on me and I eventually come back to sew 6 months from now.
Look past the horrible, sheer fabric and this is probably the pattern I'm most likely to make from this issue. It's essentially a woven tee with colourblocking opportunities on that yoke, and you can adjust the front keyhole (or switch to the back) instead, too.
Oh. My. God. You know how we sewists complain when companies sew up their samples in prints so busy that you can't see any of the pattern details? Well Burda have well and truly outdone themselves on this one – they chose a print so busy they couldn't even tell when they pasted a smaller top on top of the bigger one (and it was ugly to begin with anyway!)
There's a designer pattern in this issue, from the Odeeh brand (nope, never heard of them) – a boxy tunic and pleated trousers that look nice enough, though not particularly anything to set off fireworks.
The Plus patterns are surprisingly pretty nice this time around – the shirtdress on the left could be made even better with the addition of a belt, and the tee on the right is offered in a few different lengths (and has the trendier sleeve cut closer to the CF).
More great dresses for Plus sizes! The dress on the left with gathered shoulders is such a nice, classic design, and the knit dress on the right (in several hem lengths) would be flattering and comfortable for so many different shapes.
And finally, I hardly ever care about the kids patterns, but I'm of the age where friends are having babies and I occasionally like to whip up a present and get rid of some jersey scraps at the same time. So these knit baby clothes for both sexes may very well come in handy…
tags:
bwof
,
magazine
Comment [5]
21 April 2015, 13:33
The latest issue of Manequim magazine is here (well, latest to its international subscribers, anyway – it takes a while to make its way to me), and even though it's not a hugely fantastic issue, it's still better than the last few Burda magazines IMHO, which have been in a real slump this year! But let's take a look at my picks for this month, where there's hardly a ruffle in sight…
There are only three Plus-sized patterns in most issues of Mannequim, but the selections this month look really wearable – a casual day dress, a tunic with gathered sleeves, and a versatile trouser pattern.
Instead of the usual "Patterns in the style of X designer" section (maybe they've run out of iconic designers?), this month we get 1950s-style patterns instead. I'm not hugely interested in this decade most of the time, but I love this sleeveless blouse with the gathered bust seam and tie neck. I think I have a piece of silk or two in my stash that may be perfect for it, too!
Now, I've been subscribed to Manequim for a few years now, but this is a first in all that time – lingerie patterns! Squeeeeeeeal! Mostly the patterns are for lounging or pyjamas, like this robe and pyjama set, but I think the camisole might be nice on its own, too. I need to do some comparison with the Seamwork Savannah camisole pattern (which I already own), and not just because the two magazines have vastly different idea of what their readers want to see in a lingerie model!
Carrying on with the lingerie feature (of course!), we have patterns for both a bra and boxer shorts. Though I'm not sure how helpful the bra pattern actually is, since they've given it a regular pattern size (38) instead of a bra size (say, 30D). So I guess you'd have to compare the pattern pieces to your own bra draft, by which point you might as well just make your own pattern…
Two interesting patterns here, but neither I could particularly see myself wearing as-is – I like to idea of little sheer panels in a shirt's sleeves, but I very rarely wear this sort of button-down shirt. And you need to look closely at the trousers, but they've got a really cool pleating feature going on at the waistband, which I'm interested to apply to a TNT trousers draft to see how it looks since I'm definitely not into the wide hems! (Also, is it just me or does Madalynne have a Brazilian doppelganger??)
And finally, there was a feature chock full of blazer patterns, but as I don't really wear those very much, I was more interested in the handful of patterns they paired with them, like this stripey, strappy vest top. Unfortunately, they covered it up quite a bit in the feature, so I've pasted the photo from the "Mix and Match" bit at the back so you can see it a bit better.
tags:
magazine
,
manequim
Comment [2]
15 April 2015, 12:35
Like anyone who's had a site for a while (nearly 10 years, in my case!), I get an astounding amount of random email questions sent to me each day. Answering every single one of them takes up a considerable amount of my time, and sadly, I never get to reply to as many as I'd like. And frankly, sometimes I just get sick of telling people over and over that just because I posted about X magazine five years ago doesn't mean I know where you can buy it! Or telling people that no, I don't work for Burda/Patrones/Manequim/Lekala/whatever and I really can't help you with your customer service issue.
For some reason, though, I received an unusually large amount of random questions while I was on holiday in NYC. I was moaning about it on Twitter, and Stacy suggested I compile them into an "Ask Melissa" column, which I thought was an excellent idea. I've spared you the truly random, boring ones, or the ones too specific to be applicable to anyone else, and instead just included a few here which others may be interested in.
Activewear Fabric Suppliers
I came across your website today and wanted to find out where you source the fabric for the sports clothes you make. Would you be able to tell me?
I've compiled a big ol' list of suppliers (which I do my best to keep maintained!) over here!
Support for Large Busts
I've been admiring your work for several years now, having discovered you through your many rave reviews at patternreview.com. I'm not the best with knits, but I am about to try this summer, starting with your workout wear. I do CrossFit and high intensity classes, and am just giving up on finding clothes that will support my busty bust but fit my small rib cage. I am 32

DDD

to G; can you recommend any of your patterns over the others for supporting large breasts? We spend a lot of time bouncing, upside down, etc. and form-fitting and supportive would be dreamy. And I see you even do bras; another reason I admire you!

With girls like that, you're really going to need a very good sports bra underneath anything you're wearing. I've got a good friend with 32I breasts and ShockAbsorber really seems to be THE brand for the well endowed. Grab a couple of those and wear them underneath your pretty, self-sewn exercise gear to get the best of both worlds, really! My XYT Workout Top has a built-in bra, but it's really only going to be supportive enough for A-C cups, really, because it's a compression-style bra, and larger breasts really need encapsulation-style, which is a MILLION times more difficult to sew on your own (and one I'm unlikely to produce a pattern for with all the engineering requirements involved!).
As for what to wear overtop of your supportive sports bra, well, in all of my top patterns I provide FBA instructions so you should choose a pattern size based on your High Bust measurement (while wearing your sports bra!), and then size up just the bust area accordingly. This should give you a much better fit in the body and bust, but of course, try this out in some cheap fabric first!
In terms of which is the easiest to do an FBA on, it's probably my Surf to Summit Top pattern, as that has princess seams.
Exercise in hot & humid climates
Came across your write-up on Seam Work Mag about Activewear Fabrics. Very
insightful, by the way. I am in the process of starting a sportswear
apparel line in Africa, specifically in Nigeria.
I'm still trying to narrow down what the best fabric or combination of
fabrics would be best in this climate (hot, humid). Apart from the ones you
wrote about, are there any others you would recommend?
First of all, best of luck with your new sportswear line, that's super exciting! Living in London, I only have the smallest personal experiences with running in hot weather (we might get a handful of days each summer where it's over 30C/86F!), but from everything I've read, the main issue with exercising in hot and humid weather is directing sweat away from the body, and preventing chafing.
The first issue can be addressed through using wicking fabrics, like Supplex and aerated polyesters like DriFit, that move the moisture away from the body to the surface of the fabric where it can evaporate more easily. The chafing issue is mostly addressed through design – moving seamlines away from high-friction areas of the body wherever possible, and making these flatlocked (as flat as possible) when they can't be moved.
Spoonflower activewear fabrics?
I've been a follower for quite some time and am a long time runner. Your story is quite inspirational. I recently purchased several of your patterns and am finally taking the plunge to make active wear. I found your post about where to buy work out fabric very helpful but have a follow up question. I am interested in spoonflower's performance fabric and see that you enjoyed the pique more than the straight performance knit. My question is this: would you recommend the pique for just the tops for your patterns? And would the straight performance knit work for leggings?
Good question! The Spoonflower performance fabrics are fairly similar, but the Performance Knit has a smoother hand, and slightly less stretch, whereas the Performance Pique is more matte with a very subtle texture (far, far less than most piques!), and a bit more stretch, though in both, you get a bit of white show-through if it's stretched nearly to the limit so you'll want to try and avoid that.
The super, super important thing to remember, though is that BOTH Spoonflower performance fabrics only stretch in one direction – not two! Nearly all activewear patterns are drafted for two-way stretch fabrics (that is, fabrics that stretch both horizontally and vertically, not just horizontally). So if you make up my patterns straight off the pattern in a one-way stretch fabric, you'll find that they feel a bit too short!
So you'll need to add a little vertical length into my patterns, like I showed on my purple zigzag XYT Top.
In nearly all of my pattern instructions, I include adding length as one of the Common Fit Alterations, so it shouldn't be too difficult to do, but I'd advise you make up the pattern in two-way stretch fabric a few times first to perfect the fit and get the hang of it before you graduate to using one-way stretch.
In terms of whether the Spoonflower fabrics will work for leggings, yes, with the caveats above! Myself and others have made shorts and leggings from them, and they're a nice weight for tops or bottoms, in my opinion.
(And remember you can buy specially designed Spoonflower-printed fabrics for some of my patterns, too!)
——
So that's it for now! I hope you enjoyed these answers, and, umm, please don't send me any additional random email questions for the next column. Because seriously, I get enough already!!
tags:
exercise
,
fehr-trade-patterns
Comment [9]
9 April 2015, 12:45
Apologies for the delay in reviewing this issue! I know a fair few of you use my reviews to decide whether or not to buy them. My subscription copy arrived before we left for NYC, but I was too pressed for time in finishing my jeans and getting the other posts scheduled that I didn't have time to scan this until after we returned home.
But there should still be time to order this should you like any styles more than I do!
"Hi, I'm too thin. Can you show me a dress that will instantly add 50 pounds to my bust, waist, and hips, rendering me something akin to the Michelin Man caught in a ruffle explosion? You can? Great!"
This is probably my favourite from the issue, as I always enjoy a good 3D construction – in this boxy top, the back wraps over the shoulder to form the sleeve. The square neckline is also a good look, but I'm unsure about the overall silhouette. Perhaps it could be improved by a fabric with a softer hand?
This drop-waisted dress is definitely channelling the 1920s, though the kangaroo pocket modernises it a bit. There's also top version version of this pattern that could really work if you've only got a metre of fabric to play with but, beware that super LOW neckline!
Here are two striped dresses – the one on the left seems to be made in way too stiff a fabric for the style (see the orange and beige version further down), but the concept seems sound. The one shown on the right has a clever wrap style that would work for a lot of body types, and also has the advantage of illustrated instructions, too.
On first glance I love this designer Cacharel dress with its boat neck and lattice back, but IMHO the recent La Maison Victor version is far more wearable and bra-friendly. I bought a dress with a very similar silhouette (nearly identical to the Maison Victor one, in fact) last summer in France, and it's a style I've seen all over in NYC and London. If you still don't trust me that this shape dress with back interest is a serious trend, then look no further than the latest Vogue designer patterns…
Behold, a skirt with a built in crotch arrow! With bonus crotch ruffle, in case the eye wasn't drawn to your nether regions enough already…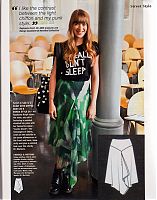 These high waisted trousers are the vintage reprint pattern for this issue (though it was easy to overlook as there wasn't an original sketch included) and they come paired with a boxy top to match. To be honest, I'm unsure about this look – mostly unsure whether I dislike the patterns, or just the gross shiny fabric they made them in.
I don't normally like many jackets, but this oversized blazer looks very modern and easy to wear, especially made up in a calming neutral. The dress on the right is the same pattern as one of the stripey ones above, but sewn in a more appropriate fabric, so the back flows rather than sticks out like a tail.
The Plus section is unfortunately mostly horrific caftans, but this sheath dress looks wonderful – classy and easy to fit, with room for customization and a nice split skirt detail.
If you've got this issue, what did I miss? Were there any that you loved that I loathed?
tags:
bwof
,
magazine
Comment [3]
7 April 2015, 15:03
James and I have been talking about returning to New York City at some point for a while now. We last visited on our honeymoon back in 2010 and had a fantastic time. We've also since acquired a rather expensive immersive theatre habit and really wanted to see Sleep No More before it closes (I'm guessing later this year). We'd seen Punchdrunk's London show, The Drowned Man 4 and 5 times over the course of a year, and knew that a similar show, based on Macbeth, would be well worth the trip. So James booked the flights for my birthday and tickets to see it twice in that week.
And then we heard about the immersive show Then She Fell (set in a disused hospital in Brooklyn, based on the works of Lewis Carroll, and limited to 15 audience members per showing), so booked that, too. And then ended up seeing Sleep No More for a third time directly after the second showing. Because it's that good. Frankly, it's two weeks later and I'm still kinda living in a dream world in the fictional McKittrick Hotel. Snippets of songs get stuck in my head, people say things that trigger a memory from the show, I look down and see a drip of fake blood on my shoe from one of the scenes… that sort of thing. I honestly cannot recommend either show enough. So, so worth the money.
But this isn't a site about immersive theatre, nor is it about the excessive amount of cocktails and brunch we consumed, nor the sleep we didn't get, or the great quality time we got to spend with my cousin in Brooklyn or the many friends who'd moved back there. So I'll stick to the sewing-related highlights or we'll be here all day!
Of course I couldn't go to New York and not visit the Garment District, but my fabric stash is looking pretty healthy these days and I didn't really have an entire day to kill wandering around. So I enlisted the help of some professionals! Oona and Ginger were my fantastic tour guides through Mood, Spandex House, and the myriad little haberdashery shops in the Garment District, but also in choosing a man creche (err, bar) with great cocktails!

Here we are each holding up our most obnoxious Spandex House purchases. Yes, mine has bacon all over it.
We made a tactical assault through Mood, mostly hitting up the wool jerseys to get some luuuuuuuuscious merinos, but also because I wanted some super stretchy denim to make more leggings. Then they introduced me to Spandex House, which, on top of having literally anything you could image printed onto lycra, also have a sizeable stash of wicking supplexes in great colours upstairs for $12/yd.
I also had a shopping list of various threads and zippers (zippers are so freaking cheap in America it makes me cry!!), and then I also picked up a magnetic pin catcher since it was half the UK price, and a light bulb for my US-import sewing machine. Which ended up being the wrong type. Sad face.
It was so, so nice to finally meet up with Oona and Ginger, and I love that just sharing a common hobby means we can instantly connect without any kind of initial akwardness, and the same was true when I met up with Carrie for a Sunday run through Brooklyn!
We started in Chinatown, crossing the Williamsburg Bridge into Brooklyn, where she led me along the waterfront to some amazing views!
It was pretty crazy windy and cold along the water, but totally worth it, as she was an expert tour guide in amoungst all our general chatting. We carried on up through Brooklyn, across the bridge into Queens, and then we parted for a final selfie before I carried on over the Queensboro Bridge and then back down 1st Avenue (past the United Nations building!) to my brunch date in the Lower East Side.
In total, I ran for about 2hr15min and through three boroughs and across three (very steep!) bridges, too. So not too shabby considering I'm running London marathon in a few weeks.
I also just managed to squeeze in a visit with Nora from Kollabora just before we left, too, which is always a pleasure. I've known Nora back from her days before the US BurdaStyle site was starting up, and whenever we're together it always feels like no time has passed at all.
And, as a parting glimpse, here's some final shots of me on the High Line with my newest birthday jeans and my Patrones winter coat, made in 2011 and still going strong!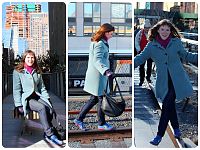 It was so cold and wintry the whole time we were there that both saw very active duty. But I'm not sad at all that we returned to Springtime in London, as I'm more than ready to sew and wear some lighter-weight styles!
But yes. Go see Sleep No More. At least twice.
tags:
city-guides
,
exercise
,
reflections
,
shopping
Comment [9]
27 March 2015, 13:29
When this latest issue of Manequim magazine landed in my post box, I had to stifle a laugh and a double-take that I hadn't accidentally received a copy of Seventeen magazine from my childhood. Could they have possibly chosen a more 1990s, off-putting cover image?? Like, totally!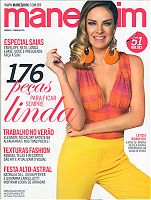 Here are the Plus patterns this month: a tunic, simple cowl dres (similar to that Vogue Donna Karan one everyone in the blogosphere sewed up!), and a parka jacket.
Are twist dresses done yet? This one feels really similar to a Pattern Magic design, albeit with a novel back.
From the designer (whom I've never heard of & didn't note down) style section this month, a cute little skort with a panelled front.
I absolutely adore all parts of this image – the styling of the photo, the fabrics the garments were made from, and the patterns themselves! The pussybow blouse and trousers aren't particularly special, but that pleated waistcoat – wow! I'd personally add some sleeves to make it a more wearable jacket, but isn't the front shape lovely?
This asymmetric, side-tie dress might be my favourite from this issue, but it's really hard to see the details in this particular photo. It was featured later on in the segment where they mix and match the different garments laid flat, and you can see the details much better there.
There's a special feature on skirts this month, with a lot of wearable designs. This first, wrap skirt isn't offered in my size, but the design lines mean you can take prettty much any skirt that fits you and draw on the new seamlines to recreate the look yourself (and before I get asked for the 456876546th time, this is what I generally do if a pattern isn't offered in my size or one size up or down).
And finally, from the same feature, I really liked the seamlines and subtle colourblocking on this pencil skirt. I don't think I've ever seen a hem detail quite like this before!
I'm currently on a much-needed holiday – please keep in mind that, while I will be reading comments as they come in, I will not be able to respond until I am back home.
tags:
magazine
,
manequim
Comment [2]
11 March 2015, 21:15
My Steeplechase Leggings pattern is finally available to buy! Yay!

How awesome is the cover illustration I commissioned from Lauren Cox? I wanted to change up the design a bit for 2015, so I got in touch with her and I created a back cover for the first time as well!
The official pattern description:
These leggings have no inseams! Instead, a curved, outer seam runs from the back of the ankle up to the centre front, where it joins a separate yoke piece. There's an optional, hidden back pocket, elasticated waistband, and your choice of three lengths: biker short, capri, or full length leggings.
I am seriously SO excited to finally release this pattern – I've made up so many samples for myself (and my athlete-model niece) and I even ran a half marathon in a pair on Sunday, too! Even if you've never had problems with inner-leg chafing, you'll suddenly wonder how you ever managed without these – they're just so comfortable to wear!
And if you're an equestrian, then you're in luck, because these are great for riding, especially if you add a little bit of silicone grip to the inner knees – which I've marked on the pattern for you, because these pieces look weird! Seriously, get your "WTF face" ready when you look at these pattern pieces, because I guarantee they're unlike anything you've seen before! But they're still super quick to sew up – most of my pattern testers said they only took 2-3hrs to make, including piecing the pattern together!
But don't take my word for it, I pulled out some great quotes from my pattern testers (who will seriously hold me to account if anything's not right, which is why I love them so much!):



"This is the best out-of-the-'envelope' fit I've ever gotten with your patterns. These are amazing!!!!"


"It's ingenious. I like the seaming, the no inner leg seam, the fit. They

ROCK

!"


"They are sooooo comfortable. I could sleep in them. Really."


"I thought duathlons were great but these are even better."


"Very clever pattern, quick and easy, works well"


"I am prone to chaffing there since I have fuller thighs. I always wear biker style compression shorts under regular running shorts to prevent this I am going to make up these in the shorts for this purpose now!"


"The design lines are really flattering."


"They sew up sooo fast."


"I made them up in just over three hours – that's including trimming the paper and sticking it together, cutting out and sewing them up."


"Because it is such a quick, straight forward sew up, I think that's what makes it so much fun to play with."


"It's drafted so well that there really was no need for easing, the notches all match up. In fact the whole pattern in general just fit so nicely together, it was refreshing."


Annnnnnd, by way of a launch celebration, I've got a coupon code for you all! Use SADDLE10 for 10% off all purchases from shop.fehrtrade.com until 25 March (my birthday!). (Paypal users take note that you'll go quite far through the checkout process before the discount box appears, but it will!)
And of course, keep your eyes peeled here over the next few weeks while I show off some of the samples I've had to keep quiet for so long!
tags:
fehr-trade-patterns
,
steeplechase-leggings
Comment [9]