Inspiration
15 September 2014, 11:19
Please welcome the newest Fehr Trade sewing pattern… the Threshold Shorts!
A running short designed for lightweight wovens or mesh fabrics with three optional pockets, curved seamlines, bound hem, and elastic waist. An optional runderwear brief or thong can be attached at the waistband or worn separately.
So why am I releasing a shorts pattern in September?? Well, this particular pattern has been in development since May, and it's been my most technically challenging pattern to date. Anyone can design shorts that look good standing still, but it's another matter entirely to design shorts that look good while you're running at threshold pace. And well, this is how long it took me until I was happy with the result.
I'm not just saying that, either – I will be running Berlin marathon in two weeks in a pair of these shorts. Quite honestly, I wouldn't be doing this if I had any doubts about their performance or comfort, because a marathon is a very long time indeed to be annoyed with a garment!
If you don't believe me though, here are some comments from my pattern testers:

And as with my VNA Top Pattern, I've included diagrams for common fit alterations alongside the fully illustrated instructions, so if you need a longer rise, longer legs, or more thigh girth, then I've got you covered.
To celebrate the release of the Threshold Shorts pattern, you can get 15% off all my patterns by using code "BERLINMARATHON" up through marathon day (28 September).
But that's not all – UKFabrics has also offered FehrTrade readers 10% off their airtex mesh and 2oz technical nylon fabrics, which are some of the recommended fabrics for this pattern! Just use code "UK-FEHR-01".
I'll be updating my Global Exercise fabric supplier list since these shorts use different fabrics than my previous patterns, but I can also say that the "aerated polyesters" from Sewing Chest are also great, and that this eBay Shop has some fantastic FOE for the hem bindings!
$10.99USD (£7.00)

tags:
fehr-trade-patterns
,
threshold-shorts
Comment [5]
4 September 2014, 13:24
When you run your own business, sometimes you've got to work weekends. This past weekend I worked all day on Sunday, so I tried to make a "weekend day" sometime during the week. It all came together yesterday, with the weather forecast set to be 24C and sunny, James at a conference down in Brighton, and me not completely swamped with work for once. So I declared this Wednesday to be a weekend day and grabbed the train down to Brighton for the afternoon!
My first taste of life in the UK was in Brighton, when I spent my study abroad year at Sussex University, and the city still feels like home whenever I visit, which these days is once a year or so. Instead of doing the usual tourist things (I realised after I got home that I didn't even see the sea, ha!), I headed directly to the North Laines area. I love that there's a whole area in Brighton where pedestrians rule and all the little shops and cafes are independent, quirky, and great for browsing! There's really no need to spend any money in a chain store in Brighton.
Of course my first stop was at Ditto Fabrics, which is quite possibly my favourite fabric shop anywhere in the UK, where I had a great chat with the owner Gil and learned all sorts of stories about her buying trips to Italy to get the good designer stuff for us. I went with the aim to buy some coating and lining for the StyleArc Audrey coat, and indeed I did!
I bought some wool/viscose coating in Navy, though they had a bunch of really tempting other colours, like pale purple, pumpkin, camel, off-white, and black, off the top of my head. Ditto only have a fraction of their in-store fabrics listed on their website, but these wool/viscose coats are pretty well represented online, and the colours look pretty true to real life.
And then I discovered the vintage Italian silks upstairs. oh. em. gee.
A few are listed on their website, and I urge you to snap these up, because they are the real deal. They feel a little papery on the roll, but Gil had a sample that she'd handwashed in a bit of washing up liquid, and that sample was so freaking soft I wanted to rub my face against it all day. So then I just had to try and narrow down which I wanted as a lining for my coat, and I settled on this psychedelic red, blue and yellow silk twill (seen above), which actually came printed in 90cm panels with a subtle diagonal line at one part to help the original makers place the first cuts to make neckties!

Hand washing the silk before I lose my nerve!
I consider myself very restrained, but I did have one impulse buy – you know I'm a sucker for lycra, and trompe l'oiel prints, so when I saw this poly/lycra with huge, digitally-printed knitting and lace, I just had to have it. Yes, it's kinda crazy, and because it's printed in panels, I'll be doing some fun placement jenga. But at £15 for a 1.6m length, it was super reasonably priced considering it's ex-designer, too (Gil couldn't remember which but I'd love to know if someone has seen anything like this on style.com?).
After meeting up with James for lunch, we actually went back to Ditto so he could pick out some linen for a shirt he wanted me to copy (which I traced and muslined a few months ago). He picked out an apple-green linen/cotton, which I'm all in favour of as the blends tend to wrinkle less when worn.
He also found an amazingly soft 50/50 poly/cotton flannel fabric upstairs, which still had an original tag attached…
Holy crap! Yes, they mean it when they say ex-designer… So then he had to have this one, too, for the copied shirt pattern.

Also at Ditto! Love this idea…
I also checked out the Brighton Sewing Centre on North Road while I was in town, but all the fabric there was either quilty or the "token overpriced cotton jersey" made by quilting designers, so I didn't buy anything. Instead I got some deals on my favourite paraben-free bath stuff at Infinity Foods (a big organic grocery store which has been there since my student days) and lugged my fabric bags home with a smile.
PS: oh, if you're not following me on Twitter, then you probably missed my sneak peek of my next sewing pattern, the Threshold Shorts! These are engineered for running, with wraparound seams, three optional pockets, and a choice of standalone or integrated runderwear.
It'll be released in about two weeks, but definitely before the 18th! It's been in development since May and it's taken me this long to be satisfied enough to run long distances in. (You're welcome!)
Nope, Ditto haven't paid me to write this post – I just really love their fabrics!
tags:
city-guides
,
fehr-trade-patterns
,
shopping
Comment [9]
2 September 2014, 16:18
You may be thinking "August? What about July's issue?" and to this I say Wow, you're way more observant than I am, because I only noticed that July never arrived until I went to scan this issue in. Sad face.
But not for long, because this issue is all about party dresses, because it's their 55th anniversary issue! Judging by the number of articles talking about the history of Manequim magazine and photos of old issues, I thought for sure we'd get some great vintage reprints, a'la Burda magazine, but alas, no – not a single vintage pattern here.
First up is a sweatshirt pattern, offered in a wide range of sizes, that is a pretty standard design except for the inclusion of two zippers at the hem. They don't appear to have pockets behind them, but are instead just purely decorative.
I didn't really like any of the styles in the cover star's feature, but the "designer style" this month is Tom Ford, and this faux-wrap dress looks to be a classic design (and not just because it reminds me of that New Look pattern everyone was sewing in 2006!).
There's also a long sleeved teeshirt pattern offered in a bunch of sizes. Ignoring the weird, distressed fabric, this would be a great basic pattern to use as a starting point for any number of styles…
"Is it a dreeeeeeeeeeeeesssss, or a muppet? Is it a muppet of a dress (or a very dressy muppet)?" Apologies to anyone who hasn't seen the Muppet Movie yet and has no idea what I'm singing.
In amongst all the OTT sequins and lamé and cutout ballgowns, this top and maxi skirt stood out in their simplicity and chic – the top is just a surplice, sleeveless shell with the front gathered at the side seams and some sheer panels at the shoulders. Very nice, and easy to recreate from any number of similar cross-over neckline patterns.
The 1980s called – they want their awful, cheap, scratchy lace and peplum monstrosity back.
There's a full section on shirts in this issue, to which I thought I might find a good pattern candidate for the Liberty lawn I bought earlier this summer, but most of the patterns are for lightweight silks or voiles, and of the ones that are for shirtings, they're really just the basic shape you'd find anywhere. So here's one for a silk instead, since I liked the colourblocking and casual styling.
And finally, there's a featuring listing "55 Icons of Fashion" which provide a handful of patterns for things like a trench coat, white shirt, etc, but I particularly liked this little black dress with alternating panels of faux leather and sweatshirting.
And from the same feature, we get patterns for an A Line dress with some nice understated layering at the lower skirt (which kinda reminds me of the Truffle dress is the Colette Patterns book), and a versatile little mini skirt in a bunch of sizes.
So for me, this wasn't the most useful of issues, and I still mourn the one that got away (I'll never know what glories it contained, as they never have old stock leftover!). But on the upside, I made a Manequim pattern the other weekend, which I'll show to you as soon as we get a photoshoot done!
tags:
magazine
,
manequim
Comment [5]
22 August 2014, 11:44
By rights, I should totally be feeling the Fall styles right now seeing as how we're currently in the most October-feeling August I can recall (which is fine since we had a glorious July!). But despite my finding a lot to talk about in this issue, there's actually not much I can see myself making, at least not with my limited "Me Sewing" time these days…
Burda have produced so many ladies bomber jackets in the past few months, it's only natural they'd produce one for men now, too. But seriously, Burda, there is nothing British about this look! This has retro Americana written all over it!!
Ah this V-neck teeshirt looks very wearable… but I'm having deja vu… oh yes, it's because we had an almost identical tee in July's issue! At least recycle a bit further back, c'mon!
And now into the Alpine feature… yawn. If you've subscribed to Burda as long as I have, you're likely to be thoroughly sick of dirndls by now, too. I have enough dirndl patterns to create an entire dirndl wardrobe. I'm even traveling to Austria and Germany during Oktoberfest this year and I still don't want to sew a dirndl.
So, err, look at this Alpine jacket instead. It's not offensive.
This combo, on the other hand, is truly hideous.
In an attempt to show the rest of the world that dirndls really are a versatile garment, we have a "Pimp Up" spread (snigger) showing a few variations on the basic patterns. As much as I hate to admit it, I really like the "Cool" variation, with the lace illusion neckline. It'd be a great use for Minerva's skull lace, for starters!
I've been looking for a similar boxy sweatshirt style to showcase the last remaining bits of my galaxy print ponte knit, but the neckline looks way too wide here (easy to fix), and the general proportions look out of wack (not so easy to fix). Interesting that the front panel is cut on the bias, though, so you can showcase a woven instead.
Neither of these are my usual style, and I'm seeing beyond the awful floral here, too, but I still really like both the blouse and the skirt on their own and paired together like this. The blouse is even more interesting to me once I saw the layout – it's one pattern piece, with no shoulder seams and a raw-edged neckline! This skirt is apparently a knockoff of a Prada runway train skirt – not necessarily the most practical for London (dragging that train through damp streets, ewwww), though.
Love the style lines on this dress – near to being a basic princess-line dress, but the angular seaming and neck slit really gives it a modern edge. They missed a treat with the pockets though – instead of putting them in the side seams, I'd totally make use of that horizontal waist seam and stick them there instead.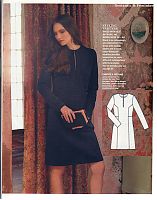 I really like the tech drawing for this asymmetric pencil skirt with its half belt (much more than the pleated trousers in a similar vein elsewhere in this issue), but sadly I'm not that into it on the model. I really wish they'd shown more than one photo of it so I could better decide. Perhaps I'll wait til the Russian ladies make it first and then decide (they're so freakin' quick!).
Love the scooped neckline seaming (and that it continues on the back!) but hate the skirt godet. Again, that's easy enough to fix by just filling in the skirt and leaving it as an A-line.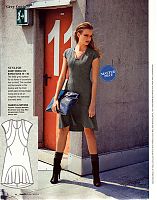 And finally, from the Plus section, have a look at the tech drawing for this coat! How many pieces is that?!? Clearly it's enough to warrant Burda including three extra drawings in the instructions to show how the pieces are split up and named… Respect to anyone who tackles this!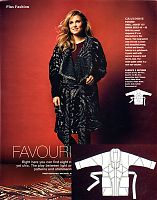 So what did you think of this issue? I know the Alpine look much be a big seller for Burda in Germany, but is anyone outside of the Alpine region that bothered? Do people actually wear dirndls outside of Germany in a regular fashion sense (ie: not as a costume to your town's Oktoberfest party)?
tags:
bwof
,
magazine
Comment [9]
13 August 2014, 12:16
Wow, thank you all so much for your enthusiasm and support for the new fabric designs – I'm so glad you all are as excited by the idea as I am!!
Unfortunately, however, I didn't get a chance to sew them up into samples over the weekend because I was up north in Bolton competing in the British Transplant Games! On Saturday and Sunday I raced in the 3km "mini marathon", 1500m, 800m, 400m, and 200m (my planned mixed relay race was cancelled due to poor weather).
The bulk of my races were on Sunday (in the sideways rain!), and I'm proud to say that I competed in my own designs – a VNA Top and a pair of Duathlon Shorts, booty length. I must say, this particular combo makes me feel so speedy and confident that I just loved racing in it. Also, if you haven't tried the booty length, adding silicon "gripper" elastic to the hems makes a world of difference – they don't budge at all, and were comfortable enough to wear under my team tracksuit all day.
If you're into that sort of thing, I posted a full race report on my River Runner site, so you can see exactly how I got on…
Housekeeping note: I'm incredibly busy with work right now behind the scenes and feeling a bit overstretched, so I'm really, really sorry I haven't posted nor replied to as many emails as I'd like to – please bear with me!
tags:
duathlon-shorts
,
exercise
,
fehr-trade-patterns
,
vna-top
Comment [2]
5 August 2014, 12:25
By far the single biggest question I get with my exercise sewing patterns is "Where do I buy good fabric?". Despite compiling a list of global stockists of exercise fabric, I totally get your frustration – it's getting a lot easier to buy nice colours and quality wicking lycra, but prints are still difficult to get a hold of, and when you can, it's often costly and difficult to match colours.
But what if you could buy just one yard of fabric and be able to sew up one garment with coordinating colours and stylish prints, and mix and match to make outfits that coordinate together, too?
I'm super pleased to announce that this is exactly what I and illustrator Laurie King have made happen! Laurie is an avid cyclist and dad to two small boys, and I've been a massive fan of his hand-drawn style since before he made that amazing couch on ITV's The Cycle Show!
I've had this idea brewing for about 6 months now, but it took a design session with Laurie before the idea really came to life. Since I know the exact size and shape of all the pieces for my sewing patterns, I've created "zones" of print and colour on one yard of fabric using two of his prints in three different colourways. These prints are exclusively for your fabrics, too!! So there's very little chance you'll be exercising and catch someone across the room wearing the same thing!
The first collection is comprised of two prints – "Zigzag" and "Maps", using three different colourways – "citrine/black", "purple/citrine/teal", and an "earthy" mix of forest green, slate blue, and muted red, which should be perfect for Fall and Winter. The idea is that we'll be changing these up and releasing different designs a few times a year, too, so we're open to ideas on colour combinations you're loving!
As for the sewing patterns you can make, well, I've created specialised yardages for my XYT Workout Top, my VNA Top, and my Duathlon Shorts – I'm afraid there was no way I could fit my PB Jam Leggings into one yard (or the Duathlon capri length, either), so that's something I'll have to work on for the future.
Right now, the designs are only available through Spoonflower, though I'm working on getting a UK distributor, too (UK shoppers, you can order one yard of Performance Piqué from Spoonflower and still be under HMRC's customs exemptions value!). Having felt and worn both of Spoonflower's performance fabrics, I recommend buying their "Performance Piqué" because it's got more crosswise stretch, a nicer cottony handfeel, and I think it's closer to what most people think exercise fabric should be. The only caveat here is that the recovery and dark colour saturation are not 100% perfect, so if you're interested in a design with large swathes of black, you might want to choose their "Performance Knit" instead. Neither have any lengthwise stretch, so you may need to add a bit of length if you're used to four-way stretch fabrics.
How to use the fabric
When you order the fabric, it just comes as one big yardage, and you'll need to look at my guides below to see how the pattern pieces are intended to fit. I highly recommend you cut your fabric in a single layer (ie: not on the fold) so that everything lines up in the zones properly. I've checked the layouts digitally against all sizes,
XXS
-XL and they should all fit, and I've given as much extra room as possible to allow for common alterations like
FBA
s and lengthening. If you have altered your patterns to be significantly larger or longer, they may not fit, however, so buy at your own risk (in future, I may provide a tiled pdf just showing the outline of the zones which you can print out to double check first).
All the pattern piece outlines shown below are size XL.
For the XYT Workout Top patterns, lay out your pieces like this:


Since you'll only be making one of the upper back views, they can all fit inside the upper left zone. Note that you'll need to cut the full front and full back, so either flip the pattern pieces, trace them to have the full width, or print a second copy and tape together.
For the VNA Top patterns, lay out your pieces like this:


For two of the designs, there are vertical zigzags which should be centred along the Upper Front or Back pieces. Again, you'll need to cut the full width of the pieces rather than along the fold.
For the Duathlon Shorts patterns, lay out your pieces like this:


Note that you'll need to fit the Back piece upside down (as none of these are directional prints, that's fine!) and that you'll need to flip the pattern pieces over for everything on the right half as shown above.
I'll be posting more photos (and maybe even a video!) as I make up my own samples to help you out.
What they'll look like sewn up
I've applied the prints and colours to the tech drawings for my patterns and put them together according to colourway and print family so you can see what they look like sewn up, but also worn together. Because the colours are all the same across the colour families, you could even decide to wear the earthy "Maps" Duathlon shorts with the earthy "Zigzag"
XYT
Top and it'd still look good! This means that for $40 (plus shipping), you can have a matching, wicking exercise outfit!

"Zigzag" in purple/citrine/teal (seen above)


"Zigzag" in earthy (seen above)


"Zigzag" in citrine/black (seen above)


"Maps" in purple/citrine/teal (seen above)


"Maps" in citrine/black (seen above)

It's taken nearly a month for me to get my fabrics through from my order this time (It's usually 2-3 weeks, with most of that as shipping time) and I'm so excited I wanted to share this with you right away! I'll be making up my own samples over the next few weeks, so I'll be sharing any tips and tracks as well as photos along the way. That being said, it's possible that there might be some issues with the prints – they've all been checked and rechecked digitally, but I have only checked the fabrics themselves as swatches, apart from four I've chosen to get printed as full yardages. I'd love to buy them all, but I can't afford to buy 36 yards x $20!
If I do discover any issues, I can change and upload the designs right away, but this won't help you if you've already bought. So if you want to be extra-extra careful, wait a few weeks for me to iron out any unforeseen issues. Or if you're too excited like me, just go shopping!!
Also, if anyone wants to buy these designs ready-made into sportwear, I do sew custom work, so get in touch!
tags:
duathlon-shorts
,
fehr-trade-patterns
,
mflk
,
vna-top
,
xyt-workout-top
Comment [35]
4 August 2014, 13:02
Wow, has it really been over three months since I did the last FehrTrade patterns roundup post? Well, in that time it's clear that neither you nor I have been taking it easy, because I have so many amazing sporty garments to show you!
Frau Fleur's triple Duathlons
Fleur Hoare liked her Duathlons so much that
she made no less than

THREE

pairs
, including one made up in crazy cat-print lycra (that I am also now the proud
crazy cat lady
owner of)!
She also gave a great tip about creating a fold at the top of the pockets if you want a bit of extra security, which is totally worth checking out.
Sarai & Kristen's coordinating cat-print race gear
But if you thought these would be the last cat-printed exercise gear you'd see all day, then friends, prepare to have your expectations exceeded. The Colette Patterns ladies went and sewed an
XYT
Top, Duathlon Shorts, and
RTW
-knockoff,
all in coordinating cat-print wicking lycra
.
And then ran a half marathon in them. BOOM!
Amélie's star-print
VNA

& Duathlons

Amélie wrote me the loveliest email recently, telling me that she had once been very fit and active in a variety of sports, but had fallen out of the habit. But when she saw my pattern designs, she was inspired not only to sew them up, but also head out on her first run in years! How amazing is that?!
To start, she made a gorgeous red and grey star-print set using the VNA Top and the Duathlon Shorts, and she's already got an XYT Top in the works, too!
Kathy's double
VNA

Tops

Kathy is not only one of the most prolific sewers I know (and with a small child, no less!), but she's also been one of my pattern testers from the beginning. For the

VNA

Top patterns, she liked it so much

she ended up making two – one in pink and another in brown and green

.
I like how she chose two split two fabrics over the three pieces in a different way than I had – keeping both front pieces the same and using the back as the accent! She also gives some good tips about lengthening the pattern
Winnie's triple
VNA

s

Winnie is another of my faithful pattern testers, and you'd be forgiven for thinking these ladies are required to make more than one, but no – this is just a sign that they really do like the patterns so much that they can't stop at just one!
Winnie's used three different fabrics with different weights & stretches in each of hers, and made really interesting notes on how each behaves. I like that she's also used a bit of contrast piping in the under-bust seam on the blue version, too.
A teenager-approved
VNA

Top

Karen is the rarest of all sewists – she's generous enough to sew for her entire family, and in turn, they don't even mind going out and exercising in them to pass their feedback on to me. I know how fickle teenagers can be, though, and especially when it comes to fashion, so I was amazed to hear that

her fashion-conscious teenaged daughter "went into raptures" over her

VNA

Top

and promptly ordered more from the Shop Of Mom.
Apparently wearing fashionable kit gives you an advantage in races… If that isn't an excuse to sew more, I don't know what is!
Rebecca's
XYT

-Concert hybrid

Rebecca's made quite a few of my patterns so far, and for the recent

Sewing Indie celebrations

she decided to

hack together my

XYT

Workout Top pattern with the Dixie

DIY

Summer Concert T

. The result is a workout top that's close-fitting around the bust and shoulders, but loose around the hips!
Rebecca has documented all her pattern changes, too, so you can follow along at home.
Katherine's print & piped
VNA

Tops

I'd love to take a nosedive into Katherine's lycra stash, because if her first printed purple version isn't a "good" fabric, then what else must be lurking in there?? (Seriously though, I love those prints together, even if it was just a pattern test for me).
She also made up a second version for a friend and documented how to make a square shoulder adjustment after comparing the pattern pieces to her TNT teeshirt pattern (always a good idea!).
Allison's first-ever sportswear
And last but not least, I was so excited to see that Allison C had finally taken the plunge to sew up her first ever sportswear recently. I've been following her blog for years now and I find that we have
such
similar tastes in clothing that we end up sewing patterns right after the other has made them! Not only was it her first foray into the wide world of supplex, but also her first ever
PDF
pattern – proof that it's never too late to start either!
Her first set was comprised of a VNA Top and Duathlon capris in blue and black.
…but then Maria came to visit and they went shopping in the Hong Kong markets for exercise fabrics, so her next set of three XYT Workout Tops are made in the most amazing prints!
She also opted to merge the upper back of the X version onto the lower back, and omit the opening, giving yet another back option to this pattern!
—
Remember, there were also quite a few FehrTrade patterns seen in the Spring Race Challenge podium post, too, and several in the Pattern Review galleries that don't have blog posts so weren't included here, either.
I'm also pleased to report that I'm deep into the production of my next pattern, which has taken longer than expected as it's definitely my most technically challenging one to date (in its development, anyway – it's not any harder to sew!). It's probably still 3-4 weeks away at the earliest, though, and I've got some bigger announcements in the meantime, too!
Fancy making your own? Go to my Shop section or head straight to Etsy below…
duathlon-shorts
,
fehr-trade-patterns
,
vna-top
,
xyt-workout-top
Comment [3]
31 July 2014, 12:55
I've learned a lot through the release of my four exercise sewing patterns, and even though each is vigorously tested through my crack team of pattern testers, there are still a few things I'd go back and do differently if I had the chance.
On the XYT Workout Top, providing only one level of support and one cup option is definitely something I'd change if I was releasing it now – as printed, the bra lining is awesome if you want high support for running and other high impact sports and you're a C cup or smaller.
But two of the most common issues I see with people is that they're totally unaccustomed to how a fully-supportive compression bra actually feels (I see so many women bouncing all over the place when they run, it makes me weep for their future selves), or that they think they can "get away" without doing an FBA even though they're busty.
Let's address those two issues!
It's too tight – I need less support!
Not planning on doing any running or other high impact sports and only want lighter support? Only use one power mesh layer with the crosswise stretch (ie: going around the body) and add room at the side seams. On the Back Lining piece, you can actually just cheat and cut it a cm or so from the fold since it's just a rectangle, but on the Front Lining, add a bit to the side, then smooth out the curve to the armhole.
I recently made an adjustment similar to the darker shading for a client who wanted very minimal support for power walking. I'd suggest you do something in between should you want to wear it for yoga, cycling, and other low-impact sports.
I'm bigger than C- cup – I need an
FBA

!

If you need an

FBA

in normal patterns, then

yes

you will definitely need a Full Bust Adjustment (

FBA

) on a bra lining pattern! (I'd think this would be common sense, but you'd be surprised…)
You can just leave the Back Lining piece alone and just alter the Front Lining piece here, though if you're really busty, you may benefit from doing the same adjustment to the Front piece, too.
I've included these sort of common fit alteration illustrations in my latest VNA Top pattern, so if you purchase that they're all ready for you!
Don't have the XYT yet? Come get it here!

tags:
fehr-trade-patterns
,
xyt-workout-top
Comment [3]
25 July 2014, 16:12
Many thanks for your get well soon messages – I think it definitely worked, because no sooner did I post that than I started to feel a little better! I'm still not back to 100% right now, but I felt well enough to try a very easy and short run this morning, so thank you!
To show my thanks, I'm going to share my picks from the latest Burda magazine, which arrived this week. Usually the August issue is the start of the Fall fashions, but this seems more like a transitional issue – lots of summer wear but some great long-sleeved pieces, too.
First up from the "macaron pastels" feature is omg I must make this pieced sheath dress! Burda clearly love it, too, since they made it three times in this issue. My only letdown is that the back is very boring indeed, so if when I make this, I'll be slicing up the back and adding similar diagonal seams like I did with my swirled sheath dress (still one of my favourites ever, I might add!).
The dress on the left really reminded me of the RTW dress I wore to a wedding recently – though you didn't see the back, it too had a lower back cutout! I also rather like the pleated teeshirt on the right. It also comes in a solid-sleeve version and the pleating detail reminds me a lot of the pleats on the neckline of my favourite Manequim silk blouse pattern.
Now, I really hated the shiny, glittery, tacky disco fabrics they used in this feature with the "DJane" (a term which I've never, ever heard before. Nor had any of my music-industry friends – though urban dictionary has some feelings on it!). But, if you look beyond the gold lamé here this surplice-neck top has a lot of great design lines, and I love the idea of a pleated band, too.
This sheath dress pattern didn't really grab me right away, but pair it with this amazing digital-print jersey and well, it's certainly growing on me! On closer inspection, I rather like the square neckline, but I'm not sure how that dropped-waist hem would look on someone with hips. Of course the first thing I did when I saw this dress was to see if Alfatex stocked it, but disappointingly, they list this photo, but have a jersey next to it which looks nothing like the original. They used to stock the exact fabrics used in the magazine, but it appears now they're just selling their "best match" or something. Boo.
Yay! It's my favourite diagonally-seamed sheath dress, made even cooler here by some colourblocking. Ooh, a great dress and the opprtunity to use up fabric scraps? Don't mind if I do! Oh, and I failed to mention earlier, but it's also got the illustrated instructions for this issue, too…
There wasn't much in the menswear styled feature to set me alight (though I love my seamed sheath dress made up in suiting fabric, I didn't think you needed to see it a third time), but I really liked this teeshirt with the asymmetric, pleated shoulder. It looks a lot like StyleArc's Emily pattern this month, so I'm assuming they're drawing on the same designer inspiration. This also comes in a long-sleeved version, but bizarrely for jersey patterns, both long and short feature two-part sleeves – a feature normally reserved for jackets and coats.
And finally, I found most of the Plus patterns to be just… odd this month, but I like this asymmetric blouse with its shoulder pleats and cowl neck, and dolman sleeve on one side only. The jersey trousers also look like they'd be a great wardrobe basic made up in ponte knit, especially since they've got pockets.
So who else enjoyed this issue? Anyone care to race me to trace out the sheath dress (though modifying the back is likely to slow me down!)?
tags:
bwof
,
magazine
Comment [10]
9 July 2014, 15:32
The Spring Race Challenge officially came to a close this week, but that's no reason you should stop sewing your own exercise gear, or challenging yourself! But I had to draw a line somewhere so I could stop and draw a winner from the enormous (and sweaty!) pile of entrants, and I don't think we can carry on calling this "spring" much longer, or the Aussies really will be into spring!
Everyone made such an effort in their sporty makes, and many of you said that you wouldn't have pushed yourself to either a) sew exercise clothing nor b) sign up to a race if it wasn't for this challenge, which is such a boost! Because seeing others exercise is such a big motivation, I want to show you all the entrants so you can see how great me-made exercisewear can be. And that it's not just bonkers-me doing it!
(Though if you would like to know more about lil-ol-bonkers me, Karen from "Did You Make That?" interviewed me for her own Sporty Summer Sewathon and she asked some great questions!!)
The Sweaty Sewists (in order of submission)
Now if you recall from the prize announcement, one lucky winner will receive a bundle of fabric, power mesh, and elastic compliments of Sewing Chest (enough to make at least 2 garments, 3 if you're frugal!), plus a prize pack of all four of my digital sewing patterns! Unfortunately only one of you can win, but I'm pleased to report that the Sewing Chest kits are now up for sale, so if you're not a winner you can still take the hassle out of sourcing the right fabrics.
And the winner is… Geo!
Congratulations! I'll be in touch regarding posting your prizes.
Thank you all so much for taking part, for pushing yourselves to sew outside your comfort zone, and the confidence to wear your own me-made-sportswear in competition. I hope that you've found the same joy that I do when I sweat in something I've sewn!
tags:
exercise
,
fehr-trade-patterns
,
spring-race-challenge
Comment [8]