26 December 2013, 15:37
Thank you all so much for your support, enthusiasm, and early bird sales of my debut sewing patterns! I've got lots of versions of both to show you, but I thought I'd start off with my most recent version of the top since it reflects the pattern as you buy it (I'll show you some earlier versions with a few small issues I corrected in the final pattern!).
This is the "Y Back" version of my XYT Workout Top Pattern which I made with this amazing printed lycra from Minerva. I liked it so much that I made two tops and a pair of PB Jam Leggings from the 2 metres I bought (plus I went back and bought another metre of it and its blueish-colourway sister!)
This is definitely one of my favourite versions of this pattern! Earlier ones had some pulling issues around the front straps, but a small adjustment to the front lining piece fixed that here, as you can see! The built-in bra is perfect for keeping me bounce-free on even my long runs – no need for me to wear an additional sports bra. The instructions also show you how to encase the underbust elastic nicely to reduce the chance of chafing, too.
read more >>

12 August 2013, 13:15
This dress has been an awfully long time in the making. The idea started back when I took the Pattern Magic 2 class at Morley College last winter, where we learned a technique called "Fundamentals: Create three-dimensional forms with design lines only" (it just rolls off the tongue, eh?).
Essentially what this means is you sew up a muslin, draw design lines all over it, cut along these lines, then introduce snips of ease until the pieces lie flat, and there's your new pattern! I did all this (based on a sheath dress from the June 2012 Burda magazine, which doesn't appear to be on the US BurdaStyle, sorry) last summer, but then the project stalled when I couldn't find any heavyweight stretch satin anywhere in Europe, and had to import this gorgeous salmon stretch duchesse from Gorgeous Fabrics.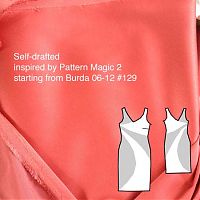 Then there were further delays as I didn't have a wide enough cutting table to lay out the asymmetric and strangely-shaped pieces, until a few weeks ago when the Thrifty Stitcher invited me to pow-wow at her studio and suddenly my swirl sheath dress was back on track!
Because all the darts from the original pattern (bar one) are now incorporated into a bunch of curved seams, this means there's a lot of easing going on, so if you don't like easing princess seams, for example, you really won't like sewing this. My easing motto is "pin the crap out of it", and I'm proud to say that I didn't have any tucks or unpicking in any of these seams. Though I did use 58 pins on just the lower semi-circular seam!
read more >>

29 March 2013, 13:23
Thank you all so much for your patience! I finished sewing this dress in time for my 34th birthday on Monday (and I proved it by showing you dressform photos and talking in depth about the construction process!) but such a rich, dark colour really requires daylight to shoot properly, and today was the first opportunity we've had.
Another reason I wanted some great photos of this is because it's an incredible pattern with some seriously striking design lines and beautiful details, and frankly, it deserves to be seen properly! In fact, it's a true designer pattern, and from Matthew Williamson, no less! It was printed in the September 2012 issue of Burda magazine, but you can still purchase it as a pdf download if you missed it and want to make your own!
I made mine in some lusciously soft and supple "Ravissant Duchess Satin Plum" that's been in my stash for three years just waiting for the perfect use, and paired it with a floral lining fabric gifted to me from Veronica when I was in Paris last Spring. Personally, I think these two make the most perfect pairing, even if it's only me who sees the inside!
As I said on Monday, this pattern is a step up from the usual Burda patterns – more like a Vogue Designer pattern in all its wonderful details, but with the usual precise Burda drafting. I really wanted to do this dress justice, so I did quite a few things the long way, like the fell-stitched sleeves, walking vent, and all the matching seam intersections!
read more >>

7 January 2013, 12:21
Are you excited yet? I sure am, because this dress is the last in my one-Burda-per-issue challenge for 2012! I set out to sew one pattern from each issue, and I'm pleased to reported I completed it (though much more on that in a bit – I've got a rundown post coming).
The final garment in the challenge is the Burda December cover dress (Burda Dec 2012 #112) even though I technically completed in on New Year's Eve, I'm counting this in 2013's tally since I'd already written up my end-of-year post by that point!
You may remember that I sewed up a muslin of this over the holidays, but I took inspiration from the long version shown in the magazine and made my final version in some pale pink viscose crepe from Stone Fabrics Super wonderful – flowing, drapey, takes a nice press (though that means it also wrinkles readily!), and has one crepe side and the other rather smoother (I used the crepe on the outside). You really can't beat it for £6/m! It's fairly narrow though at 137cm wide, so if you also choose to make the shorter hem length with long sleeves, note that you'll need 3 meters of it.
This pattern (which also has a longer hem length with long sleeves) has the illustrated instructions for this issue, and man do you need them! It reminded me of one of those Vogue designer patterns where it doesn't actually look like a dress until the very last step. Note that if you buy the pdf pattern from the Burda Style site, you get the same full, illustrated instructions that appear in the magazine.
read more >>

31 July 2012, 13:25
On Saturday I showed you a sneak peek of my new running leggings and my thoughts on the Opening Ceremony, but here's your chance to get a better look at them, and those Olympic rings on Tower Bridge!
I'm finally feeling a little better so we took these photos after I ran my usual 10km loop in my official Stella McCartney for Adidas replica Team GB vest (now sold out everywhere now, sorry!) and my leggings.
This is the 4th(!!) time now I've sewn the Papercut "Ooh La Leggings" pattern (UK stockist here), though I've actually got a 5th pair on the way, if you can believe it! They're so well drafted, so stylish, and so comfortable to run in that I just can't resist making more. That they're also really quick to sew on my overlocker is just a bonus. Here I made them in the pale grey Suziplex fabric I bought from Suzi Spandex when I was in Montreal in March, and it's just truly, truly wonderful stuff.
I also used my my elastic waistband tutorial technique for a nice, comfortable finish inside, which, judging by your comments, a lot of you are also using now, hooray! This waistband plus the soft and loopy reverse side of the Suziplex really does make for the most comfortable running gear ever, aeons better than anything I've ever bought.
read more >>

16 May 2012, 13:14
From a total loser of a silk blouse to a triumph of a silk blouse, all in one afternoon! After the Burda FAIL, I turned around, cut into my gorgeous butter yellow floral silk charmeuse I bought at Ditto in Brighton last weekend, and sewed up this blouse in about two hours flat!
The layout of this blouse is really cool, and the entire blouse is just one piece, with only one side seam (and two shoulder seams). I took a photo of my fabric when it was laid out on the floor, and I added some annotations in pink (below) to help show where the drapey side comes into play. I hadn't realised it from the diagram, but the CF neckline is on the straight grain, and the CB neckline is on the cross-grain, with the only side seam on the bias. Very cool, and the design feels quite Bunka.
I used the leftover silk in the bottom left corner to make several bias strips about 4cm wide, as I prefer a narrow bias edge on my silk blouses instead of finicky facings. I also left off the shoulder bow, as I felt there's enough going on in this blouse already!
We were very lucky to catch the "golden hour" on Monday evening, which just makes this silk come alive in these photos! I've paired it here with my grey leather skirt to try and give an edgier look to the twee floral of the silk.
read more >>

11 January 2012, 14:03
The Ruby Slip is a free pdf pattern and comprehensive set of tutorials over at Pattern Scissors Cloth, and as soon as I saw it, I knew it was just the most perfect pattern ever for me and I had to sew it ASAP!
I had 2m of seafoam green silk in my stash that I'd bought at Bhopal Fabric on Brick Lane over the summer (at £6/m), so I took a swatch of that along with me to MacCulloch and Wallis just before Christmas to buy lace specifically for this. Their lace selection isn't great, but I totally fell in love with this stretch lace, made up of seafoam green, grey, and brick-red flowers, and it was the required 18cm for the pattern. It was pretty eye wateringly-expensive at £14/m, but I ended up with a silk matching lingerie set for £40 exactly, so I think the economics of my decision were sound.
Sherry has done an incredible job going through all the ins and outs of lace cutting, bias silk sewing, how to do an FBA, etc, but I did get a surprise when I found that 18cm lace is not wide enough for the side front:
Since I went out and bought the lace specifically for this, I was a little annoyed, but I was also feeling flu-ish so I sat down with my copy of Bridal Couture and hand-pieced some lace from my scraps to make up the missing corner. It involved a ton of tiny hand stitches in both seafoam and brick to get everything to match seamlessly, but I'm pleased with the end result (she's since posted some ways of dealing with narrow lace).
I also wanted to demonstrate how much you need to pay attention which cutting lace. I was paying heed to all of the scallops in order to get them in join up nicely at the seams, but I totally didn't see that my motif was off at first. Happily, I had enough to re-cut that piece to have a nicer join over the seam (seen on the right).
Right, all that aside, and let's see some finished photos! But, er, not modeled on me since there's see-through lace and I'm not an exhibitionist. So you'll just have to take my word that I squealed with delight when I first tried this on, because the fit is just perfect! The bias skirt really just hugs my curves without being tight, and everything just fits like it was meant to be. I made the "short" version, and the hem lies about 3-4 inches above the knee, which is perfect for me.
read more >>

16 August 2011, 14:19
I've finally finished Vogue 1259! I don't regularly sew Vogue patterns (or any envelope patterns, for that matter), but like plenty of other people, I just loved this design as soon as it appeared online, and I just couldn't wait to sew it up!
I used this mushroom-coloured viscose/cotton/lycra jersey from Tia Knight on ebay, and it was perfect for this pattern. You really need something lightweight and drapey, because there are a LOT of gathers that would get bulky very quickly in anything heavier. Vogue don't give combined yardages for making the top and skirt, but 3m was just enough for me to make both, in size 16, using their recommended layout.
This pattern is marked as "Advanced", and I think the top definitely qualifies, both for construction, as well as the cutting and marking, and the following of their instructions (which certainly don't make things easier!). The skirt, however, could easily be made by a beginner. So if you're intimidated by the "Advanced" label but like the skirt, go for it!
read more >>